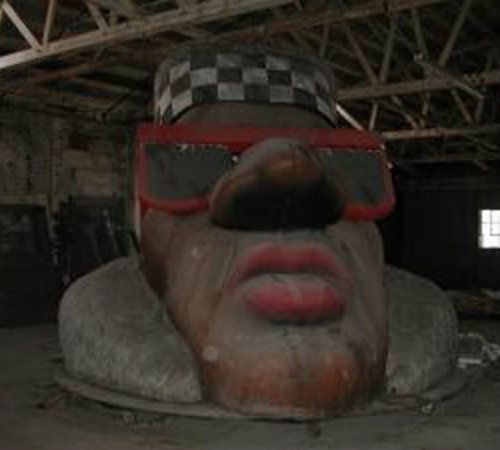 A giant head of Digital Underground's Humpty Hump sits in a warehouse in Oakland, CA; its owner has abandoned it, and now it can be yours. Featured in DU's 1993 music video for "Return of the Crazy One," the head's exact dimensions are unspecified. However, according to "Johnny Pay Phone" – the handle of the individual who announced the giant head's availability on tumblr – it's large enough for someone to have utilized it as a crash pad.
Johnny Pay Phone:
"I have learned from a former tenant of the building that a man was evicted from his apartment, and then lived surreptitiously in the head for several weeks before being discovered. There's a small green room in there, you see, for Humpty to wait in before he arises.
The cost to own this boss piece of hip-hop history? Writes JPP: "It could be had for the price of transport"(!). The L.A. Museum of Hip-Hop History has apparently been contacted, but is uninterested in claiming the head. Thus, it's up for grabs. Daaaaayum, if we didn't have space issues of our own we'd already be headin' out West with a U-Haul. Someone in Oakland – DooowutchyaMUST and save Humpty's giant head NOW!"
DOWNLOAD ON DMS
Watch the video this Humpty Hump Head appeared in after the jump.