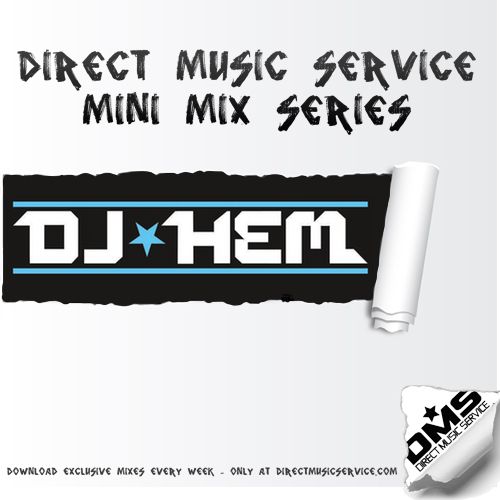 Mix #74 we bring you DJ HEM from Los Angeles, California. He helped the Victoria Secret Angels find their rhythm and gain their wings. He literally turned the tables and performed above countless acclaimed artists at the Grammy Awards.
He is the perennial fan-favorite at a number of venues in Orange County and Los Angeles, including the famed Hyde Lounge in Staples Center. Capable of hosting upwards of 175 guests, the venue is equipped to satisfy sports fans and concert voyeurs alike, but intimate enough to beguile the presence of Hollywood's finest.

From serving as the resident DJ at Hyde Lounge during all home games, to wearing a traditional luchador mask, it's clear that Hem draws certain vigor from sports. In fact, his affinity for professional wrestling recently inspired the HEMSHOW, a high-energy experience that entertains packed venues with multiple acts and performances, including mini-Hem, lucha-girls and professional wrestlers.

In addition to spinning, Hem continues to produce his own music. His original works can be found on Direct Music Service, the biggest DJ record pool in the U.S. Hem's sponsors and affiliates include Redbull, Smartwater, VitaminWater, Native Instruments, Los Angeles Magazine, Remix Watches, JetPack DJ Bags and Pipiripau Clothing. Download & Listen to his exclusive mix he made for us at DMS.
For more information about DJ HEM click the links below:
Check out the tracklist after the jump with links to download all of the edit's he used in this mix. Be sure to check back every Monday for a brand new mix.
1. Kompingen "Beverly Hills Cop Theme Song"
2. Lana Del Rey "Blue Jeans" (RAC Remix) [Drew Pierce Short Edit]
3. Grouplove "Tongue Tied" [Gigamesh Remix – VM EDIT]
5. Robin Thicke "Blurred Lines"
6. Flight Facilities "Crave You 2"
7. Lykke Li "I Follow" (Rivers The Magician Remix Menegaux Edit)
8. Gyptian "Hold Yuh" (Major Lazer Remix)
9. Medina "You & I" (Deadmau5 Remix/ Jason Bee Edit)
10. Kaskade "Angel On My Shoulder" (Drew Pierce Edit)
11. Peter Bjorn And John "Young Folks"
12. Two Door Cinema Club "What You Know" (Jason Bee Short Edit)
13. Bruno Mars "Locked Out Of Heaven" (Original Version)
14. Bruno Mars "Locked Out Of Heaven" (Major Lazer Remix)
15. Mumford & Sons "The Cave" (Stylus Chris ReDrum)
17. Lipps Inc "Designer Music" (Wanderer Short Edit)
18. Santigold "Disparate Youth" [Jason Bee Intro)
19. Blitzkrieg "Hey Ho, Lets Go" Loop (Kevin Scott)
20. Michael Jackson "Rockin' Robin" (Fuseamania Quick Drum)
22. Moon Boots "Got Somebody" [VM Edit]
23. Fun "Some Nights" (Fuseamania Edit)
24. Pink Floyd "Another Brick In The Wall"
25. James Brown vs Prince "Sex Machine" (Bootleg RMX)
26. The Mamas & the Papas "California Dreaming"
27. Tigerstyle "Nachna Onda Nei" (Jason Bee Short Edit)
28. Parov Stelar "Booty Swing"