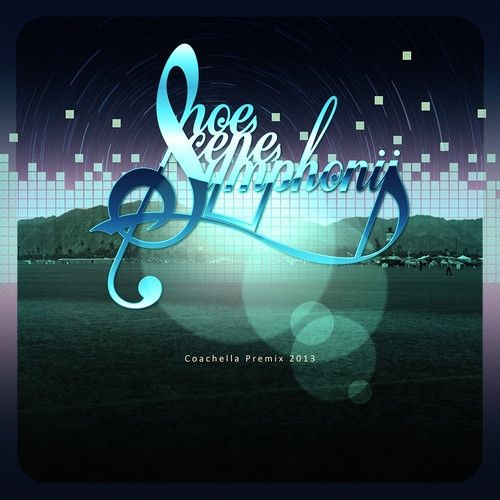 Our good friends from Shoe Scene Symphony sent over their Coachella 2013 Premix check it out for your ride to the desert this weekend. You can DOWNLOAD it by simply liking their Facebook page.
SSS – "We've always been DJs before producers and we decided to go back to our roots with the open format style of this mix. This mix is almost two hours long and showcases many styles of music that can be found at the festival this year."
For more information about SHOE SCENE SYMPHONY click the links below:
Check out the tracklist after the jump.
Down the Road – C2C
Lisztomania (Classixx rmx) – Phoenix
1996 – The Wombats
Wu-Tang Slang – Doc Adam
Watch Out For This (Bumaye) [feat. Busy Signal, The Flexican & FS Green] – Major Lazer
Dill The Noise – Dillon Francis & Kill The Noise
The Theory of Relativity – Stars
Sun (Viceroy RMX) – Two Door Cinema Club
Bizarre Love Triangle – New Order
Genius (feat. Gush) – C2C
White Noise (feat. AlunaGeorge) – Disclosure
Coming or Going – White Arrows
Something Good Can Work (RAC Remix – VM EDIT) – Two Door Cinema Club
O.N.E. – Yeasayer
Help I'm Alive (The-Twelves remix) – Metric
How Do You Do? – Hot Chip
Chambermaid Swing – Parov Stelar
Jimmy's Gang – Parov Stelar
Song 2 (Blur) – Criminal Vibes
Goodbye Fly – Joris Voorn
What They Say – Maya Jane Coles
Get Together – The 2 Bears
Eyes Wide Open – Dirty South & Thomas Gold
Out of My Mind (Lush Bootleg) – Bingo Players
Spaceman – Hardwell
Taito (Original Mix) – Mord Fustang
Sunrise (Tommy Trash Mix) – The Aston Shuffle
Anaconda (Original Mix) – Wolfgang Gartner
Power Glove (Original Mix) – Knife Party
Breaking Your Fall (SICK INDIVIDUALS Remix) – Danny Avila
2Night (Original Mix) – Eric Prydz
Allein – Eric Prydz
Sparks (Nilson RMX) – Fedde Le Grand & Nicky Romero
Carried Away (Tiesto Remix) – Passion Pit
Armistice (RAC Remix) – Phoenix
The Kids Don't Stand A Chance (Chromeo Mix) – Vampire Weekend
Chained (Panic City Remix) – The xx
Closer (The Knocks RMX) – Tegan & Sara
Waiting 4 Nothing Inside (Project 46 Bootleg) – Red Hot Chili Peppers
Middle Finger (Original Mix) – Dog Blood
Perfect Storm (Clockwork RMX) – Benny Benassi & Pink is Punk
Apollo feat. Amba Shepherd (Original Mix) – Hardwell, Amba Shepherd
If This Has An End (Shoe Scene Symphony Remix) – Y LUV
Rattle (Tony Romera Remix) -Bingo Players
Rattle (Luminox Damage Trap Remix) – Bingo Players
Heads Will Roll (Kid Kamillion Trap RMX) – Yeah Yeah Yeahs
Look At Where We Are (Major Lazer Remix) – Hot Chip
Suit and Tie (Dillon Francis Remix) – Justin Timberlake
Higher – Just Blaze x Baauer
Where Is My Mind (Bassnectar Dubstep Remix) – Pixies
Let The World Hurry By – Pretty Lights
Brown Paper Bag – Roni Size & Reprazent
New God Flow (Dirty) Pusha T & Kanye West
Triumph – Wu-Tang Clan
Unified Rebelution -Jurassic 5
Why Even Try – Theophilus London
Float On – Modest Mouse
I'm The One – Descendents
The Colourist – Little Games
Burning – Ivan Gough & Feenixpawl Remix – Adrian Lux ft Dante
Raw Night Out (Simo Bootleg) – Martin Solveig vs. Fedde Le Grand
Voyager – Daft Punk