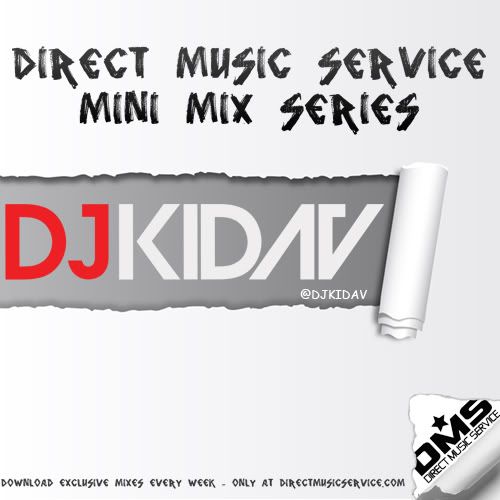 For week #18 we bring you DJ Kid A.V. from State College, PA. He is 1⁄3 of the CVRBND remix team and co-founder of Nightlife Media Labs, a full service marketing firm for DJs – specializing in websites, logos, press kits and more. Make sure you download this mix.
KID A.V.- "Hey everyone, I hope you download and enjoy my DMS mini mix! My goal for this mix was to keep things fairly mainstream relevant, but to show that you can be mainstream while having some personality. The biggest advantage that DMS has over other record pools is it's diversity, depth and tools. While the technology exists to make it easier to be a DJ, the tools DMS provides will make you a better and more well rounded DJ. DMS will give you the loops, transitions and crate fillers to give your DJ sets that "personality" needed to set you apart from the pack."
For more information about DJ KID A.V. click the links below:
Check out the TRACKLIST after the jump with links to download all of the songs he used in this mix. Be sure to check back every Monday for a brand new mix.
Tracklist
1. Digital Underground – Same Song
2. Avicii x Gotye – Somebody That I Used To Know (Levels Bootleg)
4. Run DMC – You Talk Too Much
5. 2 Live Crew x Nicki Minaj – Pop That Pu**y (DJ Kid AV Bedrock Bootleg)
6. FM – I Wanna Pop (Mollies) (Danny Diggz Loop)
8. Rogerseventytwo – Higher (Kids At The Bar Remix)
9. Calvin Harris – Feel So Close
10.Guns N Roses – Sweet Child O Mine
11.Don't Stop Get It (DJ AM Loop)
12.Swedish House Mafia – Antidote
13.Michael Jackson – Don't Stop Til You Get Enough
14.Junior Senior – Move Your Feet
15.Carly Rae Jepson – Call Me Maybe (Varsity Team Remix)
16.Shut The F*** Up, B*tch You Can't Sing (Loop)
17.Afrojack – Take Over Control (Synth Mix)
18.Alesso, Ingrosso – The Calling (R3hab & Swanky Tunes Remix)
19.Rihanna – We Found House (3Lau Bootleg)
21.Daft Punk – One More Time (Jam Hill Revival Remix)
22.Pryda – MSBOY (Joe Maz Bootleg)