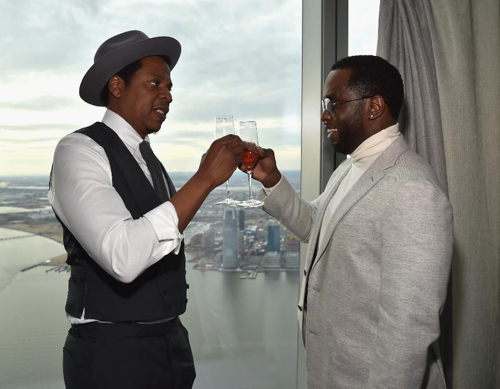 Jay-Z has surpassed Diddy to become not just the richest rapper but also the richest musician, according to a new analysis by Forbes magazine released Thursday.
Apparently, Jay-Z's outright purchase of a $26 million East Hampton estate last year with wife Beyoncé didn't put a dent in his net worth. The value of his empire climbed from $810 million to $900 million in 2017 thanks mainly to his investments in Armand de Brignac Champagne and D'Ussé cognac, which are booming, as well as his Roc Nation entertainment empire and the Tidal streaming service. It's the first time the "Empire State of Mind" rapper has topped the Forbes list of hip-hop's wealthiest acts since it launched in 2011.
Diddy's fortune climbed $5 million to $825 million in 2017, with help from his investment in DeLeon tequila, though his Revolt cable network has seen slower growth. Of course, the Sean John sportswear mogul also owns an East Hampton house, site of his famous White Party for years.
Dr. Dre ranks third on the Forbes list with his $770 million net worth, up from $740 million, still thanks mainly to Apple's $3 billion purchase of the Beats empire he built with Jimmy Iovine in 2014. As part of that sale, Dre will also receive a massive chunk of Apple stock this summer, worth more than $100 million, so he may challenge for the top spot next year.
Though the Forbes list released Thursday was limited to hip-hop artists, it also notes that Jay-Z, Diddy and Dr. Dre are also worth more than any other musicians. Drake and Eminem round out the top five, tied for fourth place with an estimated net worth of $100 million each.
Forbes compiles its rankings by valuing a combination of data including major assets and financial documents. The magazine also speaks with analysts, attorneys, managers, the stars themselves and other industry executives.