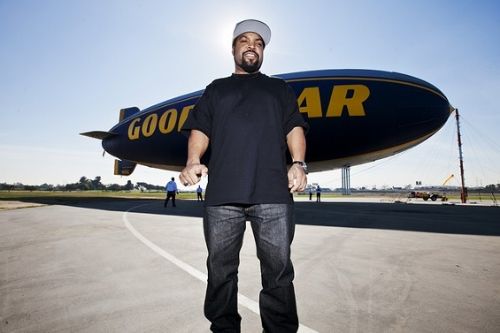 Yesterday was National Good Day Day: As comedian Donovan Strain famously determined, January 20, 1992 had to have been the day that inspired Ice Cube's "It Was a Good Day. " So what if Cube has said he didn't have a specific date in mind? After all, Strain's scientific analysis found, it was the only day that Yo MTV Raps was on the air, it was clear and smogless and the Lakers beat the SuperSonics, etcetera etcetera. The only thing missing from January 20, 1992, really, was a Goodyear blimp flying over L.A. declaring that Ice Cube's a pimp.
And this being the 22nd anniversary of that good day, it was time to rectify that omission. It was also time to raise some money for charity – – via the crowdfunding site Crowdtilt, three "hip-hop loving friends" calling themselves "Team Good Day Blimp" vowed to raise $25,000 for A Place Called Home if Goodyear would get its blimp involved. Once Ice Cube said yes to the plan, and Jimmy Fallon gave it a plug, it was only a matter of (very little) time before Goodyear said yes.
So today Goodyear flew its blimp over South Central L.A. Kids from A Place Called Home, which works with at-risk youth, even got to ride in the thing. The Weekly's Ted Soqui was there to capture the action; check out this slideshow for more photos of the good day good times.
The only possible disappointment on this clear and smogless day? Instead of calling Ice Cube a pimp, as in the song, this blimp opted for the more-P.C. message of "it's a good day." Which, we guess, is fair enough when kids are involved. But how badass would that have been?
DOWNLOAD ON DMS