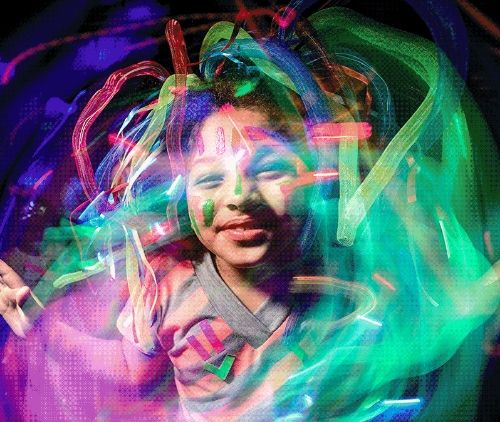 New York's hottest party is CirKiz. This place has everything: fluorescent balloons, juice boxes, foldable paper cutouts of yellow cabs, a dancing, smoke-gun-toting robot, and underage go-go dancers. No, this is not another fantasy from the fevered imagination of Saturday Night Live's erstwhile club-kid city correspondent, Stefon, but a real-life monthly music event for children in Manhattan's Meatpacking District. One Sunday a month, the house music club Cielo transforms itself into CirKiz, which bills itself as "A Cool Kid's Dance Party."
On a rainy Sunday afternoon earlier this winter, a mass of well-turned-out parents in their thirties and forties huddled under an awning, engaged in one of New York's most fundamental, unavoidable pastimes. One woman, a glint in her eye, told her children that they were learning a valuable lesson: going to a nightclub—even one on a Sunday afternoon—meant waiting in line.
The children in attendance today are dressed in their best approximation of club and rave gear: matching track suits, ironic T-shirts, leggings, skinny jeans. The club provides glow-in-the-dark fluorescent tape strips and sunglasses to complete the look. The boys are mostly six, seven and eight years old, while some of the girls are as old as 12. (The few 10-year-old boys present look mostly miserable, and spend their time whacking each other in the head with any implements close at hand, presumably to avoid becoming infected by dance.)
The music is billed as straight EDM (electronic dance music), but the mix here, courtesy of the friendly DJ Natalie on the decks, is more like EDM for beginners: innocuous-sounding tracks by the likes of Reel 2 Real, plus dance remixes of familiar Top 40 hits by Katy Perry and Rihanna.
Check out the rest of this article HERE.