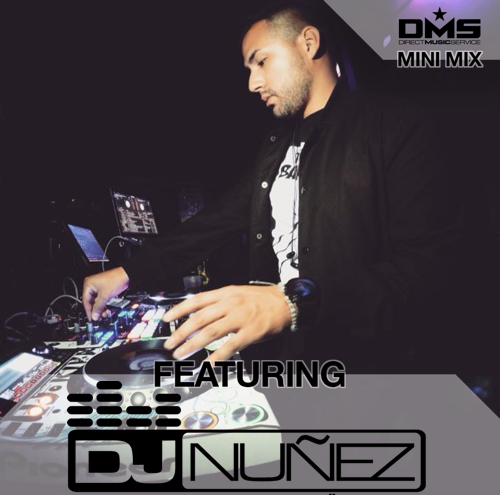 Mix #299 we bring you DJ NUÑEZ from Denver, Colorado. From his humble beginning in his parents' basement in Colorado, to traveling and rocking thousands of party goers a week, Nuñez has graced the music scene with his song selection, flawless mixes, and ability to command a crowd since the age of 15. This Nufusion, Radiobum, KS 107.5, and DefTal DJ has made appearances throughout the states including; Austin, Dallas, Reno, Tahoe, Omaha, and Vegas. Overseas, he's played in India and the Philippine Islands. He's not stopping there, he has plans to take over the West Coast like San Diego, Los Angeles, and San Fransisco. Then he plans to make his way to the East Coast to places like Miami, Baltimore, Virginia, New Jersey, and New York. He's taking over, one city at a time!
DJing 3-6 nights a week, traveling, remixing, and day time events, make Nuñez one of the hardest working DJs and one of the most well known names. His mixtapes and remixes have reached international audiences and have had thousands upon thousands of listens and downloads. His support, listener, and fan base is immense with his nightly club gigs and weekly radio shows. At the forefront of the industry, the most notable and well rounded open format DJ is DJ Nuñez.
For more information about DJ NUÑEZ click the links below:
Check out the tracklist after the jump with links to download all of the edit's he used in this mix. Be sure to check back every Monday for a brand new mix.
TRACKLIST
444+222 (Tony Arzadon Remix) – Lil Uzi Vert
Knuck If You Buck (Trap RMX) – Wellman & Lil Jon
Humble (Jetfire RMX) – Kendrick Lamar
Gucci Gang – (SABER Trap RMX) – Lil Pump
Krippy Kush – Farruko ft Bad Bunny
99 Problems (DJ Nunez Trap Edit) – Jay Z x Headspin
No Limit (Scarlett88 Multi Blend) – G Eazy
Lemon (Mr. Butter & Fraze Twerk Remix) – N.E.R.D. ft Rihanna
0 to 100 (Grandtheft Twerk RMX) – Drake
Tip Toe (PeteDown Moombaton Mix) – Jason Derulo
Wild Thoughts (Wellman RMX) – DJ Khaled ft Rihanna
Gas Pedal (Diggz Saxotron Moombahton Bootleg) – Sage The Gemini
Mayores (Alex Dynamix Twerk Bootleg) – Becky G ft Bad Bunny
P.I.M.P. (Tomico & Seiko Moombahton RMX) – 50 Cent
Pony (Richastic Moombahton RMX) – Ginuwine
Mi Gente (Hardwell & Quintino RMX) – J Balvin & Willy William
Purple Lamborghini (TV Noise RMX) – Skrillex & Rick Ross
Bodak Yellow (Phase Electro Remix) – Cardi B
Congratulations (Dzeko Remix) – Post Malone
Downtown 2.2 – Scotty Boy
A Different Way (Noizu RMX) – DJ Snake ft Lauv
Havana (DJ Sol Remix) – Camila Cabello ft Young Thug
Signs (Spryte Remix) – Drake
Podcast: Play in new window | Download | Embed