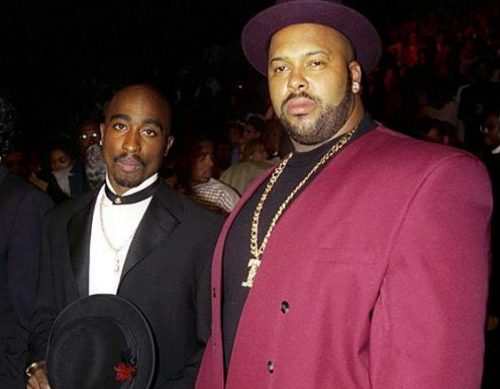 Back in September of 1996, Suge Knight was driving the BMW that got riddled with the bullets that killed 2Pac. While it was always thought that 2Pac was the intended target (due to a scuffle that went down at the Tyson fight Suge and 'Pac were attending), Knight is now saying he was the one they were shooting at.
This new information comes from a signed affidavit that Knight's attorney Thaddeus Culpepper released. Knight says that it was his ex-wife Sharitha and former Death Row security chief Reggie Wright, Jr. who were behind the hit, and it was Knight, not 'Pac, who they were gunning for. This information is reportedly in the new documentary Tupac Assassination: Battle for Compton, and Knight says everything they presented in this doc is true.
A spokesperson for the film reportedly told Music News that "Culpepper told Carlin individually that not only did Knight confirm the events as portrayed in Compton, which portray Knight was the intended target and Shakur as collateral damage, as true, but also goes on to allege that these 1996 events may have been the first in a history of attempts on Knight's life, culminating in the recent attempted killing of Knight at the 1OAK Club in Los Angeles, where Knight was shot six times."
Interestingly enough, Knight was adamant that he wouldn't tell the police who killed 'Pac if he knew who it was just two months after 'Pac died. On national television, no less.
Reggie Wright Jr. told AllHipHop in 2015 that multiple people have tried to connect him with 2Pac's death, and that "all these people are dropping dead. I keep telling people God don't like ugly. I hope people learn a lesson from this." That's eerie as f*ck, and can be taken a couple of different ways. Either way, there's currently no word on if authorities will be pursuing more with Wright.
DOWNLOAD ON DMS