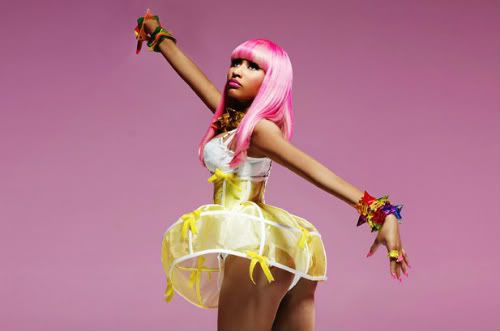 In a recent interview for the February/March issue of Wonderland magazine, the 29-year-old singer revealed her demands while on tour — not just for herself, she said, but for the entourage that hangs out with her backstage.
The magazine obtained a full tour rider list for Minaj, which includes roses, a full tea set, fine silverware, a case of Red Bull, several different kinds of fruit, a full-fledged breakfast spread and deli sandwich tray — and that's just for setting the table. Minaj also requests several items to help her voice, including a humidifier and throat lozenges.
Here's a peek at the list after the jump:
-Two dozen pink or white roses and three large Baked Goods scented candles
-Hot tea setup with lemon wedges, sugar and honey. Must include teacups, saucers, spoons and napkins, and decaffeinated Lipton Tea bags
-Two packs Halls lemon honey drops and three packs of Thayers Slippery Elm lozenges (three different flavors)
-Contact lense solution with case, two space heaters – very important – and a cool mist humidifier
-Three packs of gum in three different flavors
-Twenty-four bottles of Dasani Water (12 at room temperature,12 on ice)
-Twelve cans of Red Bull (six at room temp, six iced)
-Twelve bottles of Martinelli's Apple Juice (six at room temp, six iced)
-Twenty-four bottles of Snapple, 12 must be Lemon Ice Tea, 12 other assorted flavors
-Singer's Saving Grace throat spray
-Two large bottles of assorted fruit juices and 1 gallon of Simply Lemonade – please supply one small tub of clean ice and cups for drinks.
-Egg Whites (scrambled hard), turkey bacon (fried hard), white toast (grape and strawberry jelly/jam). Belgian waffles (syrup, powdered sugar, whipped cream, butter and strawberries on side), enough to serve four people
-One large fruit platter with side of mango and one large cheese platter
-Three twelve-piece buckets of fried chicken, spicy – no thighs, lots of wings
-A deli tray with turkey breast meat, grilled chicken breast, whole wheat bread or rolls, yellow mustard and other condiments (seasoned salt, hot sauce), plates, forks, spooks, knives, napkins and straws (enough for six people)
-Salad – iceberg lettuce, sliced tomatoes, sliced cucumbers, green olives, Wishbone Light Italian dressing, Bumble Bee tuna in water, wheat or low-Fat crackers
-Carrots and dip
-Cranberries (dried), almonds (raw- not roasted)
-One set of fine silverware/stainless steel silverware