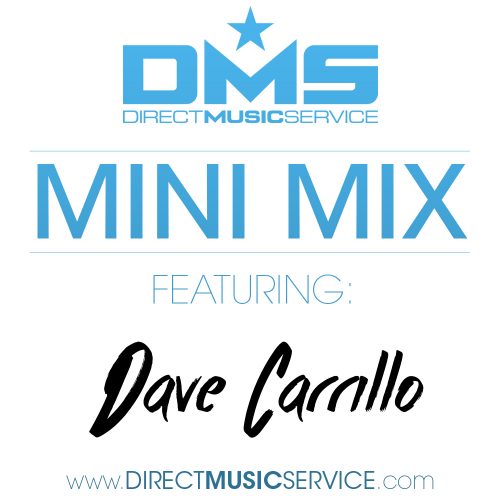 Mix #247 we bring you DJ DAVE CARRILLO from Austin, Texas. Dave was raised in San Diego where he was influenced to start dj'n at an early age by the radio mixers on Z90 also Power 106 and The Beat in LA. Other than playing local venues, he has done Radio on Hot 93.3 FM, been in competitions including the Red Bull Thre3style '15, played in dance music events and also did some traveling and played in Pittsburgh, Cali, Dallas and Vegas. You can catch him in the mix every Tuesday on 96.3 RnB for The Mix at Six, you can listen at 963rnb.com You can check him in the mix every week at the local spots in the Austin area. Listen to his exclusive mix he made for us at DMS.
For more information about DJ DAVE CARRILLO click the links below:
Check out the tracklist after the jump with links to download all of the edit's he used in this mix. Be sure to check back every Monday for a brand new mix.
1. Kriss Kross – Chris Brown
2. Jump – Kriss Kross
3. Don't Stop – Boxinbox & Lionsize
4. Dope – King Lil G ft Nipsey Hussle
5. Next Episode – Dr Dre ft Snoop Dogg Nate Dogg n Kurupt
6. Indo Smoke – Mr Grim ft Warren G & Nate Dogg
7. KABOOM – Bali Bandits
8. Outta Your Mind – Jaysounds
9. Once Hand Up (SABER Bmore Reboot) – Cazztek ft Kiyoshi
10. Move That Doh – Future
11. Dope – Rick Ross ft Future
12. Say Yeah – Wiz Khalifa
13. Ass Shots – Kanye West ft French Montana
14. Push (Ricky Remedy Remix) – Kronic & Far East Movement & Savage
15. 24K – DVBBS 16. Black Beatles (Up Tone Edit) – Rae Sremmurd vs MAKJ vs Part Native
17. Award Tour – A Tribe Called Quest
18. That Old School Sound – DJ Phase
19. Touch it – Busta Rhymes
20. My Way (Tek One Bootleg Edit) – Calvin Harris vs Tony Junior
21. Bubble Struggle – Bora
22. Caribbean Rave (Dave Carrillo Bootleg) – W&W ft Eva Simons vs Juyen Sebulba & Donald Bucks
23. Whatta Hook – Mos & D'Maduro
24. Fade (J Rythm Remix) – Kanye West ft Post Malone & Ty Dolla Sign
25. Get Down – Busta Rhymes
26. Come On To Me – Major Lazer ft Sean Paul
27. Party Starter – Chuckie ft Will Smith
28. Follow Me – Steve Angello & Still Young ft Tom Cane
Podcast: Play in new window | Download | Embed