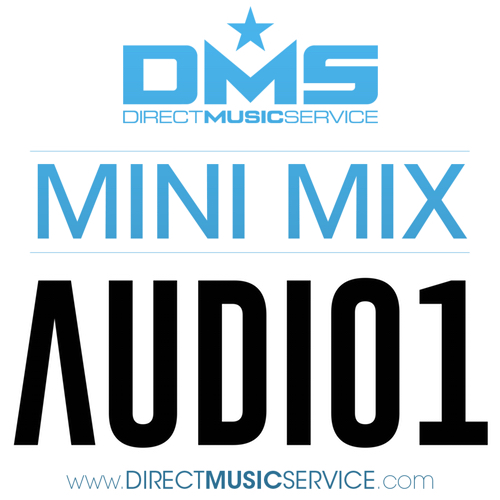 DMS MINI MIX WEEK #202 AUDIO 1 by Directmusicservice on Mixcloud
Mix #202 we have AUDIO 1 from San Francisco, California. AUDIO1 is ​established DJ and producer from the San Francisco Bay Area. Whether its sets on Ghetto House Radio, Being the music director at Opal Nightclub or club and festival DJ appearances, This man is everywhere, constantly traveling across multiple US markets with his wild open-format club sets and hard hitting EDM, trap & bass mixes. This has earned him opening for acts such as Iggy Azalea & Rudimental, plus his sought-after DJ edits & remixes have been supported by thousands of DJs including Diplo and VICE. ​AUDIO1 digs deep with an eclectic mix of classics, new music, original remixes and exclusive edits while showcasing his stellar programming, fast paced mixing and turntable skills. A genuine lover of all music, AUDIO1 always brings his A+ game to the club!
This is an exclusive DMS MINI MIX featuring AUDIO1's favorite hip-hop, dancehall, twerk and 100bpm bass cuts, including unreleased and forthcoming material from his INTL PARTY project with BENOFFICIAL, plus exclusive tracks & remixes from Clayton William, E-Rock, Mastamonk, DIBS & MGM, and many more. Listen to this exclusive mix he made for us at DMS.
For more information about AUDIO 1 click the links below:
Check out the tracklist after the jump with links to download all of the edit's he used in this mix. Be sure to check back every Monday for a brand new mix.
TRACKLIST
1. Diplo/Major Lazer Intro
2. Major Lazer x Kranium – Lean On x Boom
3. Clayton William & INTL PARTY feat. Yak Boy Fresh – How Rat Chet Tho
4. Chucko & LosXL – El BumBum
5. Sidney Samson, Far East Movement & Onderkoffer – Whiplash
6. Nef The Pharoah x Clayton William x E-Rock – Big Tymin (AUDIO1 VIP Edit)
7. VICE feat. Kardinal Offishall – Gun Fingers Up
8. Kranium – Nobody Has To Know (Major Lazer & KickRaux Remix)
9. Travi$ Scott feat. Young Thug – Skyfall (RL Grime & Salva Remix)
10. Jack U / Diplo & Skrillex – Beats Knocking
11. INTL PARTY – Twerk Dirty
12. Diplo & Sleepy Tom – Be Right There (INTL PARTY x VINO Remix)
13. INTL PARTY – Romie's Revenge
14. Jonn Hart, Mastamonk, Savagez & Clayton William – Trippin
15. Yellow Claw & DJ Mustard – In My Room (DJ Scene Twerk Remix)
16. Trey Songz – About You (E-Rock, Clayton William & INTL PARTY)
17. Lil Dicky – $ave Dat Money (DIBS & MGM)
18. E-Rock, Clayton William & Mastamonk feat. Kardinal Offishall – Buss It
19. Kill The Noise – Kill It 4 The Kids
20. INTL PARTY – Zulu INTL Chant 2016
21. Goldlink – Movin On (AUDIO1 Edit)
Podcast: Play in new window | Download | Embed