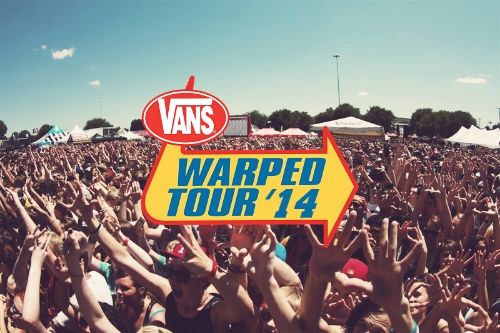 It's a Sunday afternoon in Ventura, California and at the fairgrounds near the beach thousands of punk fans are exploring the various stages at the Warped fest, taking in acts that range from surprise guest Linkin Park to Anberlin, Lionize, Yellowcard, Finch, Less Than Jake, Echosmith. In short, it is the usual blend of punk, hardcore, pop and alternative that fans have come to expect in more than two decades of Warped.
There is one spot that sticks out though, as smack dab in the middle of the concrete jungle is a stage identified as the Beatport Stage. EDM is not a new entity on Warped; founder Kevin Lyman brought the genre on board a few years ago in his continual efforts to see the tour evolve. Still, seeing one of the biggest brand names in dance in the middle of a festival known primarily as a punk hang might surprise some, but not the thousand-plus kids dancing to the beats emanating from the stage in the middle of the afternoon, prompting one pop/punk veteran to remark her surprise that fans at Warped are so into the dance scene.
It's a sentiment echoed by Beatport executive creative director Clark Warner. "It's a millennial tour, that's where the audience is. We know a huge percentage of people who are going to that festival, it's their first festival. So coming in as a teenager, to come and get inspired by something new, there's so much more openness at an event like that versus coming in and going, 'I'm not going to that stupid stage because that's not my genre, that's not my scene,'" he says. "I didn't get that at all when I was in Houston. Our stage had people who were moving around. You could just tell by the look of people they were there to check out new music."
Warner is referring to the opening show in Houston, where he went out to witness Warped first hand. He has a vested interest as the Beatport Stage this year is just the beginning of the Warped Beatport partnership. The two music heavyweights have a three-year deal in place to work together.
"Beatport came out to one of the Texas shows, we hung out a little bit and we talked about things we can do for the next three years together," Lyman says. "This is year one with Beatport. It's been a couple of months, maybe a month and a half, since right before the tour, we put this together. I think they are coming out to learn the tour and look at ways they can potentially help us a little bit and maybe how we can bridge a little bit more with our audience. And they may have certain artists that would fit the Warped crowd that might be good."
With each company looking to push their individual brands towards new audiences, the partnership makes a lot of sense. And, while they come from different musical backgrounds, Warner sees more similarities than differences.
"The parallel here is the platform. As a platform Beatport breaks artists, it breaks songs, it breaks labels…f it actually breaks genres as well as they come on," Warner says. "The one thing with Warped, and Kevin especially, is he is just focused on breaking out new music first. There are many artists who broke at Warped tour. And it might not have been the first week, it could have been the last week because they built up that momentum throughout the country over the tour. And if you're playing a kick-ass set, you connect with the crowd and that gets documented and shared the right way it can happen within one tour, one summer, where you just blow up. So that's the similarity I love about Beatport and Warped tour, within a short amount of time you can earn your stripes, get credibility and break out quickly, and that will influence the rest of your career. I just saw Skrillex play in Denver at Red Rocks this weekend, and he won't forget those years he played that tour."
Naturally, Skrillex is the first name that comes to mind when we ask Lyman what EDM act he'd like to see make a surprise appearance at Warped — like the one Linkin Park did in Ventura. And one of the things Warner is excited about in teaming with Lyman is the possibility for surprises.
"Kevin and I had a great chat in Houston together before everything kicked off about how we can program the future, make it exciting and really throw some surprises out there, throw some punches and make it different. That's the name of the game I think for him, is doing something unpredictable," Warner says.
Warner is confident that in bringing those surprise elements in for Lyman it will allow Beatport to expand their market as well. "For Beatport we are known as a dance store, and for DJs, and that's never gonna change. But DJ is a really open word," he says. "It can be hip hop, it can be an indie rock DJ, it can be a total tripped out space disco DJ, the sky is the limit. And that's the cool thing about Warped tour, there is really no musical boundaries for us to stick to. So we can expand what music is on the store, what's in the service."
Just off the top of his head Lyman already has some ideas on how Beatport and Warped can expand their partnership in the future. "Maybe as we're booking Warped tour next year, and they're gonna have some suggestions for me to check out, maybe we're creating remixes of some bands that have never done remixes before," he says. "As I'm booking them on Warped and promoting them the way the Warped tour would, Beatport could help them tweak their sound a little bit for a different audience and maybe broaden that audience."
Warner loves that idea, as well as the intimate bond Warped acts create with their fans via signings, meet and greets or charity events. He feels that will be a big perk for Beatport acts. "I love the fact you can get up close and personal with the talent and artists, whether it's a signing or the size of the stage. That breaks down so much mystery on who the talent is. So I really want to encourage the talent to get out front; go sign autographs, meet kids, meet your fans, and take advantage of that," he says. "And then to the point Kevin made about remixing, that's in our DNA. Connecting the dots from the past to the future, that's really remixing in our essence. Between artists on the bill, sharing a bus, we can get super creative with that. The sky is the limit."