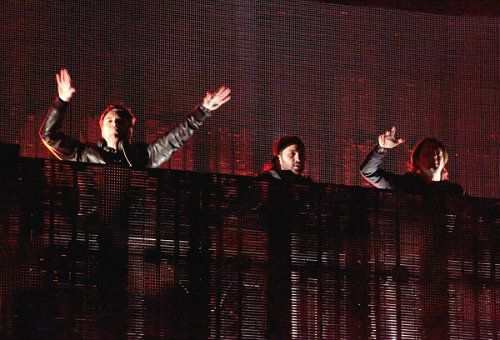 Swedish House Mafia have announced that their days touring together will soon come to an end.
"Today we want to share with you that the tour we are about to go on will be our last," the group wrote in a message on their website. "We want to thank every single one of you that came with us on this journey. We came, we raved, we loved."
The three members of Swedish House Mafia – Steve Angello, Sebastian Ingrosso and Axwell (a.k.a. Axel Christofer Hedfors) – began DJing in a Stockholm pizza parlor in the early 2000s. In July, they'll headline the 65,000-seat National Bowl at Milton Keynes in England (an occasion they note on their website as their last UK show), followed by a date in Ibiza and one in Sweden. "The final leg of this journey will be announced in August," the statement says.
Although their plans to stop touring together appear firm, it is unclear whether the end applies to their producing as well. Just last week, Ingrosso spoke to Rolling Stone about his hopes for a Swedish House Mafia collaboration with Paul McCartney.
"I think the Beatles made something that's kind of melancholic to sad and happy combined, and that's just amazing," Ingrosso said, while noting smiliarities between the two groups' chord progressions. "I kind of analyze music a lot, and I think that what the Beatles have done is what we do today. [It] doesn't matter that we do dance music."
[via RS]