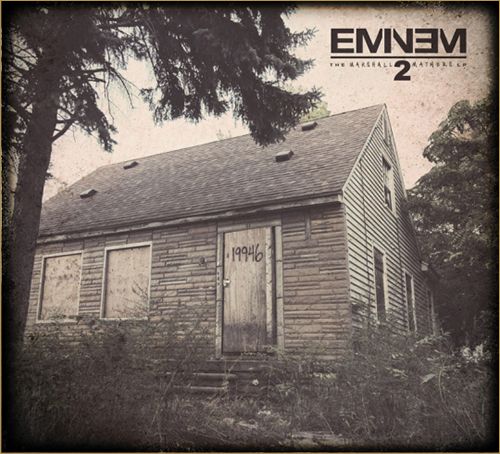 Every Tuesday we are highlighting brand new albums that you should check out. This weeks review is on Eminem – "The Marshall Mathers LP 2".
Written by: DJ Pizzo via HipHopSite.com
Eminem – "The Marshall Mathers LP 2" – 4.5/5 (Review)
"You ain't even impressed no more; you're used to it," said Eminem on 2002′s "Business" from The Eminem Show. While Em's first two albums trail-blazed the music industry, with 2000′s The Marshall Mathers LP arguably being his greatest work, its follow-up literally pulled back the curtain on Eminem. We'd figured out his formulas for a single, deconstructed his blueprint for an album, and felt like we knew his family. It was hard to shock us after three chapters of that album trilogy, yet he still did. But in a word, regarding those lines from "The Business"… he was right.
But that is testament to Em's clairvoyance, having not only the ability to say about himself what you may have already been thinking, but to constantly reinvent himself once you think you've got him pegged. Relapse and Recovery were a pair of albums that presented two sides of the same coin, both of which found him sharpening his lyrics and delving into some self-examination. He'd broken the code used to create his first three LP's, and introduced the world to a more grounded version of Slim Shady.
Not-quite-conscious-Eminem gave us a different look than we'd seen from him on past records, but while he had graduated to a more "mature" brand of music, that nagging line had still rung in the back of this critic's head: "You ain't even impressed no more; you're used to it."
On his new album, The Marshall Mathers LP 2, Eminem has challenged himself twofold: 1) to produce a worthy sequel to his greatest LP and 2) to deliver his most lyrically driven album to date. In short, he's succeeded on both fronts, which is quite a feat, considering this is his 12th full-length project, if you count Infinite, The Re-Up compilation, and offshoot projects with D12 and Bad Meets Evil.
The opening lines of the album's first single, "Berzerk", "let's take it back to straight hip-hop"seem to be the core philosophy on The Marshall Mathers LP 2. The album is executive produced by Rick Rubin, whose fingerprint is all over the record, much more so than that of Jay or Kanye's recent LP's. Much like his early work for The Beastie Boys and Run DMC, Rubin dabbles in classic rock samples like Billy Squire's "The Stroke" on "Berzerk", and Joe Walsh's "Life's Been Good" on "So Far…", in one of the album's most enjoyable moments. Again on "Rhyme Or Reason", a flip of The Zombies' "Time Of The Season", which finds him weaving in and out of the original track's vocals and responding to them with darkly humorous lyrics about his long lost father.
As the early leak, "Rap God", showed, Em delivered perhaps the most technically astounding track of his career, but that is far from the pinnacle of lyrical acrobatics on this LP. After he paints a hilarious visual on "So Far…", he follows up with another Rubin production on "Love Game", a contest of champions with Kendrick Lamar, which shows just how much that verse on "Control" rings true. Oh, and it's about dating.
Herein is why Em may just be the greatest emcee of all time. He's the one emcee that has managed to fuse technical prowess with captivating subject matter and commercially viable content, and he succeeds in both arenas. Yes, his race gives him an advantage, opening him up to audiences that subconsciously might not check for him if he was Black. However that doesn't stop him from also penning some of the most intricately written verses ever, yet they aren't banished to the backpack underground where only a select few might hear them.
However as far as commercial attempts go, this album does contain two songs that don't quite fit with the rest of the LP. "Stronger Than I Was" is a strange addition – perhaps the antithesis of the original Marshall Mathers LP's "Kim" – which finds Em singing for the entire song. To put it plainly, it does not work. It's followed by "Monster", a new duet with Rihanna, but one that just kind of comes off as trite radio fodder.
But these are the only two missteps within the LP. Bookends "Bad Guy" and "Evil Twin" play like sequels to both "Stan" and "The Way I Am", respectively, just two more tracks on the album that leave the listener hanging off of every word. "Headlights" will get you in the feels, as he apologetically writes to his mother, showing a yet another, surprising side to Marshall Mathers.
The Marshall Mathers LP 2 is a success in terms of what it set out to accomplish. It's clear that he wanted to make an album that not only lived up to it's predecessor, but also one that paid homage to his rap forefathers. Celebrity potshots are more-or-less off the table this go round, and instead he big-ups people like Pharoahe Monch, Onyx, and Lakim Shabazz, despite the fact that only a small percentage of the population will get these references. The same can be said here as far as the open-book philosophy of his earlier works. Em spends less time on the soap opera that is his personal life, and giving us only glimpses of it, rather than risking overkill. In displaying a series of arguably his greatest verses ever, and taking a back-to-basics approach to the production, Eminem has challenged himself, and succeeded.
Now that's impressive. – DJ Pizzo
DOWNLOAD ON DMS