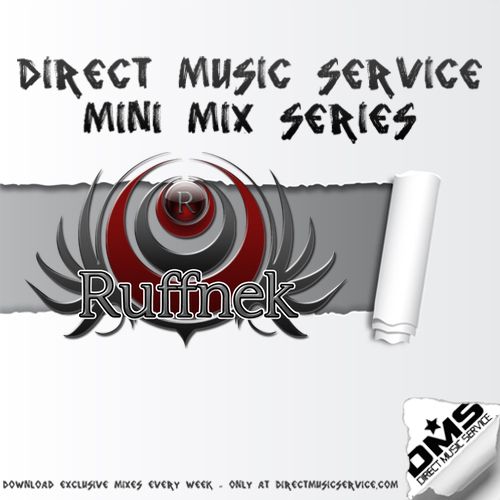 Mini Mix #85 we bring you an exclusive mix by DJ RUFFNEK from Orange County, California. Ruffnek has been rocking crowds for over 20 yrs as both a solo artist & as part of the Funk-infused band Slapbak. Many of these musical endeavors have been achieved traveling on tour with artists such as Snoop Dogg, Xzibit, Digital Underground, The Luniz, Arrested Development, K-Ci & Jojo, Earth Wind & Fire, Parliament/Funkadelic, The Time, The Gap Band, The Dazz Band, Slave, Zapp, Ohio Players, Living Colour, Brides Of Funkenstein and many more – playing in venues ranging from small night clubs to concert venues & performing on stages such as the Lady Of Soul Awards & 92.3 The Beat events with crowds varying from 2,000 to 52,000.
Numerous of his remixes have been featured on these Remix Services: DMS (Fat Wax, Fillin' The Gap, Crate Savers, ReRuns), YourRemix.com, Culture Shock, Mixshow Ingredients, Smash, Deejay Essentials. Ruffnek is currently concentrating on his innovative Video DJ sets with custom video remixes as well as tons of other visuals that leave the audience wanting more. Current Projects: Various Mixed CDs & DVDs as well as the never ending custom audio & video remixes!. Listen and download his exclusive old school hip hop DMS mini mix.
For more information about DJ RUFFNEK click the links below:
Check out the tracklist after the jump with links to download all of the edit's he used in this mix. Be sure to check back every Monday for a brand new mix.
Tracklist:
The Nonce – Mix Tapes (Intro Dirty)
Black Moon – How Many MC's (DIRTY-Intro)
Blahzay Blahzay – Danger (Intro)
Eazy E – Boyz In The Hood (DIRTY intro)
Dr Dre Feat Snoop Dogg – Bitches Ain't Shit
2Pac Feat George Clinton – Can't C Me (Intro Dirty)
Shaquille O'Neal – Strait play'in (CLEAN-Jason Bee Intro)
Del The Funky Homosapien – Mistadobalina (Jason Bee Edit Acappella In & Out)
Pharoahe Monch – Simon Says (Reruns)
DMX vs. MOP – X Gon Ante Up (Fat Wax)
Eric Sermon Feat Redman – React (Fat Wax)
Truth Hurts Feat Rakim – Addictive Rmx (Fillin' Tha Gap)
LL Cool J – Mama Said Knock You Out (DJ Fabian Intro)
Ice Cube – Givin' Up The Nappy Duggout
Jurassic 5 – Whats Golden (VM EDIT)
Ozomatli – Saturday Night (Ruffnek Edit)