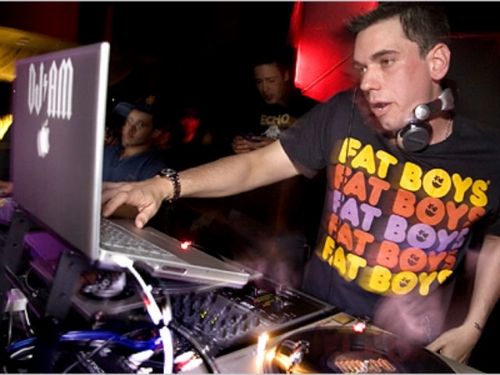 During a panel at EDM Biz about the Grammy Awards and the Recording Academy's non-profit arm, MusiCares, documentary filmmaker Kevin Kerslake premiered a trailer for his forthcoming film about the late DJ AM titled "As I AM: The Life and Times of DJ AM." DJ AM (given name Adam Goldstein) passed away in 2009, and had been very open about his own struggles with addiction, his process of recovery and fight for his own sobriety. Appropriately, a portion of proceeds from the documentary will go to the DJ AM Memorial Fund to be channeled to MusiCares' addiction and recovery services.
Steve Aoki, featured in the documentary, spoke fondly of his late friend during the panel. "In many ways he was my guru in life and DJing," Aoki told the panel's moderator, Jason Bentley. "I wouldn't be where I am today if I wasn't guided by Adam. He was a really solid compassionate human being. That's why he was so successful."
"As I AM" features footage from AM's career, including behind the scenes interviews and performance clips. Friends like Aoki, Travis Barker, and Insomniac Events CEO Pasquale Rotella are featured as well. Kerslake says the film is planned for theatrical release later this year through a distribution deal with Front Row Networks. Kerslake directed the film, "Electric Daisy Carnival Experience" in 2011.
Scott Goldman, Vice President of MusiCares, says the new partnership with the DJ AM Foundation will allow the organization to fund assistance of musicians in need of addiction recovery services – from financing rehab to finding local AA meetings when artists go on tour.
Goldstein's own recovery is central to the story told in the documentary. "There are lot of heroes in this world and it's about time that some of them get their due on the screen," Kerslake told today's audience. "His story is very complex, he had some deep passions and very aggressive demons."
Our very own DJ Kevin Scott will also be featured in this documentary look out for it coming in 2014.