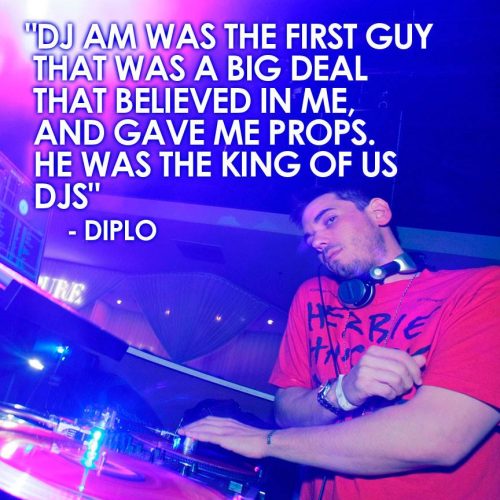 DJ AM documentary tour dates have been announced this morning. In addition to the week long screenings in LA & NY, "As I AM: The Life & Time$ of DJ AM" will play nationwide at the following theaters:
National Tour Dates:
5/27/16: Village East (full week) – New York, NY
6/1/16: Brenden Theatres- Las Vegas, NV
6/1 & 8/16 UltraStar Mission Valley – San Diego, CA
6/2/16: Angelika Carmel Mountain – San Diego, CA
6/2/16: Angelika Pop UP – Washington, DC
6/2/16: Consolidated Ward – Honolulu, HI
6/2/16: Reading Manville – Manville, NJ
6/2/16: Capitol Theatre – Cleveland, OH
6/2/16: Southside Works – Pittsburgh, PA
6/2/16: Frida Cinema – Santa Ana, CA
6/2/16: Angelika Dallas – Dallas, TX
6/2/16: Cobb Dolphin 19 – Miami, FL
6/2/16: Cobb Plaza Cinema Café – Orlando, FL
6/2/16: Cobb Tyrone Luxury 10 – St. Petersburg, FL
6/2/16: Pickford Film Center – Bellingham, WA
6/2/16: Angelika Mosaic – Fairfax, VA
6/3/16: Arclight Hollywood (full week) – Los Angeles, CA
6/3/16: Gateway Film Center – Columbus, OH
6/7/16: Cineplex Cinemas Park Lane – Halifax, NS, Canada
6/7/16: Cineplex Yonge-Dundas and VIP – Toronto, ON, Canada
6/7/16: SIE Film Center – Denver, CO
6/9/16: Bow Tie Palace – Hartford, CT
6/9/16: Providence Place Cinemas – Providence, RI
6/10/16: Dairy Center for The Arts – Boulder, CO
6/12/16: Hollywood Theatre – Portland, OR
6/13/16: Alamo Drafthouse The Ritz – Austin, TX
Other cities with dates and theatres pending are:
Cincinnati, Miami, Chicago, Philly, San Francisco, Boston, San Antonio, Seattle, Atlantic City, Detroit, Houston, Minneapolis, Sacramento, St. Louis, Salt Lake City, Louisville and Milwaukee.
Authorized by the estate of DJ AM, Kevin Kerslake's film is a comprehensive and compassionate look at one of the world's first truly superstar DJs. DJ AM experienced meteoric success through both raw talent and sheer determination, overcoming what for others might have been staggering adversity before tragically succumbing to the demons that dogged his life and career. The film's pacing and style captures the frenetic speed and dynamism of DJ AM's life as well as introspective moments of candor and insight.
Goldstein touched many people's lives inside and outside the entertainment industry, from peers and intimates to colleagues and legions of fans and admirers. The film features interviews with: Mark Ronson; Diplo; Jon Favreau; DJ Jazzy Jeff; A-Trak; Mix Master Mike; Vice; Z-Trip; Steve Aoki; Paul Oakenfold; LMFAO's Redfoo; and Dr. Drew Pinsky, among others. As befits a film about music, AS I AM's soundtrack is as eclectic as DJ AM's own signature style, showcasing musical performances and music by Daft Punk, Justice, Outkast, Elton John, The Doors, The Ramones, Blondie, Black Sabbath, Talking Heads, The Outfield, Fischerspooner, Zoë Keating, Jóhann Jóhannsson, Gang Starr, Grandmaster Flash and the Furious Five, and many other artists.
For more info on the documentary as well as future screenings & ticket availability, visit: www.djamdoc.com