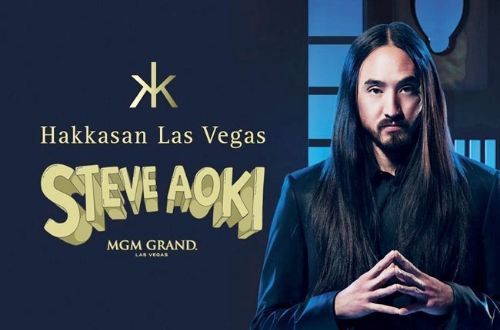 Following the footsteps of Calvin Harris, Steve Aoki today announced his residency at Hakkasan Las Vegas, the soon-to-open nightclub inside the MGM Grand Hotel & Casino. The move ends his Aoki's House party at Wynn Las Vegas, where he helped launch nightclub XS as musical director, and in turn the DJ-residency craze, in 2010.
"There are only a few places in the world where you can actually do a residency for someone that's touring as much as I am, and Vegas is one of them," Aoki explains. "Ibiza's been doing this for a long time – it's the destination for all of Europe. Vegas has definitely evolved in that direction."
Starting this April, the Grammy-nominated producer and DJ will play six nightclub events at Hakkasan, as well as headline daytime parties at Wet Republic, the well-established pool club. Dubbed "Neon Future" after Aoki's forthcoming album (revealed here for the first time), the nighttime events at Hakkasan will take visual cues from its name, while also providing customers with new music from Aoki himself.
Aoki's first artist album, last year's "Wonderland," earned Aoki his first Grammy nomination for Best Dance/Electronica Album. He describes the musical concept for follow-up "Neon" as "bright and positive. The songs are more colorful. They're more emotional. The music, for me, has evolved and changed. That's a big part of why I want to name it 'Neon Future.' That's why I want my party in Las Vegas. I wanted to really put a flag in the ground [that says] 'This is the sound that you'll experience at a party like this. When you walk in, the idea is you walk into a neon future. You walk into that world.'"
Neil Moffitt of Angel Management Group, Hakkasan's partner in Vegas, supports Aoki's futurism. "I want people who are prepared to keep moving the industry forward and keep making new goals and aspire to the next level," Moffitt says of his requirements for a resident DJ. "Whether that be through performance integration or production or similar attributes. I think that Steve is one of those guys. I think they're the flag bearers of the future."
While there has been some chatter about the astronomical fees DJs earn as residents in Vegas, Moffitt defends his company's practices against what he calls "asinine" charges. "We have not made this significant investment to give all our money away to DJs," he says. "What we have done is we've built a business model that we believe is fundamentally profitable. We've gone about it in a very similar way to what we would if we were booking a live act."
Both Moffitt and Aoki speak of how important the audience is in the equation as well, even in the sometimes cold and impersonal environment of Sin City.
"Whether you're playing a festival or a small room or wherever it is, the most important thing is connection," Aoki explains. "You want to be connected to these people. You don't want people to be scratching their heads, you want to be totally engaged with them as best you can."
While Neon Future will serve as both a showcase and a testing ground for Aoki's new material, Vegas itself will serve as both a workspace and a playground for Aoki. An avid poker player (he talks about getting trained by poker professionals Antonio Esfandiari and Phil Ivey), the DJ is looking forward to a few of the games around town.
"I love poker, I love the art of playing poker and I only really do it when I'm in Vegas," Aoki says. "You might catch me at the blackjack tables too. I've lost some money with Deadmau5. That dude loves to play the blackjack."
[via BB]
DOWNLOAD ON DMS