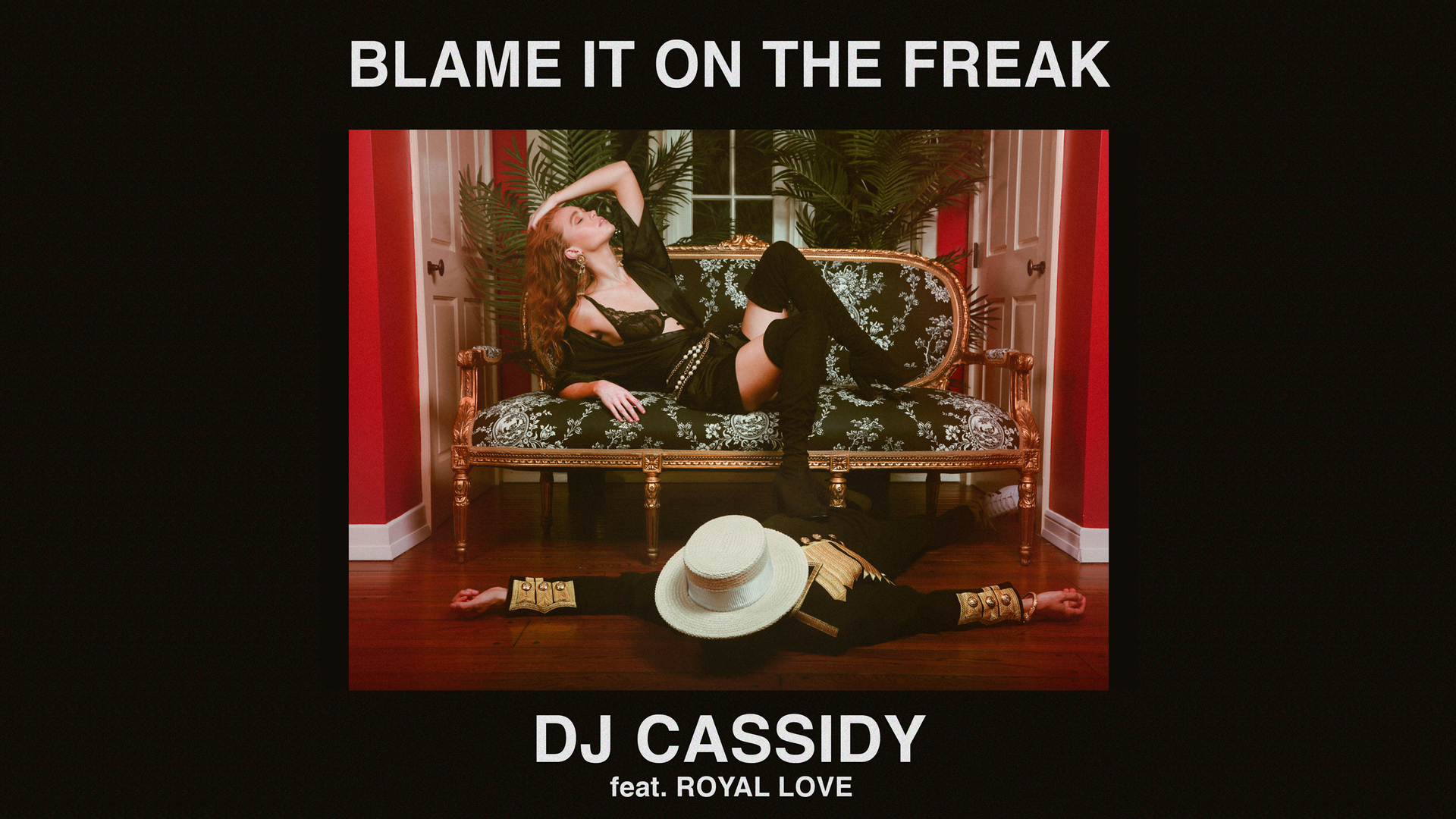 DJ Cassidy returns with his brand new single "Blame It On The Freak," featuring vocals by Royal Love and guitar by Nile Rodgers today via Vibe. Download custom edits here on DMS.
For his latest release, "Blame It On The Freak," world renowned deejay and acclaimed producer DJ Cassidy debuts a new artist named Royal Love, reuniting with production partner Greg Cohen and iconic guitarist Nile Rodgers for a mysterious, minimalist approach to his signature, funk-filled, dance floor anthems.
"Let's get tipsy, lets get frisky like a motherfucker, and blame it on the freak when we do ," chants the song's unapologetic chorus.
"Blame It On The Freak" represents the power of music to get us all out of ourselves," explains Cassidy. "It's about the inner freak in all of us and music's undeniable force over the human mind and body. We are in divisive times right now. It's never been more important to remember the freedom and unity that music exudes."
Following a string of collaborations with bold-name singers, "Blame It On The Freak" is the first of three upcoming singles that finds Cassidy uniting with emerging artists, the first being the deejay's discovery, Royal Love. "With my new music, I sought to develop my own crew of creativity. I wanted every voice you hear to be the writer of those words. I wanted the song to be the star."
The song notably marks the third collaboration between DJ Cassidy and Chic co-founder, Nile Rodgers. In 2014, Cassidy recruited Rodgers, along with Earth Wind & Fire, to provide instrumentation for "Calling All Hearts" featuring Robin Thicke and Jessie J which climbed the top ten of the UK's Official Charts. Then, in 2016, they teamed up again for "Kill the Lights" featuring Jess Glynne and Alex Newell. Not only did the record power several episodes of the Martin Scorsese/Mick Jagger HBO series Vinyl, it also scored the number one position on Billboard's Club Dance Chart, surpassing 50 million streams.
The last time we heard from the iconic deejay, Cassidy unleashed "Honor" featuring Grace and Lil Yachty which figured prominently on the Baz Luhrman Netflix series The Get Down . Previous releases of Cassidy's also include collaborations with Chromeo and R. Kelly which premiered on Pitchfork and Complex, respectively.
DJ Cassidy has been at the nexus of music, fashion, and nightlife since his teens as the go-to deejay for music impresarios, entertainment moguls, fashion icons, cultural trendsetters, and even world leaders. When President Obama wanted a deejay for both of his Inaugurations and his fiftieth birthday party at the White House, there's only one person he called. When Oprah Winfrey celebrated the opening of her school in South Africa on New Years Eve, there's only one person she called. When Jay Z needed a deejay for his wedding to Beyoncé, there's only one person he called. And when Jay, Justin Timberlake, Usher, and Robin Thicke sought out artists to join their world tours, there's only one person they called. Other loyal fans include Jennifer Lopez, Naomi Campbell, Tommy Hilfiger, Anna Wintour, Pharrell Williams, Kanye West, Kim Kardashian, and the hottest nightclubs around the globe all recognizing Cassidy's unique ability to connect to everyone, everywhere with an infectious showmanship, a crowd-commanding voice, and a musical palette so broad, he relates to everyone within his reach, uniting dance floors around the globe. With a calendar of performances that never ceases, DJ Cassidy has spent the summer touring the world with live shows in New York, Montauk, Miami, Las Vegas, Los Angeles, Cannes, Monte Carlo, Mykonos, Portugal, Dubai, and beyond.
For more information about DJ Cassidy click the links below:
DOWNLOAD ON DMS