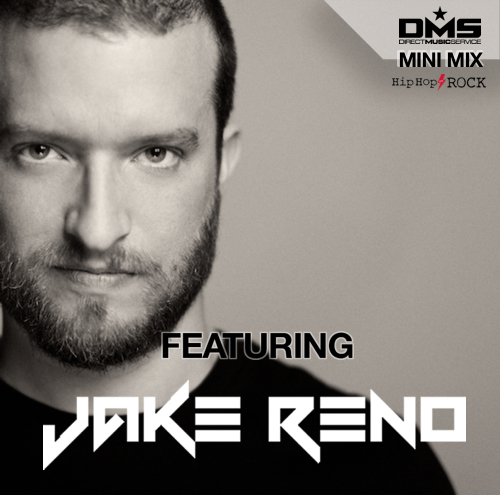 Mix #314 we bring you DJ JAKE RENO. Inspired at a young age through High School band and creating mixes for local parties and events, Jake Reno has been nurturing a musical inventiveness with an expansive range of tastes. With a passion for music and its potential, Jake packed his bags and headed for Chicago. In 2004, after just two years in the city, Jake began performing at venues all over Chicago, landing himself residencies at the most exclusive and celebrity laden venues such as Rino, Manor and Stay. With his reputation setting fire in the DJ world he was named the Rookie of the Year by Chicago Scene Magazine, and has had the privilege of opening for and playing with incredible talent such as Lil' Jon, Katy Perry, DJ Vice, DJ AM, and the list continues. He then began editing and remixing music for Crooklynclan.net, and after seven years of hard work, he was ranked #5 Highest Selling Artist of all Time, and his remixes and edits are played by DJs all over the world.
Fast forward to present day, Jake is utilizing his incredibly charged experiences holding residencies at some of Chicago's most exciting and entertainment driven venues such as Fremont, Benchmark, Underground, Henry's, Progressbar, and Rockit. He is a rock influenced open-format DJ that uses all genres of music ranging from throwbacks to modern day EDM and Trap creating optimal high-energy environments for every kind of event. With the extensive music library he has built, and a true talent for reading a crowd, he continues creating some of the best parties in the city.
For more information about DJ JAKE RENO click the links below:
Check out the tracklist after the jump with links to download all of the edit's he used in this mix. Be sure to check back every Monday for a brand new mix.
TRACKLIST
1. Bigger Than Crunk (Mister Black Remix) – Dead Prez
2. Rock This BIA Party Break Discotech
3. We Will Rock You Undone (Jake Reno Mashup) – Queen vs Weezer
4. Brain Stew – Green Day
5. Dope Man Brain Stew (Dj Homicide Mashup) – green Day vs NWA
6. So Whatcha Want – Beastie Boys
7. Five To One (Mad Mardigan Remix) – The Doors
8. Five To One vs Take Over (Jake Reno Mashup) – The Doors vs Jay Z
9. Stressed Out – Twenty One Pilots
10. Stressed Out Big Poppa (Jake Reno Mashup) – Twenty One Pilots vs Biggie
11. Push It – Pusha T
12. Damn! – Young Bloodz ft. Lil John
13. Bulls On Parade – Rage Against The Machine
14. Transform Bulls On Parade (Jake Reno Mashup) – Rage Against The Machine vs Lil Wayne
15. Ice C.R.E.A.M Paint Job (Jake Reno Mashup) – Dorrough vs Wu-Tang
16. Ice C.R.E.A.M Paint Job vs Sabotage (Jake Reno Mashup) – Dorrough vs Wu-Tang vs Beastie Boys
17. Sabotage (Alex Metric Remix) – Beastie Boys
18. Back To Back vs Whole Lotta Love (Jake Reno Mashup) – Drake vs Led Zeppelin
19. I Just Wanna Whole Lotta Love (Discotech Mashup) – Led Zeppelin vs Jay Z
20. Whole Lotta Hypnotize (Jake Reno Mashup) – Led Zeppelin vs Biggie
21. Hypnotize Stranger Things (Simo Mashup) – Biggie vs Kyle Dixon & Michael Stein
22. Paradise City Grind (Discotech Mashup) – Guns N Roses vs Jay Z
23. Ring Of Fire (Team Canada Remix) – Johnny Cash
24. Sweet Emotion (Mister Black Remix) – Aerosmith
25. Sweet Emotion (Jake Reno Remix) – Aerosmith
26. Another Brick In The Wall (John Farruggio Remix) – Pink Floyd
27. Another Brick In The Wall (Discotech Remix) – Pink Floyd
28. White Lines Party Break – Grand Master Melle Mel
29. Obstacle 1 vs Still Got It (Jake Reno Mashup) – Interpol vs Usher & Migos
30. Shabba Ranks – A$AP Ferg
40. Ain't Worried Bout Nothing vs Enter Sandman (Jake Reno Mashup) – French Montana vs Metallica
41. Mosh Pit vs Song 2 (Jake Reno Mashup) – Flosstradamus vs Blur
42. Zero (Le Castle Vania Remix) – Smashing Pumpkins
43. 2 Step vs Zero (Jake Reno Mashup) – Dj Unk vs Smashing Pumpkin
44. North American Scum vs 2 Step (Jake Reno Mashup) – Dj Unk vs LCD Soundsystem
45. I Don't Give A Coldplay (Discotech Mashup) Lil John vs Coldplay
46. Viva La Millie (Dj X MIND Mashup) Coldplay vs Lil Wayne
47. Mr. Brightside vs What You Know (Dj Homicide Mashup) The Killers vs T.I.
48. Rockafellar Skank (McFly Funky Beats Edit) Fat Boy Slim
49. Dirty Cherry Pie (Jake Reno Mashup) Warrant vs Jayz
50. Cherry Pie (Dj Solarz Remix) – Warrant
51. Fat Bottom Girls Party Break – Rock-It Scientist
52. Sweet Home Alabama – Lynyrd Skynyrd
53. Sweet Home Alabama vs Country Gramar (unknown mashup artist) – Lynyrd Skynyrd vs Nelly
Podcast: Play in new window | Download | Embed