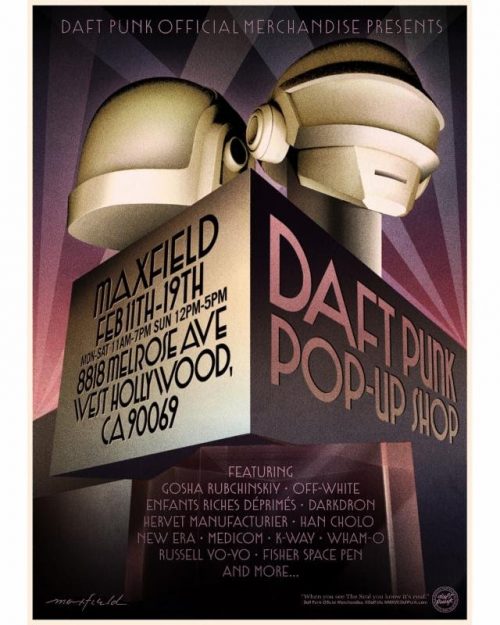 The whole dance world sits on pins and needles to hear of any official Daft Punk news. This is the year we've all expected a tour, even though the robotic duo has never actually claimed it would happen – or not happen. The past few months have been fraught with fake tour trailers and Instagram announcements, but today, finally, Daft Punk have officially announced something.
It's not a tour. It's a pop-up shop in Los Angeles, an archival retrospective of the group's career featuring set pieces, props, wardrobe accessories, artwork, and yes, helmets on display. There will also be limited edition items inspired by Daft Punk designed by Gosha Rubchinkiy, Off-White, Enfants Riches Deprimes, Darkdron, Hervet Manufacturier, and Han Cholo. The timing makes sense since the robots are set to perform at the Grammys with The Weeknd.
Anyone who isn't in Los Angeles Feb. 11 to 19 will obviously be very jealous. Anyone in LA should head to 8818 Melrose Ave., West Hollywood, across frm the Maxfield's main store. Hours are Sunday, Feb 11 and 19, from 12 pn noon to 5 pm PST. Monday through Saturday the show will be open from 11 am to 7 pm PST.
DOWNLOAD ON DMS