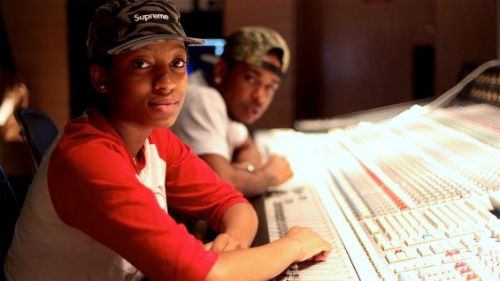 At just 16 years-old, Canadian-Nigerian producer Ebony "Wondagirl" Oshunrinde is already making a name for herself. After defeating 32 aspiring producers to win the 2012 Battle of the Beatmakers challenge, held in Oshunrinde's native Toronto, the budding beat Betty created the sound for Jay Z's track "Crown," the Southern-flavored banger appearing on the rapper's 12th solo album, Magna Carta… Holy Grail.
One of the youngest female producers to have a credit on a platinum-selling hip-hop album, Oshunrinde's interest in the recording studio began at the age of nine, when she found a video of Timbaland in the studio with Jay Z while working on The Black Album."I always love the background music in songs, not the lyrics," the soft-spoken Oshunrinde tells The Hollywood Reporter. "I didn't know who did that, so I did my research and I fell in love with the beats that Timbaland was making."
After entering her first Battle of the Beatmakers competition in 2009, Oshunrindee met producerMatthew "Boi-1da" Samuels, a fellow Canadian who has created tunes for such hitmakers as Kanye West, Eminem and Nicki Minaj. "I'd email him beats and he'd send his feedback," says Oshunrinde, who named herself "Wondagurl," a spinoff of Boi-1da's handle, as a way to pay homage to the producer.
It was Boi-1da who introduced Oshunrinde to the Houston rapper and G.O.O.D. Music and Grand Hustle signee Travi$ Scott. Scott became the bridge between Jay Z and the teenage producer. "I made a beat one day and I emailed it to Travi$ Scott and he said he was going to add some stuff to it," recalls Oshunrinde. "But when he was in the studio with Jay Z, he showed it to him and Jay liked it." It was this beat, which samples reggae artist Sizzla's "Solid As a Rock," that became the backbone of "Crown."
Though Oshunrinde, who listens to instrumentals like Bollywood scores for inspiration when making her jams, has yet to actually meet Jay Z, she did receive a proper nod from Hov via Twitter when he replied to the fan question "I wonder how it was to work with wonda gurl?" Jay Z wrote, "At the risk sounding redundant, wonderful."
Riding high on the "Crown" wave, Oshunrinde reveals she's been in talks with Drake about appearing on his upcoming album Nothing Was the Same.
"We went into the studio here in Toronto," she says. "He wants a banger. That's what he told me. So that is what I am going to make him." How much progress have they made so far? "The studio session wasn't very long," she confesses. "I had to go because my mom was calling me home." After all, she is still in the prime of her teenage years. And though she also has her sights set on working with Kendrick Lamar, Pusha T., Timbaland and Keri Hilson, Oshunrinde is focused on finishing high school. "I'll just continue to make beats at my house after I've done my homework," she says.