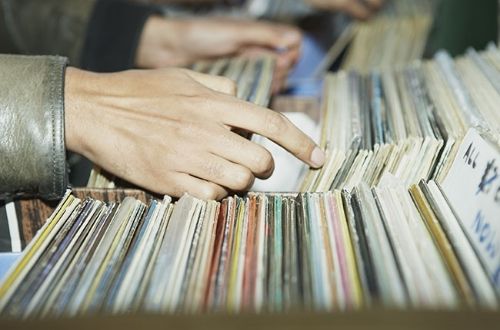 Ever see a movie where the protagonist wasn't born, or the USSR won the Cold War, and the alternate future is different from the present day? Think back to Doc Brown using a chalkboard to draw tangential, alternate futures for Marty McFly in Back to the Future. Well, imagine if vinyl records were a hard-to-find niche product, and pressing plants were operating with capacity to spare. It could have happened.
Anticipating a change and in search of new physical and hybrid offerings, record labels developed and tested a series of products between 2006 and 2008: MVI (Musical Video Interactive, a DVD filled with audio, video and interactive content), connected CDs, digital album cards (branded, physical cards with a download code), music placed on storage devices for your flip phone and a few others.
NPD Group surveyed consumers on behalf of Music Business Association (Music Biz), then called the National Association of Record Merchants (NARM). To its credit, the industry publicized the results of these tests through NARM. Although no product achieved the purchase interest of the CD, a few looked promising, especially for committed buyers.
Vinyl concepts were tested in 2006 next to early versions of connected CDs and CD/DVD hybrids. This version of vinyl included a digital download card that would allow the buyer to download the album's digital tracks. Of all the products tested between 2006 and 2008, vinyl tested the worst. There were ample problems. Vinyl had the lowest purchase interest. It didn't particularly appeal to any important fan segments. And it wasn't seen as a valuable item. More people expected to pay less for vinyl than were willing to pay a premium.
Only 5 percent of respondents said vinyl was their favorite of the ideas tested. The idea of a premium product for a broader audience was dead in the water.
What happened to make vinyl the fastest-growing format, albeit still not the mainstream product CDs once were? Record Store Day.
The notion that vinyl records would reignite passion for music seemed far-fetched back to 2006. Music stores were becoming irrelevant. There was a constant stream of articles about record stores closing around the country. Tower Records went out of business. The Musicland Group, owner of chains such as Sam Goody, filed for Chapter 11 bankruptcy protection.
The industry was excited about digital music, says Michael Kurtz, co-founder of Record Store Day. iTunes was in its fourth year. iPod sales were exploding. "That's what swept everybody along. It affected the business side of things because financial support shifted" from physical to digital formats.
Even though the flow of vinyl releases slowed to a trickle, records were not gone from the market. Many independent labels consistently released titles on vinyl in the early- to mid-2000s. Some major labels released catalog albums, and the occasional new release, on vinyl. Yet vinyl was far from the mainstream. "It was an underground held up by DJs, punk and indie rock," says Billy Fields, the vice president at Warner Music Group that oversees vinyl for the company.
What happened next gets to the heart of NPD's research. When independent record stores — within the Alliance of Music Stores coalition — were presented with the idea of Record Store Day, some wondered why stores would market to the smallest group of customers. "Mainly because Eric Levin at Criminal said something is afoot. More customers are asking for it," says Kurtz.
Something was indeed happening with vinyl. After shrinking 30 percent in 2005 and remaining flat in 2006, vinyl sales grew 15 percent in 2007, according to Nielsen Music. Much bigger gains would soon come.
The first Record Store Day, in 2008, had about 10 releases, says Kurtz. A modest start, but Kurtz had "never seen so much excitement." With the help of Record Store Day, vinyl sales grew 90 percent that year with the largest single-year unit gain until 2013. The second installment had more than 100 releases.
Labels had a renewed confidence in vinyl. All of a sudden, says Kurtz, record labels could press 3,000 to 5,000 copies of a release on vinyl and have confidence it would sell. Sales and marketing support returned. Press releases and social media started promoting the born-again format.
Record Store Day has gone on to become a major event in music retail. It's spawned offshoots in five European countries, Canada and Mexico, and a sister event on Black Friday. Since the breakout year in 2008, vinyl albums sales increased 223 percent to 6.06 million units last year. And rather than slow down, sales are actually gaining momentum. In unit terms, vinyl sales grew 1.5 million units last year. With sales on track to surpass 8 million units, this year's growth will surpass 2 million units.
What was learned from the research? Well, it did conclude that there was no substitute for the CD, and that's been true. The predictions that these products would have only a niche following also turned out to be true. The research said these products would not compete with digital. That appears to be true — vinyl buyers are heavy music consumers across all formats. It also highlighted that consumers wanted a special experience and bonus material, especially for their favorite artists — a forecast that has come true in the form of deluxe product, and reflected in YouTube's success in capturing music fans.
But the research could only measure consumer sentiment at the time. Music consumers of 2006 underestimated their own desire for nostalgia, for premium sound — vinyl is the best representation of a recording — and for a closer connection to artists. Digital music was such a refreshing change from CDs that many consumers hadn't yet realized its shortcomings.
"Digital delivered the one thing the business thought the consumer wanted was convenience," says Fields. "But I don't think it did anything to strengthen the connection between the music and the fan. When you reduce the visual marker to a thumbnail, it's not like holding a CD let alone a 12″ LP."
And although the 2000s were filled with alarms that the music industry would lose a generation to piracy, those worst-case scenarios were far from reality. Not only do young consumers now have legal streaming services that were either new at the time (Pandora) or nonexistent (Spotify) at the time of the survey, they have become fond of an analog product.
Perhaps surprisingly, young consumers are the strongest vinyl demographic. According to MusicWatch, 18-to-25-year olds represent 13 percent of people surveyed but 22 percent of all vinyl buyers. The 26-to-35-year old group account for 17 percent of people surveyed and 26 percent of vinyl buyers. Older age groups have proportions of vinyl buyers equal to or less than their proportions of overall survey respondents. Says Kurtz, "If the young people are buying, they're buying vinyl."
But this isn't a case of vinyl buyers being luddites. MusicWatch data shows people that buy vinyl are more likely than the average music consumer to listen to Internet radio, follow artists on social media and stream on-demand music. They're heavy music consumers that need something beyond digital files or CDs.
Vinyl isn't exactly a mainstream product. Through the week ending December 7th, vinyl accounted for just 3.4 percent of U.S. album sales and 6 percent of physical album sales. But the format has been revived for a new generation of music fans and has helped keep independent music stores in business. Good thing, too. "Interactive CD Store Day" has a bad ring to it.