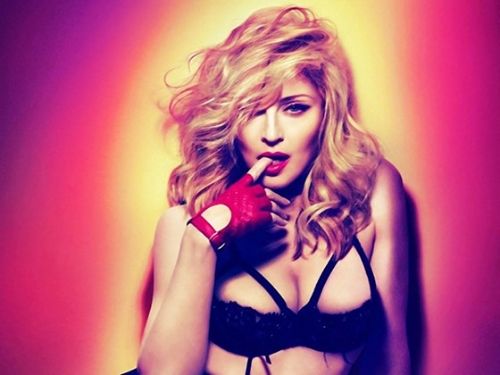 Lady Gaga and Madonna have a superstar rivalry made in gossip-blog heaven. The former burst onto the scene five years ago with a provocative pop sensibility reminiscent of the latter's. Last year, Madonna accused Gaga of ripping off one of her songs; this year, the "Born This Way" singer insisted she doesn't want the Material Girl's throne.
From an earnings perspective, however, there's no question over the winner of this battle's latest round. The honor goes to Madonna, who pulled in $125 million over the past year, making her the highest-paid musician in the world. The bulk of Madge's millions came from the tail end of her MDNA Tour, which grossed $305 million. She augments her income with heady merchandise sales at concerts, as well as her Material Girl clothing line and Truth or Dare fragrance.
Gaga ranks second with $80 million; she grossed over $160 million on her latest tour before succumbing to a hip injury. Had she been able to finish, she would have likely topped $200 million. Her ARTPOP album was released after the end of our scoring period, but should give her a boost on next year's list. She could easily reach the No. 1 spot with a successful set of concerts, the main driver for most major artists' earnings.
"With touring being the biggest revenue stream, if there's an opportunity for an artist to go out, if there's an opportunity for a promoter to curate a festival, people are doing it, said Kevin Liles, founder of KWL Enterprises and manager of artists including Big Sean, Trey Songz and Young Jeezy.
A look at the rest of the list underscores the importance of live performances in today's music world. Bon Jovi ranks third with $79 million, most of it from the appropriately named Because We Can tour. Road warrior Toby Keith pulled in $65 million to land the No. 4 slot, while Coldplay parlayed seven-figure nightly grosses into a $64 million payday.
Of course, product extensions can provide a major boost to an artist's bottom line as well, and few do it better than Keith. Country's cash king has his own record label, mescal line and restaurant chain; each outlet has its own stage.
"The beauty is where it synergizes with my label," he explained to FORBES earlier this year. "I don't have to look for a place [for my acts] to play … they're in Toby's house. They're drinking Toby's liquor. That's Toby's act. And then we're moving to the next town."
A few of the musicians on our list, however, generate nearly all their income to sources other than music sales, record labels and touring. Sean "Diddy" Combs, who ranks No. 12 with $50 million (making him hip-hop's highest-paid act), earns the bulk of his bucks from his wildly successful Ciroc vodka deal. His Revolt TV network, launched in October, should provide a big boost to future earnings.
Diddy and fellow hip-hop moguls Jay Z (No. 19, $42 million) and Dr. Dre (No. 21, $40 million) are the genre's lone representatives, while Keith is one of four country acts—Taylor Swift (No. 8, $55 million), Kenny Chesney (No. 10, $53 million) and Tim McGraw (No. 25, $33 million). The rest of the list is made up of pop divas and arena rockers, with the exceptions of Tiësto (No. 26, $32 million) and Calvin Harris (No. 14, $46 million), the world's two highest-paid DJs.
"The rise of dance music has been astronomical in the last three years and I happened to be in the right place at the right time," he told FORBES earlier this year.
In order to form our list, we looked at income from June 1st, 2012 through June 1st, 2013, using data sources including Pollstar, the RIAA, Nielsen SoundScan, managers, lawyers and many of the artists themselves. We took into account concert ticket sales, royalties for recorded music and publishing, merchandise sales, endorsement deals and other business ventures.
Our estimates reflect pretax income before deducting fees for agents, managers and lawyers; only living artists are eligible for the list.
1. Madonna ($125 million)
2. Lady Gaga ($80 million)
3. Bon Jovi ($79 million)
4. Toby Keith ($65 million)
5. Coldplay ($64 million)
6. Bruce Springsteen ($62 million)
7. Justin Bieber ($58 million)
8. Taylor Swift ($55 million)
9. Elton John ($54 million)
10.Beyoncé ($53 million, tie)
10.Kenny Chesney ($53 million, tie)
11.Diddy ($50 million)
12.Paul McCartney ($47 million)
13.Calvin Harris ($46 million)
14.Jennifer Lopez ($45 million)
15.Roger Waters ($44 million)
16.Muse ($43 million, tie)
16.Rihanna ($43 million, tie)
17.Jay Z ($42 million, tie)
17.One Direction ($42 million, tie)
18.Dr. Dre ($40 million, tie)
18.Red Hot Chili Peppers ($40 million, tie)
19.Rolling Stones ($39 million, tie)
19.Katy Perry ($39 million, tie)
20.Tim McGraw ($33 million)
21.Pink ($32 million, tie)
22.Tiësto ($32 million, tie)