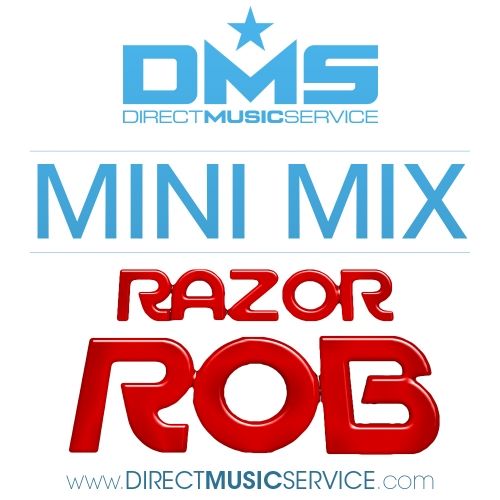 Mix #140 we have RAZOR ROB from Las Vegas, Nevada. He grew up in San Jose California lived there for most my life, then moved to las vegas in 2004. He started dj'ing out of high school (class of 88). He met Jazzy Jim at a local DJ battle where he was battling Q-Bert and Dave Meyer and many more. Jazzy Jim mentored him on his quick mixing style and how to keep the energy up. He eventually put together an hour mix that was aired on Hot 97.7. Since then he's been on several radio stations from wild 94.9, to 106.1 keel (chuy gomez midnight mix) kdon in salinas also mixshow coordinator (kdon) power 88.1 in las vegas, and wild 102. He has many residencies in Vegas and out of town.
He has been doing edits for 8 years now as well as original production. He has been djing for over 24 years now and still gets goose bumps or sweaty palms that makes him feel alive. He loves to play open format and put it all together to make sense. Special thanks to the D.M.S. squad and much love to all the dj's/editors/producers on the site, this is the best place to get any type of music they have it all! Download & Listen to this exclusive mix he made for us here at DMS.
For more information about RAZOR ROB click the links below:
Check out the tracklist after the jump with links to download all of the edit's he used in this mix. Be sure to check back every Monday for a brand new mix.
TRACKLIST
1. yap that fool-A. Skillz & Nick Thayer
2. dirt off ya shoulders-Dirt Brillz & Z-Trip
3. Calabria(twerk remix)-Enur Vs Deville
5. I'm jus Rockin' It-Dustin Que & Buffalo Stille
8. Dub Be Good To Me-A.Skillz & Beats Internatioal
9. I Need Your Love(cold magnet dmx cutdown)- Calvin Harris Ft. Ellie Goulding
10.Got To Be Good-Peter Gelderblom & Randy Colle
11.Frisc Disco(cutdown)-Funky Truckerz
12.Moves Like Ms. Jackson-Disclosure
13.Understand This Groove-Nick Fiorucci & Block & Crown
14.Extraordinary(Martin Ikin Remix)- Clean Bandit
15.Disco Inferno(Stefano Mattara rmx/cutdown)-Steve McKelly