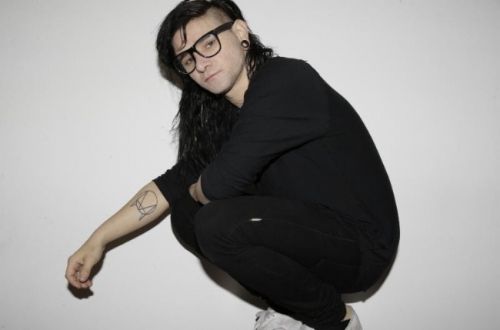 Skrillex is taking his inspiration from Kanye West these days.
The electronic music DJ and producer spent a little time with West, sharing a plane flight from Los Angeles to Las Vegas where each was to perform two years ago, and came away with an invitation to collaborate and an even deeper understanding of the possibilities in front of him.
"It was cool to see Kanye surrounded by all these creative people constantly on computers, approving stuff, coming up with ideas – the constant machine that Kanye was in the middle of," said Skrillex, whose real name is Sonny Moore. "And it reminded me a lot of my crew. We have so much going on 24-7 and we're always on our computers, we're all approving stuff and going back and forth with ideas. And to see him do it on a massive level is really cool. He's just so involved with every aspect of his career."
The 26-year-old Grammy Award winner has decided to emulate that model, and has begun building a creative center in downtown Los Angeles he calls The Nest. Eventually the goal is to have a space for friends – musicians and producers and members of his record label, OWSLA, but also other creatives in the visual and fashion world – to use as a hub, much in the way West keeps scores of satellites in orbit around him.
Skrillex's first official album, "Recess" is one of the most complex examples of this way of thinking. It was recorded as he toured the world and unfettered by corporate rules. His record label, Atlantic Records, had almost no input before it received the album, and is working mainly as a distributor and promoter.
"All the creative comes from us sitting together and vibing out," Moore said in a phone interview of his collaborators and business partners. "I'm making music and they're working on other artist stuff and we just kind of have this synergy going on that really bypasses the steps of having to deal with a label and having to clear something through them, and hopefully they'll get out there and sell the record. It doesn't have that (old label system) vibe. It's a whole different way of being. It's pure, you know?"
Instead of taking a seven-figure advance, Moore recorded "Recess" in much the way he's produced previous records – on the fly all over the world. As he played shows for a growing number of fans, he'd selectively invite new collaborators to join him as he made stops in New York, Los Angeles, Canada and the United Kingdom.
While in South Korea, he hooked up with G-Dragon and the YG Entertainment crew at the suggestion of Diplo and the result was "Dirty Vibe." He caught up with old friend Chance the Rapper at a show in Seattle and they banged out "Coast is Clear" overnight with a full band.
"Recess" is the first formal release Moore has put out under the Skrillex moniker since 2011's "Bangarang" EP. He spent much of 2013 occupied with touring as Skrillex and with his band, Dog Blood. He scored Harmony Korine's "Spring Breakers" and worked on music obsessively. "Recess," it turns out, is just the initial salvo in 2014.
"This album is kind of like the first wave of a lot more stuff to come, just (songs) flying out left and right kind of thing," he said. "That's kind of what to expect: spontaneous releases. … There's so many other collaborations that I can't really say yet but that have been left over from the record, that I'm going to release soon that are so dope. I'm excited for the new stuff to come out that no one's heard yet."
DOWNLOAD ON DMS