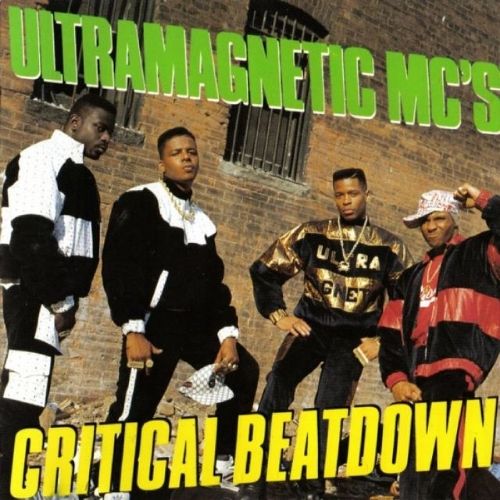 This weeks classic album review is on Ultramagnetic MC's – "Crictical Beatdown" and was written by HipHopSite.Com's DJ Pizzo on June 4th, 2004. Original Post.
Ultramagnetic MC's – "Crictical Beatdown" – 5/5
By DJ Pizzo
The greatest hip-hop album of all time? For some, it's Nas' Illmatic, for others, it's Boogie Down Productions's Criminal Minded. For this critic, it's Public Enemy's It Takes A Nation Of Millions To Hold Us Back, and for another group of people, it's Dr. Dre's The Chronic. But among these staples that have shaped hip-hop music over the last twenty years, one release that you don't typically hear listed is Ultramagnetic MC's Critical Beatdown. While those that call this the greatest hip-hop ever recorded are smaller in number than some of the other aforementioned releases, Critical Beatdown is perhaps more influential then any of them, because without this release, many of these others may have never existed. The influence ofCritical Beatdown sits somewhere very high atop the hip-hop hierarchy pyramid, as it laid the foundation of how hip-hop records are created, with it's blueprint still being followed even today.
While Critical Beatdown dropped in 1988, it slowly began to take form as early as 1986, with the release of the "Ego Trippin" single, which featured rhyme scientists Kool Keith and Ced Gee taking indirect shots at Run DMC ("Say what, Peter Piper? To hell with childish rhymes…."), over the Melvin Bliss' "Synthetic Substitution" breakbeat, while now revealed mystery man, Mike, laid the simple, yet spaced-out hook "MC Ultraaaa (Magnetic, Magnetic)….", that still rings so clearly in the fans' heads today. However, while the hungry Ultramagnetic MC's took a few potshots at Run DMC early on, they almost catered to that audience with their 1987 follow-up single, "Traveling At The Speed Of Thought" (even more-so on the album version, by similarly employing a rock guitar loop and big, chopped drums). They did return to form with "Mentally Mad" b/w "Funky", however neither of the 12-inch recordings made it the original version of Critical Beatdown, as "Funky" was replaced by a remix. When 1988 hit, they perfected the sound that would encompass Critical Beatdown with it's lead singles "Watch Me Now" and "Ease Back", where Ced-Gee brilliantly meshed layers of SP-1200 chopped funk and soul samples, before it was the thing to do.
Boogie Down Productions dropped Criminal Minded one year earlier in 1987, and unbeknown to most, Ultra's Ced Gee was the wizard behind the boards, despite the album's back cover which read: "All cuts written and produced by KRS-ONE and Scott La Rock – Special Thanks To Ced Gee". So while many would hail La Rock as the innovator of using the SP-1200 to chop beats up, rather than to simply loop them, the real credit belonged to Ced. But if imitation is the sincerest form flattery, Ced would get unspoken credit with the release of Critical Beatdown. Soon everyone was taking Ced's approach to beat-making, and Ced knew it ("I'm amply the best producer/ at making rap music / I know how to use it / so just watch me"). Not only that, many of the now familiar samples used on this album were first used on Critical Beatdown, but ironically popularized instead by acts like Rob Base & DJ E-Z Rock, Kool Keith, and Big Daddy Kane.
But Ced-Gee wasn't the only history-making element of Ultramagnetic MC's, as these four horsemen also birthed Dr. Octagon himself, Kool Keith. Not only was Ultra pioneering the style of hip-hop production, but rap android Kool Keith was reshaping the way rhymes were written and delivered. In arguably his most prolific form, Keith was Ultra's star, with a rich vocabulary, spitting abstract ideas in rhyme that hadn't been heard before ("I'm cold chillin' or wearing a rhyme to keep warm….") and entire verses about brain dissection ("I'll put your brain in slow motion like lotion and let it float in the ocean, and then I drown it…." ), not to mention more mentally mad lyrics about eating roaches and mouse (not mice). For better or for worse, Keith was the original scientifically smart rapper, paving the way for acts like Organized Konfusion, Ras Kass, and MF Doom, not to mention he was spitting these off-the-wall freestyle rhymes faster than the mind could process them.
Today's generation may have a hard time grasping why this album is a classic, as to them it would probably sound outdated. However, anyone who grew up in this era, even those that chose Public Enemy, Eric B. & Rakim or Big Daddy Kane over Ultramag, could appreciate it today, even if they slept the first time around. Regardless, Critical Beatdownshould be peeped by all, as it has influenced the entire spectrum of hip-hop in some form or fashion. – DJ Pizzo
Originally published on HipHopSite.Com June 4th, 2004.
DOWNLOAD ON DMS