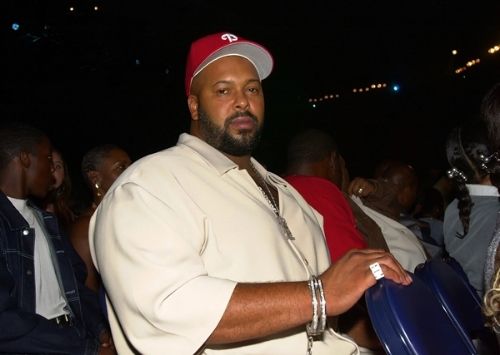 This past weekend, Snoop Dogg's debut album Doggystyle turned 20. Back in 1993, the lanky 21-year-old from Long Beach, Calif. was riding high on his breakout performances from Dr. Dre's The Chronic, but he'd been implicated in the murder of Philip Woldemariam and had a murder trial looming. The Doggfather unquestionably had all eyes on him.
Doggystyle went on to sell millions of copies and spawned successful singles like "What's My Name," "Gin & Juice" and "Murder Was the Case." It was the second project released by Death Row Records, a label that Dr. Dre co-founded with Marion "Suge" Knight. It was Knight's executive muscle that helped Snoop avoid jail a few years after its release, but following the 1996 murder of his label mate Tupac Shakur and Knight's subsequent incarceration, their relationship soured. And it remained that way for years — until last February, when Snoop instagrammed a photo of the pair at an L.A. club. They'd finally made amends. In a rare interview with Rolling Stone, Suge Knight looks back on the Doggystyle legacy, read the interview after the jump.
What do you remember most about what went into making Doggystyle?
We were able to make sure [Snoop] didn't go to prison to make the album. We only had one song done, and then after that it was the [Philip Woldemariam] murder case and the trial. When we got ready to start the trial, $5 million had to be paid to a legal team. And at the time Snoop never sold no records. Jimmy [Iovine], Interscope, those guys were saying they're not going to participate in trying to help keep him out of prison, because they didn't think they were capable of doing it. Because of the simple fact that it was a murder case. If he would have got found guilty, he'd have died in prison. He'd have been there the rest of his life.
Did Snoop think he was going to go to jail?
Everybody thought he was going to go. A few times in court they asked him to stand up, and Snoop would actually get weak in the knees and fall back down. It was a lot of pressure. But it was still good to be able to come through and pull that off for him because it opened it up a bunch of doors and showed the world a different side of rap music.
One of the things about Doggystyle and The Chronic too, is that these albums incorporated music it sounded like you guys grew up listening to with your parents.
At that time, any time you got in my car, it was always old shit in my CD changer. Tupac would hop in my whips to go grab a broad or something. We'd be at the studio and he'd go grab the keys, hop in that mothafucka and drive and call back and be like "Hey, I'm in your car but why you don't got no good music?" It would be Al Green, Sam Cooke, Donny Hathaway. I'd give shit to everybody [and] because everybody heard it so much, everybody took took a liking to it, and adopted it. My family, that's all we grew up on was those oldies. So it wasn't nothing for people on the West Coast to take ideas or concepts from those old records and make them into hits. Even Snoop, his folks are from Mississippi also. People from the South, they was buying 45s and 33s, they was playing those albums… that was a big influence on every record on Death Row.
The album was highly anticipated. Was that something you could feel when you went in to make the record?
Shit, yeah, definitely. One thing about Snoop at those times, you could call him and say, "Let's go here, let's go there," and he's gonna show up ready to go. He was hungry, ready to eat, ready to work. More importantly, it was that I believed in him as an artist. The first day before Doggystyle was shipped or anything, I had 800 trucks, 18-wheelers… filled with nothing but posters, snipes and all kinds of stuff.
What do you remember about Doggystyle's production?
[It] was was pretty much luck. Everybody thought [Dr. Dre] would be doing the records, but Daz pretty much did the whole album. And at the end of the day, once Daz finished it, everybody wanted Andre to get the credit. Next thing I know Daz is having a meeting with Andre and them and came back and said, "It's okay, give me a few bucks and I'll sign anything over that says produced by Andre instead of me."
"Ain't No Fun"… one of the homies from The Swans [ed note: the Mad Swan Bloods, or MSB, are a Los Angeles subset of The Bloods street gang] named Pooh, all them dudes already had a record done. And they came and played it for us in the studio. They played us the demo. Everybody looked at it like it was alright. And then after they left, shit, everybody was chopping that same beat.
Doggystyle came out a year after the L.A. riots. Death Row was a black-owned business. What kind of statement did that make?
Death Row wasn't only a black-owned record label, Death Row was pretty much the only American-owned record label. Everything else was either Sony or some other thing. It became the blueprint for any label that's out, including the majors. I was the first person doing 360 degree deals with all the artists; the majors would tell the artists, "It's the worst piece of shit deal in the world, don't go for it." And now they're doing it.
In the aftermath of the riots, what was Los Angeles like for you?
Snoop was from the West Coast. We lived out here and we was black, even though it was dominated and ran by red and blue. People wanted to see people grow. The riots had a big role in this because they showed we could stand up and stick together and make a difference. People came together and built something and The Chronic. . . all the Death Row material, period, it was like the vibe of the struggle of success. Of saying that, shit, you don't have to water yourself down to be rich and successful. You don't have to lie and say you didn't come from Compton to be rich and successful. Just because you come from the ghetto don't mean you can't be a businessman and understand what you need to do.
Do you think Doggystyle solidified Death Row as a label?
When we put out The Chronic people felt there's no way in the world somebody can ever do an album and it come out that well. When The Chronic was out, even Snoop will tell you, if he came on the Interscope side, he didn't see Jimmy [Iovine] any of those guys call Snoop in the office, chop it up with him… because he wasn't the one. And then when Doggystyle came out, shit, he couldn't walk in there without them trying to give him some weed. People thought it couldn't get no better. But the Dogg Pound came in and done well. And then came Tupac. It wasn't Tupac because he was a new artist. Tupac was on Interscope the whole time. They couldn't break a record on him. They couldn't make him a superstar. But the minute I got Pac out of prison…
Snoop's shown you a lot of love recently, said many positive things. There was that photo of you guys at a club together last February. What's your relationship like with him?
My relationship with him is where it's supposed to be. It's respectful on both ends. I could never turn around and say I hate this mothafucka, because he's a part of my life and I'm a part of his life. There was times starting this business with Death Row that some people were scared to go out of town, scared to go to New York. I'd come grab him, we'd go straight to the airport, just me and him, no entourage, not one person with us. We'd get our room, we'd go hang out, we'd be everywhere. We would go there, post up, enjoy the city, respect the city, and that went so far. Therefore, I owe a lot of credit, and a lot of other people owe a lot of credit, because if Snoop's not gonna hit the road with me and hit all those spots, I couldn't have did it, because I'm the business man. I'm not the artist, I'm not the talent. And pretty much everyone else was scared to go.
Go on.
[Snoop] played a role and built a lot of things. Built the West and built hip-hop. I think the things that happen in any relationship in business when you both come from the ghetto, it's just [because of] the people that are your distributors. It might be a guy who's not black, but he's in the same business with you, and you're gonna have a relationship. And they can never have a relationship with Snoop the way I have a relationship with him because you out four o'clock in the morning in different states, different countries, different streets, through good and bad. And the next person, they can only offer you a check. If you're Russell Simmons and Lyor Cohen, you can't say "[Snoop], you got the best deal in the world." You're gonna say, "You got the worst fucked up deal in the world and I can make it better for you." And that's what Russell and them did. Russell went to Snoop and flew him to New York and said, "I want to do a deal with you for Doggystyle."
So Russell Simmons tried to steal Snoop from you?
They figured if they could work it out with Snoop, they could work it out with Jimmy [Iovine], and where that leave me? So then that's when people turned around and said, "Oh, Death Row mothafuckas is some fucked up motherfuckas, and Suge Knight's an aggressive mothafucka." Because somebody had to put their foot so far up Russell's ass he thought he was in the hot tub with the guys he usually be with. [Laughs.] We had to go out there and literally smash them. If not, they'd take your shit. I still give Snoop the credit; he still sat down with Death Row and we made it happen. We all more mature now.
Any last thoughts on Doggystyle?
Snoop is an artist that is a great artist. So it's good to give him his props about how great Doggystyle was. What made Doggystyle historic is the work on it. If you look at the album cover, everybody sued us and said it was degrading women. But even the guys who did the artwork, who wrote songs, who participated in videos, they were guys who were either wearing red or wearing blue. . . and it was a situation where they all got along. We'd go places and you might see twenty blue rags and twenty red rags. And that was never before seen.
DOWNLOAD ON DMS