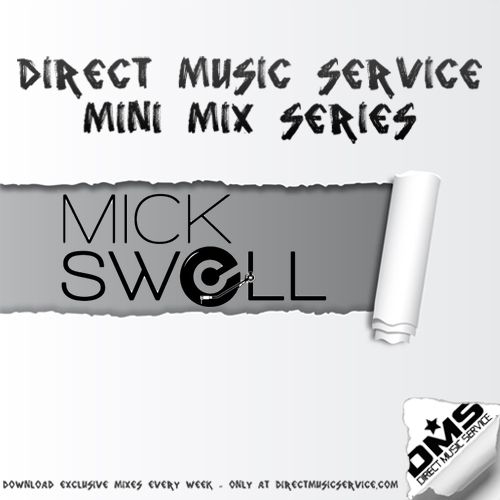 Mini Mix #83 we bring you an exclusive mix by DJ MICK SWELL from Los Angeles, California. DJ Mick Swell began with a simple fascination with vinyl. As a former drummer and lover of various forms of music, Mick Swell developed eclectic tastes and shared his interests through performance. He began DJing at house parties and honing his skill weekly at a local shopping mall, free of charge. It wasn't long until he was recognized and given the opportunity to DJ an after-party for The Los Angeles Kings NHL franchise. Over two short years, Mick Swell became a go-to DJ for SBE (Sammy Boy Entertainment), DJing numerous special events. Past residencies include Katsuya Hollywood and The Terrace @ XIV. He has opened for Paul Oakenfold at Leona Lewis' album release party and provided the tunes for Nintendo's Donkey Kong Country Returns release event, an American Music Awards after-party, holiday parties for Activision and Universal, and numerous other private events. Listen and download his exclusive 90's Hip Hop DMS mini mix.
For more information about DJ MICK SWELL click the links below:
Check out the tracklist after the jump with links to download all of the edit's he used in this mix. Be sure to check back every Monday for a brand new mix.
Tracklist:
Common – Invocation (DIRTY-Short Edit)
Biggie – Dreams (DIRTY-Tek One Redrum)
Gangstarr – Above the Clouds [Ri Intro-Outro]
Nas – Memory Lane (Sittin' In Da Park) (Dirty)
ODB – Brooklyn Zoo (DIRTY- Jay E Edit)
Public Enemy – Shut 'Em Down (Pete Rock Remix Mixfits Quick Edit)
Das EFX – Real Hip Hop (DIRTY-Mixfits Intro)
Beastie Boys feat Q-tip – ILL Vibe (DIRTY-Evil One Intro)
A Tribe Called Quest – Vibes and Stuff (DIRTY-SINcere Edit)
Mobb Deep – Shook Ones Pt. 2 (Drew Pierce Edit)
Gangstarr – Full Clip (Kevin Scott Edit)
Rakim – Guess Who's Back (CLEAN-Angle Intro)
Digable Planets – Rebirth of Slick (Clean Intro) (Beginning Hype)
A Tribe Called Quest – Check The Rhyme (Rowshay Edit)
Ras Kass – Golden Chyld (Mick Swell Intro – Clean)
The Alkaholiks – Make Room (Dirty / Intro)
Nice & Smooth – Hip Hop Junkies (CLEAN-19Sixty Edit)
House of Pain – Jump Around (Pete Rock Remix) (Mixfits Short Edit)