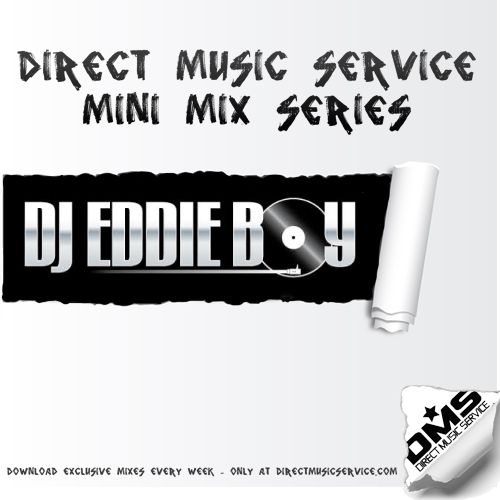 Mix #72 we bring you DJ EDDIE BOY from Los Angeles, California. Eddie Boy has put together an exclusive Mini Mix for us at DMS that he recorded live at Mill Cue Club, Tempe Arizona. No re-edits, straight 100% live, from all DMS tracks. Listen & Download it now. DJ Eddie Boy is part of Project Spin Artists crew. Having burst onto the Southern California club scene in 1998, DJ Eddie Boy has continuously drawn inspiration from some of the business' most prolific talent. His supreme dedication towards an ultimate understanding of harmony, both in musical notes and the dance floor, is only comparable to the undying passion, integrity, and Divine given talent of this turntable Mozart.
For more information about DJ Eddie Boy click the links below:
Check out the tracklist after the jump with links to download all of the edit's he used in this mix. Be sure to check back every Monday for a brand new mix.
TRACKLISTING
1. Dance Across The Bass – Slynk
2. Move Your Feet (DJ Elad Edit) – Junior Senior
3. Into The Groove (Diggz Short – Aca Out Edit) – Madonna
4. Let The Groove Get in (Sammy Bananas Bootleg – Short Edit) – J.Timberlake
5. Don Quichotte (WLDCT's Si Senor Edit) – Magazine 60
6. Something About Us (EASTAR Remix) – Daft Punk
7. Dreams (Gigamesh Edit / Short Edit) – Fleetwood Mac
8. Hands Up (Give Me Your Heart) (Chorus Only Quick Edit) – Ottawan
9. Gimme Gimme (Edit) – Louis La Roche
10. Ooh La La (Whitematic Rework) – The Wiseguys
11. Turn Your Love Around [Database Remix] VM EDIT – George Benson
12. She Wants (Charles Feelgood Remix) – J. Casablanca & Dave Fogg vs Wham!
13. Boogie Down (Spryte Cutdown) – Pablo Calamari, DCUP, & Velicious
15. Player Haters In Dis House – Joe Maz & Danny Daze Remix – DJ Godfather
16. Jacker's 5th Symphony – Audio Jacker
17. Disco Balls (Original Mix / Spryte Cutdown) – DJ PP vs Lissat & Voltaxx
18. Keep On Dancin (Simo Short Edit) – Haze
19. Street Player (Club Mix) – Tradelove
20. Southside (DJ Bedtime Edit) – Mark Funk
21. B.I.C. (Born in Chicago) (Original Mix / Spryte Cutdown) – Dohr & Mangold
22. Whiskeys Dicks – Everyday Pimpin
23. Shake and Bake (DJ Bedtime Edit) – WhiteNoize
24. Coco Loco (Simo Edit) – Crazibiza