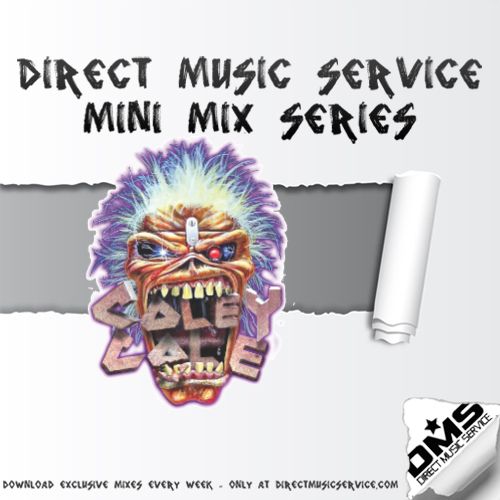 Mix #56 is brought to you by DJ COLEY COLE from Long Beach, California. He has been playing all around the LA/OC scene for many years. He has done production for Pittsburgh Slim, and has a DJ group with Ajay Popoff from the band Lit. He also produces Dubstep & Electro under the name Temp3zt. Make sure you download this open format mix of everything from house, trap, dubstep, pop, hip hop, & oldies, that he made exclusively for us at DMS.
For more information about DJ COLEY COLE click the links below:
WEBSITE
FACEBOOK
SOUNDCLOUD
TWITTER
INSTAGRAM
YOUTUBE
TEMP3ZT LINKS (ORIGINAL PRODUCTION)
SOUNDCLOUD
FACEBOOK
TWITTER
YOUTUBE
Check out the tracklist after the jump with links to download all of the edit's he used in this mix. Be sure to check back every Monday for a brand new mix.
Tracklist:
1. Willy Moon x Cedric Gervais x Kaskade – Yeah Yeah (frankenstein edit)
2. Dada Life – Kick Out The Epic Mother Fucker
3. The Bloody Beetroots – Warp 1.9
4. Avicii, Nicky Romero, Loops of Fury – I Could Be The One (Kevin Scott edit)
5. J. Casablanca & Dave Fogg vs Wham! – She Wants (Charles Feelgood Remix)
6. Gwen McRae – All This Love That I'm Giving (CFLO Quick Edit)
7. Avicii & Sebastian Drums – My Feelings For You
8. Maroon 5 – Daylight (Joe Maz Remix)
9. Swedish House Mafia – Don't You Worry Child (drew pierce frankenstein)
10.Bruno Mars – Locked Out of Heaven (Cosmic Dawn Remix)
11.Britney Spears – Scream & Shout(DP Frankenstein)
12.Cypress Hill – How Could i just kill a man
13.Cypress Hill – When The Shit Goes Down
14.Cypress Hill – Insane in the Brain
15.Onyx – Slam
19.Too Short – Shake That Monkey
20.Too Short – Blow The Whistle – Fav Word Acapella Out
21.YG ft Tyga & Nipsey Hu$$le – Bitches Ain't Shit (DIRTY- Donk Edit)
22.Ying Yang Twins ft. Mike Jones – Badd (DIRTY ACAPELLA OUT/ QUICK HITTER)
25.Finatticz ft Tyga – Don't Drop That (Thun Thun Thun) (Remix) (DIRTY-Donk Quick Edit)
27.Knife Party – Bonfire (dubstep) (Drew Pierce Edit)
28.Lil Jon – Snap Your Fingers(candyland trap remix)
29.Lil' Chuckee – Da Wop (Pickster Bootleg) (Diggz Short Edit)
30.Ja'net Dubois & Jeff Barry – Movin' On Up (Theme from THE JEFFERSONS) (SFS Re-Drum)
31.Bill Haley & His Comets – Rock Around the Clock (Fuseamania Re-Drum)
32.Elvis Presley – Hound Dog (Fuseamania Short Re-Drum)
33.Lou Bega – Mambo #5 (Menegaux Edit)
34.Stevie Wonder – Sir Duke (SFS & De La Vega Re-Drum) (Drew Pierce Short Edit)
35.Jackson 5 – I Want You Back (FLAT INTRO)
36.Jackson 5 – ABC (A.Skillz Electro Rmx) (Greg J Short Re-Edit)
37.Sak Noel – Loca People (Alvaro Remix) (Diggz Short Edit)
38.Damien Le Roy & Chebacca – Party Police (Club Mix)
39.Dis N Dat vs Kill The Buzz – If You Don't Want To Party Hard (Simo Bootleg)
41.LMFAO vs Showtek & Justin Prime – Party Rock Cannonball (Digital Dave Bootleg) (Fuseamania "Frankenstein" Edit)
42.Pitbull – Don't Stop The Party (Diggz Personal Short Edit)
43.Showtek – Slow Down (DIRTY- Donk Shorter Edit)
44.Redfoo – I'll Award You With My Body
45.Trinidad James vs Cedric Gervais – All Molly Everything (Diggz Ratchet Club Mix) (DIRTY)
46.Jacob Plant – Shakedown (Diggz Short Edit)
47.Alvaro & Mercer ft Lil Jon – Welcome To The Jungle (Original Mix)
48.Showtek – Crunk (Original Mix)
49.Juicy J ft Lil Wayne & 2 Chainz – Bands A Make Her Dance (PeteDown Transition 130-65bpm) (CLEAN)
50.Kanye West ft Jay-Z & Big Sean – Clique (Enferno Trap Remix) (DIRTY)
51.A$AP Rocky ft Skrillex & Birdy Nam Nam – Wild For The Night (CLEAN- Donk Short Edit)