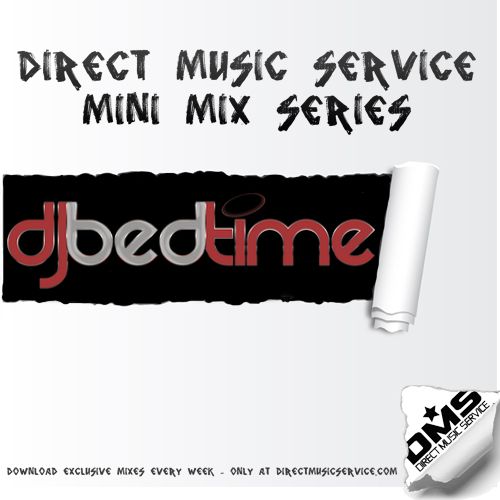 Mix #46 we bring you one of our DMS editors Dj Bedtime from Los Angeles. Dj Bedtime has been responsible for serving up the funky/techy house cuts on the site. His involvement in the Southern California club/dj scene has been ongoing since way before CDJ's, Serato and mp3 files.
His past collaborations include being a full time contributor for sites like Beezo, mixtape judge for Clubdistrict.com, House Essentials Mix Show and running his own blog (VectorMode.com) where he posted up personal edits and reviews of house music for the masses. Currently, he is regional manager for the So. Cal chapter of Bumsquad Djz (a worldwide collective of mixshow, club and radio talent). He is also 1/2 of the production team "Whiskey Dicks" and their current single "Just the Tip" has just entered the top 20 sales chart on the prestigious Traxsource.com with wide release Jan 12th.
Regarding this mix he had this to say: "I wanted to do 2 things with this mix…the first was to pay homage to the way we used to do it in the LA clubs before VIP bottle sales became more important than the music and the second was just to have some fun! Thank you DMS family for letting me do that."
For more information about DJ BEDTIME click the links below:
Check out the tracklist after the jump with links to download all of the edit's he used in this mix. Be sure to check back every Monday for a brand new mix.
Track List
1. I Wanna Sex You Up–Color Me Badd
2. Lets Talk About Sex (NO Breakdown) Phase Edit–Salt n Peppa
3. Here We Go Again (Jason Bee Edit)–Portrait
4. I Get The Job Done (Jason Bee Edit)–Big Daddy Kane
6. It Feels Good (Deejay Haze Intro)–Tony! Toni! Tone!
7. I Want Her (Wanderer Short Edit)–Keith Sweat
8. Let the Beat Hit Em (1der Edit)–Lisa Lisa and Cult Jam
9. Rain (FUNKedit)–Oran Juice Jones
10. Object of My Desire (Wanderer Edit)–Starpoint
11. Touch Me All Night Long (Wanderer Edit)–Wish ft Fonda Rae
12. Naughty Girls Need Love Too (Wanderer Edit)–Samantha Fox
13. Sumertime (Jason Bee Edit)–Nocera
14. Show me (VM Short Edit)-Cover Girls
15. Temptation (Overstreets short edit)–Cornia
16. Dangerous on the Dancefloor (Overstreets Quick Edit)–Musto & Bones
17. Dirty Cash (19Sixty Quick Edit)–Stevie V
18. 100% Pure Love (Acapella Out) Crystal Waters
19. U Got Me Up (Overstreet's Quick Edit)–Dajae
20. Do You Know What I Mean (Jason Bee Edit)–Fresh Tunes #1
21. SuperStar (Wanderer "Acapella Out" Short Edit)–Charmfarm
22. Understand This Groove (Short Edit)–Soundfactory
23. In Da Ghetto (Short Edit) Bad Yard Club
24. Energy– Devone