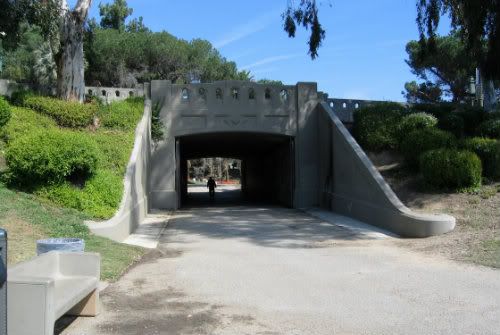 VULTURE-
"Randy Newman may proclaim, "I Love L.A.," but Los Angeles is deeper, richer, and more vibrant than that shouty stream of Chamber of Commerce clichés. For an Angeleno like me, "Under the Bridge" by the Red Hot Chili Peppers comes closer to capturing the city's true vibe. It starts out sunny: "I drive on her streets 'cause she's my companion / I walk through her hills 'cause she knows who I am / She sees my good deeds and she kisses me windy / And I never worry … " And then takes a dark — very L.A. — turn: " … Now that is a lie." The 1992 single, off the album Blood Sugar Sex Magik, was a turning point for the Chili Peppers.
Their first mainstream hit, the song went platinum, peaking at No. 2 on the Billboard "Hot 100." Coupled with a video directed by Gus Van Sant, it pushed the formerly underground hard funk band into the public eye and made the Chili Peppers international rock stars. That this worldwide acclaim sprang from a fairly dark place only gives the song a pathos (and a kind of dangerous gravity) absent in most pop music. In his memoir Scar Tissue, Anthony Kiedis talks about how the song came out of a sense of loss and isolation. This feeling reminded him of his drug addiction and the day he hit rock bottom "downtown with fucking gangsters shooting speedballs under a bridge."
But what bridge is Kiedis singing about? In a 1992 Rolling Stone interview with David Fricke, the singer refuses to divulge the location. "It's downtown … but it's unimportant. I don't want people looking for it," he said, perhaps uneager to have a new pop-music landmark emerge from one of his life's lowest moments. When contacted recently, the band's management refused to comment about the possible location of the bridge. We decided to look for it regardless.
In his memoir, Kiedis recounts how he and his friend Kim Jones "owed too much money to the drug dealers around Hollywood, so we started walking from her house, which was not far from downtown L.A., to known drug neighborhoods, mainly Sixth and Union." (That street name struck a chord: In the song "Down on Union Street" by L.A. post-punk band Thelonious Monster, singer Bob Forrest sings, "That's where my baby gets her dope." Addict Forrest would later go on to become a Celebrity Rehab addiction counselor.)
I broke out an old Thomas Brothers Guide — a massive chunk of map that is a thousand pages thick — and looked for obvious routes from downtown to Sixth and Union. I called the California Department of Transportation and learned that any span "over twenty feet long" is considered a bridge and there are thousands of these structures in Los Angeles County. To try to narrow that down, I looked at BridgeHunter.com, a database for all bridges in the United States, and found over 200 in the greater Los Angeles area. But only three of those could potentially be the one he sings about, and each is problematic. For starters, they're not that close to Sixth and Union.
The First Street bridge is a steel stringer structure that spans Figueroa Street. It is open to a busy street and offers the narrowest of walkways underneath. I'm not sure you could even sit down there without getting run over. The bridge at Temple and Figueroa, a 44-foot span built in 1940, has a similar problem. There's just no "under" under there. In fact, the only bridge that looked even remotely likely — where Beverly Boulevard crosses over Glendale Boulevard — is, like the others, too exposed to traffic for late-night speedball fun.
So I asked a writer friend, a former junkie, about where in that area they would get their dope, circa the late eighties. He said, "I bought in some vacant lot off of Seventh and, maybe, Hoover. The details are a bit fuzzy, as those weren't my regular spots to score." I looked at my map. Between Sixth and Union and Seventh and Hoover lay MacArthur Park, an urban oasis made famous by the Jimmy Webb song about a neglectful baker, first recorded by Richard Harris in 1968.
Kiedis said that he went "under the bridge" in 1988. By that point, the park had become notoriously drug infested and dangerous. A Los Angeles Times article from April '89 headlined "Drug Users Overrun MacArthur Park" cited rampant and open drug use in the park, and a subsequent police crackdown that year yielded 859 drug arrests in the first quarter alone. It was well known throughout the city as a place — like many Reagan-era urban parks — where one could reliably score drugs. But there are no bridges close enough to count as a place where you might draw some blood, forget your love, or give your life away.
After staring at the map for hours, trying to plot every conceivable approach, I became convinced Kiedis made it up. I mean, why not? Does it matter if it's a real bridge? Maybe it's a metaphor. Or maybe he was afraid to admit he hit his low point in MacArthur Park because people would forever associate his existential crisis and subsequent sobriety with an oft-mocked song about a soggy cake.
To be certain, I walked down Sixth, past Union Street, and made my way into the park. It is a pleasant space, with palm trees and benches, grassy areas for picnics, a small lake, and paths for strolling. It's hard to imagine that when the lake was drained in 1978, workers discovered hundreds of discarded handguns and knives rusting in the mud. I walked toward the lake and discovered a small pedestrian tunnel underneath Wilshire Boulevard, which bisects the park into north and south. It's not much of a span —although Caltrans would define it as a bridge — and instead of looking like some dark and forbidding portal to hell, it was painted with graffiti in the form of a friendly octopus. Inside, it looked like a school art project had been painted over decades of tagging, layers of violent history under a family friendly mural. It might be clean and safe and have a happy octopus, but not that long ago it was the stomping ground of gangbangers and dope slingers.
It must be the bridge in the song. It links Sixth and Union — the intersection Kiedis claims he was walking toward — with the drug dealers at Seventh and Hoover. And, unlike the other bridges, it provides a discreet location for private time with personal demons.
DOWNLOAD ON DMS
Red Hot Chili Peppers – Under the Bridge (DONK- ACAPELLA IN/ Quick Edit)