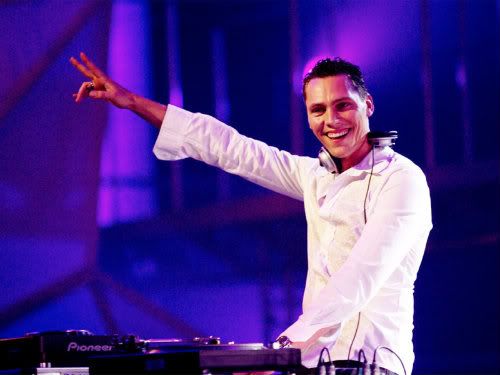 "Who are the richest DJs in the world? In terms of getting money, glory and girls, a lot of people probably wish they were a professional athlete like Tom Brady or Derek Jeter. But if it were up to me, I would, without a doubt, choose to be a world famous DJ over every other profession. Think about it. The richest DJs in the world fly around in private jets to exotic nightclubs where they get paid hundreds of thousands of dollars for a few hours of work. They're paid to make people have a good time and for just doing their job, DJs are worshiped like Gods. It also doesn't hurt that the night clubs are always jam packed with the best looking women in the world including famous actresses and super models. We could (and probably should) do an entire gallery showing famous DJs hanging out with incredibly attractive women.
A successful world-traveling DJ friend once said that he DJs for free, he gets paid to travel. And while the road-warrior lifestyle of some globetrotting DJs might be a little stressful, it's surely better than pretty much any other job in the universe. After all, you don't see too many DJs quitting the gig in order to stay home and open up a fly fishing shop, do you?
There's no denying that dance music is big business making big money these days. But how much money is really being made and how much of it is ending up in the pockets of the DJs who draw the millions of fans to EDM events around the world? The somewhat questionable website, Celebrity Networth seems to know the answer to what DJs have in the piggybank. And you might be surprised at some of the names towards the top of the highest-valued jocks. Granted, the site gives no information as to where they're estimates come from, so take this with a grain of salt. But rest assured, these DJs are making more than you for working less — guaranteed."
[via CN]
Read the full list after the jump.
#30: Afrojack Net Worth – $2 million
#29: Markus Schulz Net Worth – $2 million
#28: Darude Net Worth – $2.5 million
#27: Kaskade Net Worth – $3 million
#26: Martin Solveig Net Worth – $3 million
#25: Eric Prydz Net Worth – $4 million
#24: Swedish House Mafia Net Worth – $4 million each
#23: Gareth Emery Net Worth – $5 million
#22: Avicii Net Worth – $6 million
#21: Skrillex Net Worth – $8 million
#20: ATB aka Andre Tanneberger – $8 million
#19: Calvin Harris Net Worth – $10 million
#18: Deadmau5 Net Worth – $12 million
#17: Benny Benassi Net Worth – $14 million
#16: Carl Cox Net Worth – $15 million
#15: The Chemical Brothers Net Worth – $15 million
#14: Ferry Corsten Net Worth – $18 million
#13: Steve Aoki Net Worth – $20 million
#12: Fatboy Slim Net Worth – $22 million
#11: David Guetta Net Worth – $25 million
#10: Moby Net Worth $28 million
#9: Daft Punk Net Worth – $30 million each
#8: Pete Tong Net Worth – $30 million
#7: Judge Jules Net Worth – $40 million
#6: Sasha (DJ) Net Worth – $40 million
#5: Armin Van Buuren Net Worth – $40 million
#4: John Digweed Net Worth – $45 million
#3: Paul van Dyk Net Worth – $50 million
#2: Paul Oakenfold Net Worth – $55 million
#1: DJ Tiesto Net Worth – $65 million