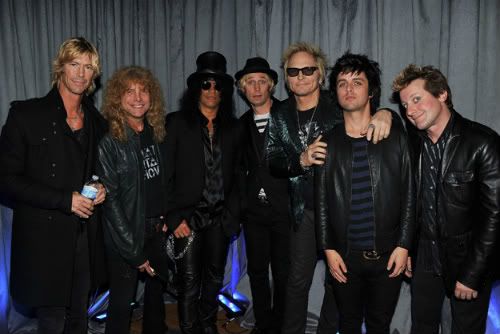 "Billie Joe Armstrong of Green Day inducted Guns N' Roses into the Rock and Roll Hall of Fame (April 14) with a stirring speech which proved that he was indeed a good choice for the gig. We were there and we've got the complete transcript for your reading enjoyment.
There's been little question Guns N' Roses were going to be enshrined into the hall as soon as they were eligible. However, the weeks leading up to the actual event were filled with an exhausting parade of open letters, rumors, bickering and yes, even some extremely classy statements about which members of the long-fractured original lineup would show up and / or perform together.
Armstrong deftly referenced some of this drama during his speech, as you'll see below. At the final bell, three-fifths of the original lineup, and five members altogether, shared the stage during an exciting three-song set. Here is the complete text of Armstrong's induction speech for Guns N' Roses:
"My name is Billie Joe, this is Mike and this is Tre Cool and we're here to induct Guns N' Roses into the Rock and Roll Hall of Fame. The first time I saw Guns N' Roses on MTV I thought, one of these guys could end up dead or in jail.
The opening riff of 'Welcome To The Jungle' is a descending trip into the underworld of Los Angeles. This ride was not about parties, glamour or power ballads. It was about the seedy underworld of misfits, drug addicts, paranoia, sex, violence, love, anger and the cracks of Hollywood.
It was a breath of fresh air! Needless to say, I bought the record. 'Appetite for Destruction' is the best debut album in the history of rock and roll. You can name a few others if you want, but tonight, Guns N' Roses owns that crown for sure.
Every song hits hard on all emotional levels. It takes you on a trip through the seedy underworld of Los Angeles in brutal sequence: 'Welcome To The Jungle,' 'It's So Easy,' Nighttrain,' 'Out To Get Me,' 'Mr. Brownstone, 'Paradise f—kin City,' 'My Michelle,' 'Think About You,' 'Sweet Child O' Mine,' 'You're f–kin' Crazy,' 'Anything Goes' and 'Rocket Queen.'
(They were) jamming in a sweaty hole in the wall, writing songs on pizza boxes and bar napkins, looking for a free drink and a place to crash and they did it for the love of playing loud ass rock and roll music. The thing that set them apart from everyone else is guts, heart and soul. And most importantly, they told the truth and painted a picture of the mad world that they lived in.
I f–king hated power ballads. I hated jock party anthems. As a young musician, I craved something more – 'Appetite for Destruction' delivered. Ultimately, they became the biggest and best rock and roll band and that was off one album.
After that, Guns N' Roses delivered with 'GN'R Lies' — half live album and half an acoustic record. Most people think acoustic records might show off the more sensitive side of a rock musician.
[Laughs] It's not sensitive. But this record made them come across as outlaws and they never lost their edge for one second. [Audience member yells out "I used to love her!"] [Billie Joe responds]… But I had to kill her!
The song 'Patience' is an eternal ballad about love and anxiety as if the character was trying to talk himself off the edge of a 20 story building. There's also the humor of 'I Used To Love Her But…' [Audience responds in unison "I had to kill her!"]
Who knows if that's humor? As they say, every joke has its truth.
And 'One In A Million,' that's when the sh-t hit the fan. It basically told the story of an ignorant farm boy that moved to a diverse unknown city and that's all I'll say about that…
And then they delivered not one, but two albums. 'Use Your Illusion I' and 'Use Your Illusion II.'
The new GN'R records that had fans literally crashing the record stores to hear what Guns had come up with next. These records showed off a wide range of rock anthems — 'Right Next Door To Hell,' 'You Could Be Mine,' to grand piano ballads like 'November Rain' and 'Don't Cry,' then taking the listener into unknown head trips that maybe a serial killer could understand?
This era of the band took them to new global heights, touring arenas and stadiums, big ass expensive videos and public pretties, outcry, meltdowns, controversy and playing in countries that Duff can't even remember being in — all the ingredients of a great rock and roll band.
Steven Adler, your drumming on 'Appetite' was perfect. It was like the perfect combination between slamming hard rock songs and laying into a great groove. It's f–king unbelievable man, it's great.
Matt Sorum. You took over seamlessly and you brought in [Armstrong pauses]…….what did you bring in? You brought in new dynamics and power and your first gig was Rock in Rio….welcome to the band!
Dizzy Reed, you play a mean keyboard – keep up with the good job. [Armstrong gives a possibly sarcastic thumbs up]
Duff McKagan. The Seattle transplant punk rock kid. You're like Johnny Thunders with a bass. The bass line to 'Sweet Child O' Mine' is so good, you can sing along to it. And you got a great family over here, all proud of you and s— and you were in a band called The Farts.
Izzy Stradlin. Wherever you are, I hope you can hear me right now. You're probably driving an RV across Egypt right now. You're like the Miles Davis of rock and roll. The way you played and weaved with Slash was an effortless craft. You've got that f–kin' Ronnie Wood mojo, I'll tell you right now.
Gilby Clarke – I love you, where are you? [Looking towards Clarke in the crowd.]
Slash — while every guitar geek in L.A. was riding on the coattails of Eddie Van Halen, you took a totally different approach. You bridged the gap between Eric Clapton, Jimmy Page and Joe Perry and you brought it into your own modern era. I can immediately identify your leads and riffs because you embodied them. Your guitar playing is an extension of your heart and soul. To see you without a guitar and a top hat is just plain weird.
You know, originally, they wanted Green Day to play Guns N' Roses songs. I've got a 13 year old son who's learning how to play guitar from YouTube. So he's playing like Strokes songs and he's getting really good at it. They asked us to play and I thought 'I can learn how to play 'Paradise City' from YouTube, yeah, because my son's doing it.'
And there was this 12 year old kid on Youtube playing 'Paradise City' – he was a better guitar player than I could possibly ever be and I just thought to myself, 'Guys, we are not going to play… there's no way we could do this justice — it's impossible.'
Thanks for making me look bad in front of my 13 year old son, Slash! And let's see, who am I missing? [Crowd starts booing, presumably in response to Axl Rose's absence]
No, shut the f–k up, shut up, shut up! This man's a bad ass f–king singer. He's one of the best frontmen to ever touch a microphone. Your lyrics are heartfelt, passionate, angry and you tell the truth, no matter what the cost.
Your vocal range goes from a quiet whisper to a powerhouse, until you're screaming bloody murder. And you're f–king crazy. Hey, most singers are crazy — I can vouch for that. But you know, being in a band, it's a very complex thing. You go through eras and chapters of your life.
Most people don't go through any eras or chapters. They just sit around and watch TV and do the same thing over and over again, every single day. But being in a band, your eras and your chapters are your albums. That's your craft. You can name that time of your life, to coin a phrase.
That's an era of your life right there. You talk about where you were at when you wrote this song, you talk about where you recorded it. You talk about the first time that you ever played it. This is your life. This is our lives. This is what we do.
But sometimes, you gotta look back at the old chapters if you want to move forward. And the reason why you have to look backwards, is to know where you f—in' come from.
Ladies and Gentlemen, Guns N' Roses!" [via UCR]
DOWNLOAD ON DMS
Guns N Roses – Sweet Child Of Mine (Short Edit)
Guns N Roses – Paradise City (Edit)
Guns N Roses – Welcome To The Jungle (House Mix)
Basslovers United vs Green Day – Basket Case (DFM Remix)
Green Day – Basket Case (SFS Rmx/Redrum)
Green Day – When I Come Around (Dj JD ReDrum)