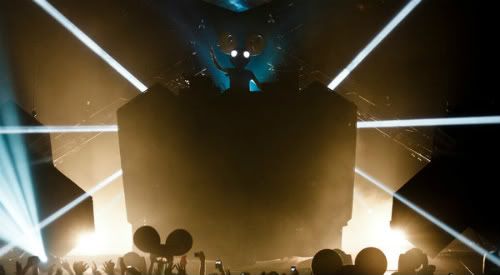 Here is a great article from the New York Times about the world of EDM means big money to investors.
"One Friday afternoon last month, 60,000 tickets at $100 and up went on sale for a major music festival at MetLife Stadium in East Rutherford, N.J., before the headliners had even been announced.
The festival with the fervent following was the Electric Daisy Carnival, a two-day event next month dedicated to the concert industry's new favorite genre: electronic dance music. Long considered a marginal part of the music business that subsisted in clubs and semi-legal warehouse raves, dance has now moved squarely into the mainstream, with a growing circuit of festivals and profit margins that are attracting Wall Street.
For an industry increasingly reliant on aging headliners — like Bruce Springsteen, Madonna and the Rolling Stones — the appeal of a genre with fresh stars and a huge young audience is undeniable.
"If you're 15 to 25 years old now, this is your rock 'n' roll," said Michael Rapino, the chief executive of Live Nation Entertainment, the world's largest concert promoter.
Two weeks ago, 165,000 fans went to the Ultra Music Festival in Miami to revel in the pulsating bass and wave glow sticks in the dark. Similar numbers have turned out for events in Los Angeles, Las Vegas and Dallas. With the boom, artist fees have exploded. Top D.J.'s like Deadmau5, Tiësto and Afrojack can earn well over $1 million for a festival appearance and $10 million for a Las Vegas nightclub residency, talent agents say.
Having developed on the margins, electronic dance music — high-energy waves of mechanized sound that, at its best, creates a communal experience for a sea of strangers — is dominated by a network of independent promoters.
They include Insomniac, which presents Electric Daisy Carnival; Hard Events, another nationwide promoter; Ultra, whose namesake festival in Miami has expanded to Brazil, Argentina and Poland; and Made Event, behind the Electric Zoo festival in New York.
Their success has attracted a clutch of potential investors from inside and outside the music world. The insiders include Live Nation and A.E.G. Live, the two biggest corporate promoters.
The outsiders include Ron Burkle, the supermarket magnate who made an unsuccessful bid last year for the Warner Music Group, and the media mogul Robert F. X. Sillerman, according to people involved in investment talks who declined to be identified discussing private agreements.
Mr. Sillerman — who transformed the concert industry in the 1990s by consolidating regional rock promoters into what is now Live Nation — declined to comment for this article, as did a representative of Mr. Burkle.
For new investors, getting into the dance business may not all be a party. Determining the value of the promoting companies is difficult, and there are particular risks whenever putting on a musical bacchanal for tens of thousands.
At the Electric Daisy Carnival in Los Angeles two years ago, a 15-year-old girl died of a drug overdose; at the same event in Dallas the next year, a 19-year-old man died and more than two dozen were hospitalized for drugs, alcohol and heat-related illnesses.
Pasquale Rotella, the chief executive of Insomniac, the company behind those raves, has also been implicated in a corruption scandal in Los Angeles. Last month, he and five others were indicted on charges related to the embezzlement of $2.5 million from the Los Angeles Memorial Coliseum. In a statement, his company maintained that the charges against him were "completely baseless and flat-out wrong, both on the law and on the facts."
The investment talks may be only in the exploratory phase. But for a musical genre that not long ago was mostly associated with secret locations and drugs, it is a startling development, as are the amounts of money involved. According to the people involved in the talks, offers to buy the biggest promoters have ranged from about $20 million to $60 million.
"It feels like the dot-com era," said Joel Zimmerman, an agent at William Morris Endeavor who books many of the top dance acts. "There's a little bit of a gold rush going on, with outsiders looking in."
Electronic dance music, or E.D.M. for short, has been common in one form or other for decades, but only in recent years has its audience become big enough to sustain large-scale touring. Last December, Swedish House Mafia became the first D.J. act to headline Madison Square Garden. (D.J.'s do not spin records so much as command computerized sound systems, playing snippets of songs and using them to create their own protracted rhythms.)
This summer acts like Avicii and Kaskade are touring in some of the same arenas and theaters where fans can see Coldplay and James Taylor.
While record sales for dance music are relatively low — even the biggest recent albums, like David Guetta's "Nothing But the Beat," rarely sell more than 300,000 copies — the sound has infiltrated pop radio through acts like Lady Gaga, Rihanna and Katy Perry. At the Grammy Awards in February, Skrillex won three prizes and Mr. Guetta and Deadmau5 (pronounced like "deadmouse") jammed with the Foo Fighters, L'il Wayne and Chris Brown.
The big dance festivals have built themselves into valuable brands, able to sell tickets on their name alone and the immersive audio-visual spectacle they present. One big company could bring together a handful of promoters and find economies of scale.
"I have been approached by all the big boys you can imagine," said Gary Richards, the founder of Hard Events. "I've been working in this for 20 years and nobody cared. Now it's so massive that everybody wants a piece of it."
Yet a marriage between D.J.'s and billionaire investors may be difficult. Live music is a risky and low-margin business for promoters. Pricing tickets too high or too low, for example, can sink an otherwise successful venture. Dance music also faces the perennial fad question: will its popularity stick this time or blow over as it did in the 1990s, when it was called electronica?
How much the promoters need, or even want, outside money is also unclear. Some say outside capital is necessary to expand to new markets, but others have built powerful organizations on their own. Adam Russakoff, Ultra's director of business affairs, said his company was profitable, debt-free and has no outside investment. The company handles its own ticketing and makes licensing deals for its events overseas.
And then there is simple culture clash. Many dance music promoters and managers are suspicious of big money and the corporate ways of the mainstream concert business. In an interview, Mr. Rotella said he has been approached by many potential investors but was worried of what might become of immersive, multifaceted events like Electric Daisy.
"You don't want this to turn into what the concert business is today," he said, "where you just sell people tickets and they come to the show and sit in their seat. There's not a lot of soul behind that. What we do is more of an experience."
Mr. Richards agreed, saying that the big investors he spoke with did not understand the market.
"You can't just franchise this like McDonald's," he said. [via NYT]