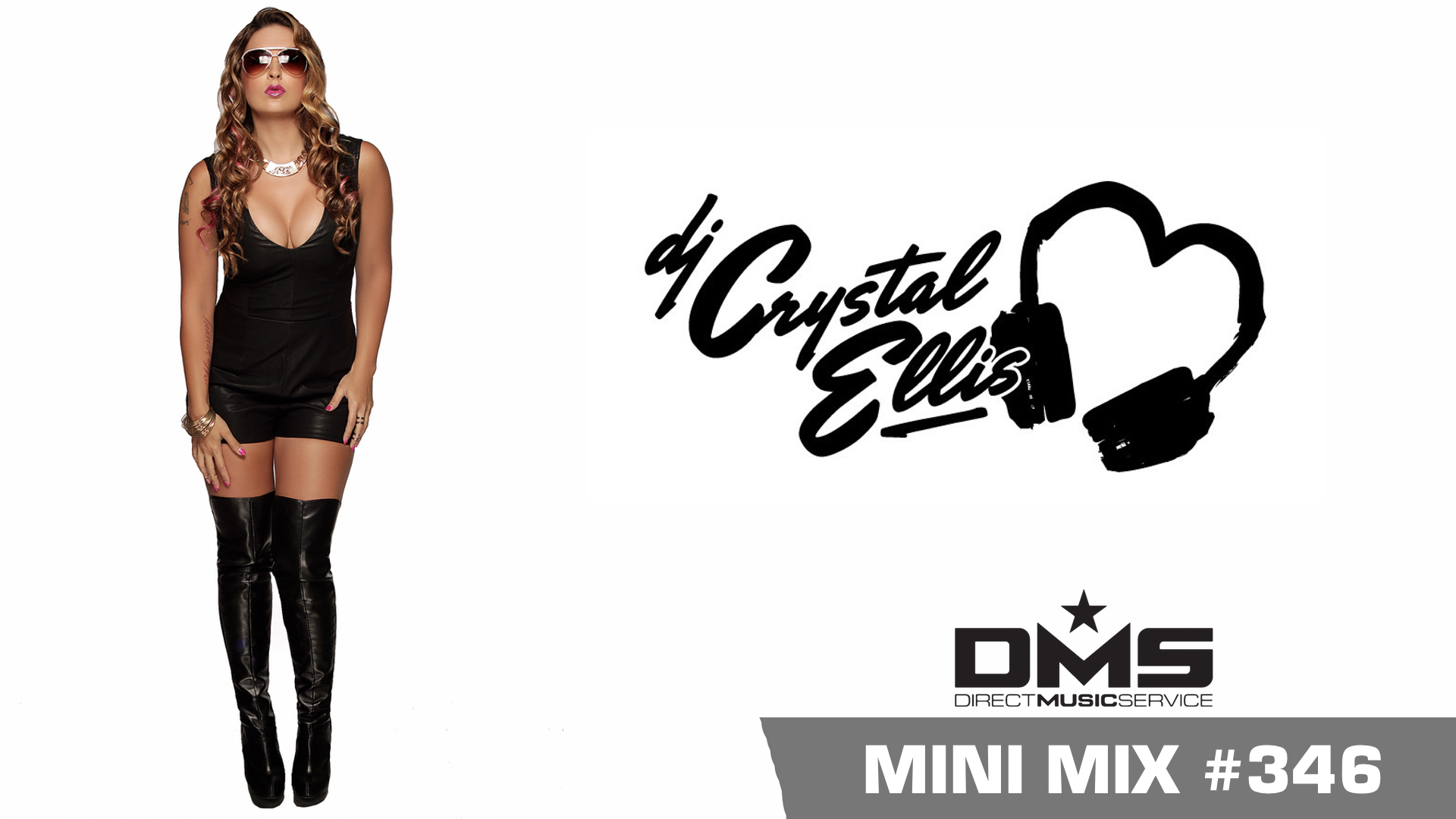 DMS Mini Mix #346 we have DJ CRYSTAL ELLIS. A shy beach girl coming from Hawaii and growing up in Huntington Beach, it is surprising to find out that she has grown up to be such a beast in the entertainment industry. Don't let the blue eyes and girlish figure fool you tho, she has put in years of work to become the DJ she is today.
Crystal was very young and working hard as a waitress and a receptionist 15 years ago, and deep down inside she knew music was her home, she just didn't know how to get there…. As fate took over, her paths crossed with a DJ who showed her his skills and helped her build hers. She was shy and hesitant to fully dive in to this unstable business, but after spinning for a few years in the comfort of her home she eventually developed the confidence in her talent to go public. So she left the relaxing beach life and moved to the concrete jungle to pursue this new love of hers in Los Angeles… And boy are we glad she did!
Shortly after beginning her DJ Career she was scouted and asked to pose for Playboy Magazine! Being a respected DJ was always her main focus, so baring it all for the world to see was a huge risk… but this worldwide publication became one hell of a marketing tool and her calendar and passport quickly filled up! Even if it was her publication and looks that got her in at times- her passion for music and her ability to rock any type of crowd is what had people hooked and wanting more!!!
So here we are nearly 10 years later- she has traveled the world, rocked thousands of clubs and has finally returned to her roots in Los Angeles to build a family. But the entertainer in her has not gone anywhere- not only can you find her at a club near you, but she's also taken these skills to broadcast to the world on the internet as a Producer, Host, and DJ of the entertainment show "Tits N Tacos" on the B-Real TV network. Check out the exclusive mix she made for us.
For more information about DJ CRYSTAL ELLIS click the links below:
Check out the tracklist after the jump with links to download all of the edit's she used in this mix. Be sure to check back every Monday for a brand new mix.
DJ Crystal Ellis epic intro – JMG
Money- Cardi B
Never Recover- Lil Baby, Gunna, Drake
Mo Bamba- Sheck Wes
Wake up in the Sky- Gucci Mane, Bruno Mars, Kodak Black
No Stylist- French Montana ft Drake
Sicko Mode- Travis Scott ft Juicy J, Swae Lee, Drake
Drop- G-Eazy ft Black Youngsta, Blocboy JB
Workin Me- Quavo
Backing it up- Pardison Fontaine ft Cardi B
Stir Fry- Migos
Dip (Remix)- Tyga ft Nicki Minaj
Lemon- N.E.R.D. ft Rihanna
Uproar- Lil Wayne
Up Now- Saweetie & London on da track ft Rich the Kid
Rick Flair Drip- Offset & Metro Boomin
Smile- Lil Duval ft Snoop Dogg, Ball Greezy
Tints- Anderson Paak ft Kendrick Lamar
Podcast: Play in new window | Download | Embed