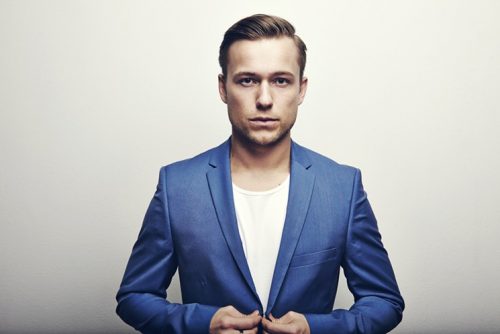 "Whoever's butt that is, that's a good butt," says Dillon Francis. He's on the set of the music video for "Shut It Down," his collaboration with Party Favor on the latter's new EP, Party and Destroy (Mad Decent). He's examining a Xeroxed sheet of printer paper blotted with the monochromatic derriere of a shameless stuntman.
Both musicians are in costume, wearing department store button-down-and-slacks getups straight out of Revenge of the Nerds. Francis' outfit makes him look like he had to Facetime his mother before leaving the house, but Party Favor's cherubic good looks allow him to almost pull off the ensemble.
In the video, they are leading a revolt of nerds that are fed up with their Bill Lumbergh-esque boss, played by the chiseled, blue-eyed star of Starship Troopers, Casper Van Dien. The disgruntled employees go on a Liam Neeson-style revenge rampage that requires the presence of the fire department on set for safety measures.
Garrett Warren, the stunt coordinator on Avatar and HBO's Westworld, is directing the video, firing off orders to the dozens of stuntmen littered around the office. He takes a break to speak with Party Favor, whose real name is Dylan Ragland but who quickly becomes "Dylan Party Favor" on set. The musician hangs on the director's every word. Today, he gets to let his formal education in film school and his childhood passion for music coalesce.
Ragland left his hometown of Park City, Utah to attend Chapman University and fell right into L.A.'s electronic music scene. "The whole blog house thing was very punk rock at the time," he says. "It was still kind of underground. That's when the Dim Mak parties were really popping in L.A. It was almost the metal, punk side of electronic music. You'd go to these parties and there would just be these rage rooms where everyone was rocking out to this heavy music that no one had heard before."
After graduation, he landed a job with NBC, making sizzle reels for the network's pilots. He wanted to be an actor, but being involved in any facet of filmmaking was enough at the time.
The job only lasted a few months because Ragland couldn't relinquish the memories of DJing house parties with a good friend back at Chapman. He quit his full-time job and took up freelancing gigs while continuing to DJ tech-house around Hollywood with his college buddy, but the two soon parted ways.
"All of my gigs disappeared," says Ragland. "It was a really hard time because all of this work that I thought we started was all of a sudden gone. At the time it was absolutely awful, but it was the best thing that could have ever happened to me."
Ragland was forced to develop his own alias, sound and brand, which led to the inception of the Party Favor project. He graduated from the popular tech-house club music of the time and took inspiration from the hip-hop-influenced dance music that was proliferating by 2012. He merged the two somewhere in the middle, making the mid-tempo bounce version of trap called twerk music.
Party Favor's singles "Bap U" and "Booty Loose" are forever etched in the tomes of twerk history, and his music has been featured in licensing deals with the NBA, T-Mobile and Mountain Dew. But he's pivoting to a new challenge with his EP, Party and Destroy.
"You're not going to grow as a musician or an artist if you don't try new things that you aren't comfortable with," he explains. "I always made dance music songs but I wanted to make songs. A beginning, middle and end. A song that tells a story. With this EP I was able to do more of that. I was able to include a little hip-hop and a little more poppier influence and a little bit of future influence."
Since the start of the Party Favor project, Ragland has primarily worked on his own, but in order to challenge his songwriting, his team reached out to Sean Kingston, Gucci Mane and Rich the Kid to bring their own elements to the musician's signature flair.
To celebrate the release, Party Favor is bringing his high-energy live show to the El Rey on Oct. 8. It's part of a larger tour, but this show will be special.
"I feel like L.A. has become my adoptive hometown because this is where I made it in music," he says. "This is where I got the inspiration for music. There is so much hustle here. Everyone is trying to make it and I love the competitiveness."
DOWNLOAD ON DMS