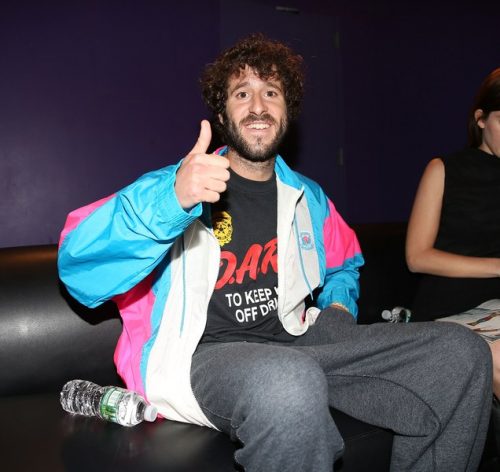 It's a little after 10 p.m. one Tuesday night in late June, and David Burd has just taken to the stage of the Playstation Theater in Times Square.
"Who's got a discreet blunt they can pass me?" he calls to the crowd. "Just toss it, I'll catch it."
It's the XXL Freshman Live concert, and Burd – stage name: Lil Dicky – is playing to his audience, pulling a girl up onstage and giving her a lap dance; then, revealing his romantic side, sending her back into the throng with a bouquet of flowers. This is the man, after all, whose tours have been called "Looking for Love" and "(Still) Looking for Love."
"I can't really rap the way rappers rap; I drive a 2002 Toyota Avalon," he says, before falling back into his alter ego character, dressed in a D.A.R.E. t-shirt and an '80s neon ski jacket. "I say abortion, you say pro choice!" he commands into the microphone.
To be selected as part of XXL magazine's Top 10 Freshman is to be anointed one of hip-hop's rising stars. Past freshmen include Kid Cudi, Lupe Fiasco, Wiz Khalifa, Big Sean, Meek Mill, Kendrick Lamar, Future, Iggy Azalea, Chance the Rapper, and Fetty Wap. (Among this year's inductees are Lil Yachty, Lil Uzi Vert, Desiigner, Anderson .Paak, and Dave East.) The nod of approval isn't lost on Dicky, who is 28, white, Jewish and has only been at the rap game for three years.
"It's easy to take what I do as a joke, because a lot of times I am joking," he says from his hotel room at the Sixty Lower East Side the morning after the concert, while packing up his bag to head to Colorado, where he'll perform at Red Rocks. "But at the same time I want people to respect the skill behind it. So that was kind of the ultimate validation."
Dicky grew up on the outskirts of Philadelphia, in what he describes as your average adolescence: playing sports, listening to Jay Z and Nas and – in that suburban way that you enumerate your companions – hanging out with his "eight best guy friends." His mom is a great chef, and on special occasions when they had visitors, she made his favorite dish, which he dubbed "company chicken and company noodles." "Like, a really pleasant childhood," he says.
Which maybe doesn't leave you with much material to work with for writing rap music. Except to Dicky, everything is worthy of verse, including a fifth grade history project (watch out Lin-Manuel Miranda…), and the monthly progress report at his first job at an advertising agency in San Francisco.
When he left the corporate world to start pursuing music full-time, recording songs on his MacBook Pro and a $400 microphone, his day-to-day experiences continued to inspire his lyrics—there were songs about staying in, getting high and growing up in the '90s. He built up an arsenal, and released one song a week on social media for five straight months in 2013. He also threw his resources into making music videos and one, "Ex-Boyfriend," a song about meeting his girlfriend's previous lover, went viral with over a million views in 24 hours, and nearly 18 million views to date.
His songs and videos may have been humorous, but his skill level was anything but laughable, and soon he had built a 45,000-person fan base. Rather than look to a label to fund an album, he launched a Kickstarter campaign, asking for $70,000 and raising $113,000.
It could be the new model for up-and-coming musicians. In July 2015, Dicky self-released his first album, "Professional Rapper," featuring a who's who of hip hop and comedy including Snoop Dogg, Brendon Urie, Hannibal Buress, Fetty Wap and T-Pain. His title track is an interview with Snoop Dogg for the job of rapper, and includes what's essentially his career thesis.
"If you wanna do this, then you won't get far acting like a little bitch," Snoop told him. And Dicky retorts with: "Nah, that's my niche! Don't get offended by this, but that's the market ya'll missed, that's the target I'll hit, and that's the heart of my pitch. I wanna do this whole thing different."
His subject matter is certainly different than his contemporaries. His most popular song off the album, with 55.5 million Spotify listeners, is "Save Dat Money," a parody of all the rap songs about spending money (I wear the same pair of jeans everyday/ Free sandwiches, homie, two stamps away/ Book flight December but I leave in May/ Drugs are generic but still work the same/ I get logins for Netflix from my cousin Greg). It's now in commercials for Old Navy. True to form, the music video is as much a draw as the song – it includes all the tableaus of a typical rap video (girls, yachts, cars…), but shows Dicky on a campaign to have everything donated, thus spending no money to create it.
Dicky raps what he knows, and you can't fault him for that, even when his songs skew politically incorrect. Early press on him took issue with his song "White Dude" (Happy that my name ain't stupid/ Dave coulda been Daquan with a few kids… Where I'm eating when I'm high's where they eat at to survive), which sounds out of touch in today's climate of racial unrest. In Dicky's opinion, though, it's all satire.
"It is crazy how people can't understand the concept of comedy and music. It's like they have to be mutually exclusive," he says. "I guess I do get kind of annoyed. But at the same time, I like that they don't get it, because it's new. In the beginning people were like fuck Kanye, I don't get what's going on. And that's kind of like a cool place to be."
And anyway, he's gotten enough recognition from the greats to not worry too much about critics. "I met Busta Rhymes and he said he hasn't been in as much belief of a rapper in the last 10 to 15 years as he is for me," recalls Dicky. "The Game came up to me and he was like, 'Let me say something to you: The realest people I know fuck with you.' I was like, thank you so much."
It's these types of stories that reveal the enigma that is Lil Dicky. For all the gangster bravado he emits on stage and in his lyrics, in person he is goofy, practically endearing. "Let me just grab my face wash so I don't forget it," he tells me at one point, which brings to mind Snoop's line in "Professional Rapper": "Why does everything you say sound so soft?"
He's equally charming when he talks about his favorite moments of the past three auspicious years. "Going to Kobe Bryant's last game; I don't think I would have been able to afford going to it had I not been a successful rapper, I was in a financial situation where I could just afford to buy a ticket," he says. As well as: "One time I performed 'Save Dat Money' with Justin Bieber. I was at his album release party, and he was like do you want to do the song? I was also on a date, so the date met Justin Bieber, and I couldn't have looked cooler."
He recently got even closer to the Biebs, signing on with his talent manager, Scooter Braun (who will co-manage alongside his longtime manager Mike Hertz). Which is to say his life is decidedly above average these days, though that comes with its own drawbacks—something he decodes in "Molly," a song about a girlfriend that became a causality of his rap career. "There's a lot of travel. It's hard to form actual legitimate relationships," says Dicky. "I've lived in L.A. for two years and I have no friends. But there's really not much to complain about."
(Dicky tends to deliver most answers in this matter-of-fact manner. How did he get to work with Snoop Dogg? His manager reached out to Snoop's manager. How was the XXL concert? "Pretty normal." Was Kickstarter successful? "Yeah, it worked.")
The music video for "Molly," which came out in the beginning of June, reveals his more serious acting and writing chops, though comedy remains his main interest. "I'm interested in making my own TV show and being an onscreen," he says. "I started [rapping] to be a comedian, so [music videos are] me showing off that filmmaking/acting part of me, which was the original goal. More so than the audio file."
In fact, Dicky's in the early stages of developing a TV show, which will be a "Curb Your Enthusiasm"-style fictionalized version of his life, based on actual events. For example, he was recently approached by a group of fans who wanted to take a picture with him, and posed with their hands in the Crips gang sign.
"I was like, 'Well let me ask you this: if a group of Bloods sees this picture of Lil Dicky and a bunch of Crips, is there going to be an issue, like are they going to have problems with me?'" he says. "'Because clearly you can see my concern.' It's like me holding six Crips socially accountable."
If anyone can do it, it's Dicky.
DOWNLOAD ON DMS