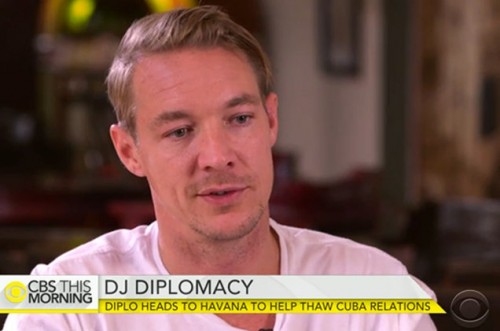 Ahead of his historic Major Lazer show in Cuba on Sunday, Diplo sat down with Charlie Rose to discuss the significance of "the most important event" he's ever done.
Major Lazer became one of the first major U.S. acts to play in Cuba since the restoration of diplomatic relations, reportedly drawing an estimated 400,000 attendees in Havana.
"It's kind of an amazing opportunity," Diplo tells Rose. "I also think that it's very important to create something new. That's why I first started to make music… I think now it's important to keep those dialogues happening, those parties happening. That's what we're doing here in Havana."
"I was surprise by how much they knew, how culturally aware the kids are considering there's such a blockade of culture reaching Cuba," adds Diplo. "I think it's going to change a lot. Because once the information starts to come, you can't stop that flow."
DOWNLOAD ON DMS
Watch the video interview after the jump.