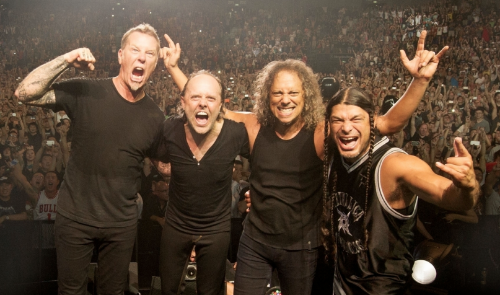 Following a series of disastrous financial decisions, Metallica find themselves in severe debt. This according to the band's biographers, Paul Brannigan and Ian Winwood.
In a recent interview, Brannigan and Winwood claim "Metallica have lost more money than they've made" since 2010. Both installments of the band's Orion Music + More Festival "were disastrous financially," and the band's recent concert film Through the Never ended up costing nearly $32 million.
"Factor in HQ staff salaries, crew retainers, and assorted running costs associated with maintaining an entertainment corporation and you can easily understand why the band — of necessity now rather than by choice — are driven to tour Europe every summer," Brannigan and Winwood added.
Metallica are currently holed away in the studio, working on their long-awaited follow-up to 2008's Death Magnetic. They do, however, have several upcoming gigs scheduled, including a headlining slot at Rock in Rio USA and a string of European tour dates this summer. They also recently received a big pay day by playing a private show for Salesforce.com CEO Marc Benioff last month. Live audio from that performance has since been available as a free download through the band's website.
DOWNLOAD ON DMS