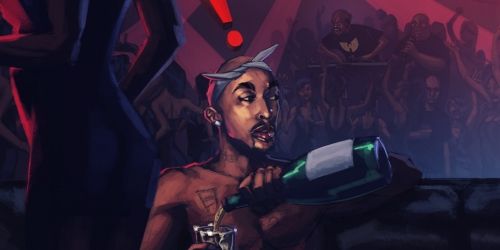 Here is a must read article written by DJ Pizzo about the time Tupac broke (our very own DMS team member) DJ Warren Peace's records while he was DJn at Suge Knight's Vegas Nightclub back on March 16, 1996.
DJ PIZZO–
The dance floor was filling up at Suge Knight's Club 662, a semi-legal, stand-alone nightclub on Flamingo Road. A local DJ named Warren Peace was manning the turntables, finally getting the party started. The fight was over — Mike Tyson had knocked out Frank Bruno in the third round to win the WBC heavyweight title — and the city was ready to celebrate.
Fight nights in Vegas always draw huge crowds, so the modestly-sized venue was quickly packed. As the opening bars of Total's hit song "Can't You See" played from Warren's 12-inch vinyl over the club's speakers, enthusiastic cheers from the dance floor signaled appreciation for the hottest song of the moment.
"Give me all the chicken heads from Pasadena to Medina…" rapped Notorious B.I.G. on the track's first verse, instantly ear-catching to all, thanks to Bad Boy's polishing of James Brown's classic "The Payback" sample. Buoyed by the energy of the crowd, DJ Warren Peace felt a sense of ease. It would be smooth sailing from that point forward… or so he thought.
Sensing a presence next to him, Warren turned to his right to see a shirtless Tupac Shakur. Pac politely asked Warren to move over, and Warren obliged. As Pac picked up the microphone, Warren mentally prepared for what he thought was an impromptu rap performance. But Pac had something else in mind.
Slowly Pac lifted the tonearm from the first turntable and carefully removed the vinyl. Warren's heart rose into his throat as he watched Pac reach towards the second platter — the one currently playing "Can't You See" — and do the same.
The needle lifted. The music stopped. The dancing stopped. Time stopped. Everyone in the building stopped and looked at the DJ booth.
With two swift motions, Pac broke one piece of vinyl in half and tossed the other into the crowd like a frisbee. "Fuck that, this is westside, nigga!" 2Pac shouted on the microphone. "This is a Death Row party. Fuck all that East Coast bullshit!"
Shocked and confused, Warren frantically began searching for another record to play… Read the rest of the article HERE.
written by DJ Pizzo via medium.com
DOWNLOAD ON DMS