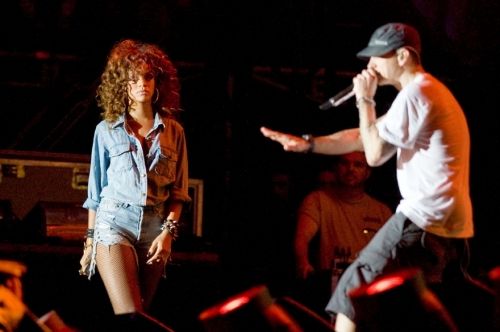 This past week, Eminem's Rihanna-featuring single "The Monster" sold a massive 433,000 copies digitally, its best sales week yet, pushing its total to an impressive 2,224,000 in nine weeks. "The Monster" has been perched atop the Billboard Hot R&B/Hip-Hop songs since debuting at number one on the chart—a surprising first-time achievement for one of the world's most popular rappers. It is already the fifth best-selling single of Eminem's career, likely to eclipse the song right ahead of it ("Till I Collapse," which has sold 2,813,000 copies to-date) within the next two to four weeks.
It is no secret at this point that many major hits are the product of a process often long, arduous, and expensive (as detailed in this excellent 2012 piece on top hit-makers Ester Dean and Stargate in The New Yorker and this piece about the cost of making a hit song for Rihanna on NPR's Planet Money blog). Some readily refer to it as a sort of manufacturing, a delivering of smash singles ready made for the artists that bring them to the public and ultimately popularize them. The reality is a bit grayer as with anything artistic, no matter how plastic or popularly-minded.
When artists and songwriters Bebe Rexha and Jon Bellion joined forces with producers Frequency and Aalias, their intention wasn't to create Eminem's next chart-topper.
"It wasn't something that we originally planned," says Rexha. "We were all just working on a great song for my project that we all loved. But it's crazy, because I actually had one of those premonitions as I was cutting the vocals in the studio. I was like 'This would be a great song for Eminem.' And I remember Frequency saying something like 'Stop it Bebe, just focus on what's in front of you and finish the song. You're all over the place.'"
As Bellion told XXL,"The Monster' started out as this indie, Florence And The Machine, tribal-y, almost Spanish-esque dance record. I wrote the hook—I was just sort of mumbling over some chords, and somehow, 'I'm friends with the monster that's under my bed' just kind of popped out of my mouth."
Initially titled "Monster Under My Bed," the song was intended for Rexha's own album. "Monster" was intended as an intensely personal meditation on the singer's despondency after a failed stint on Island Records.
"I was dropped from my first record deal with Island Records 2-3 years ago and I fell into a deep depression. I felt really alone. I felt like a failure," said Rexha. "I started seeing a therapist to help manage my anxiety and depression. This psychiatrist prescribed me all these different meds, saying that was the only way I was gonna get better. Those pill bottles sat on my drawer in my bedroom for a year. I'd stare at them every morning and fought myself on whether I should start taking them or not. I couldn't leave the house and I'd cry for hours at a time. I was scared to be alone just incase I'd hurt myself. I was living a nightmare inside my mind."
"I decided not to take any of the meds, instead I'd sit at home in front of my computer and write songs for 12 hours straight. Music was the only thing that got me through. When I wasn't writing songs, I'd browse the internet for quotes that would make me feel better. I had come across a quote that went a little like this.'We stopped checking for monsters under our beds when we realized they were inside us.' That quote really spoke to me, because of all the shit I was going through."
"I went into the studio that day and I read it to Jon, Aalias and Frequency," continued Rexha. "I told them what I was going on in my life and everything fell into place. The song is about accepting the fact that we are not perfect, that we are all fucked up and that's okay. It was a breakthrough for me because I felt like I was accepting myself, my anxiety, the panic, all my flaws. It's an anthem for the people who aren't perfect."
After the song's completion, an encounter between Frequency and Riggs Morales, a VP of A&R at Atlantic and a long-time Eminem confidant, sparked its migration from Rexha solo-song to Eminem single.
"Frequency is good friends with Riggs. Riggs would hang out at Frequency's studio often (formerly Stadium Red in Harlem, NY), playing songs and just shooting the shit," said Rexha. "Frequency played Riggs the song. Riggs loved the song and sent a stripped down version to Eminem. A few days later, Frequency was sending files to Eminem. That was almost a year ago. We didn't hear from anybody on whether the song was actually happening for about 10 months. And then, finally, a track listing was released, and the rest is history."
"My lawyer called me out of nowhere and was like, 'I heard through the grapevine that they got Rihanna off tour for a couple of days or something to come cut the chorus,'" Bellion told HipHopDX. "I was like, 'No way.' Then like, two days later, I checked my Twitter and Rihanna tweeted, 'Just recorded a monster hook for one of my favorite artists.' I was like, 'Damn, that could be her.' Then I think five days later, I check the internet, [Eminem] dropped the tracklist and we all saw that it was on the album. We were just like, 'Holy shit.' And because it's Rihanna, we were like, 'Yo, maybe this can be a single or something.'"
DOWNLOAD ON DMS