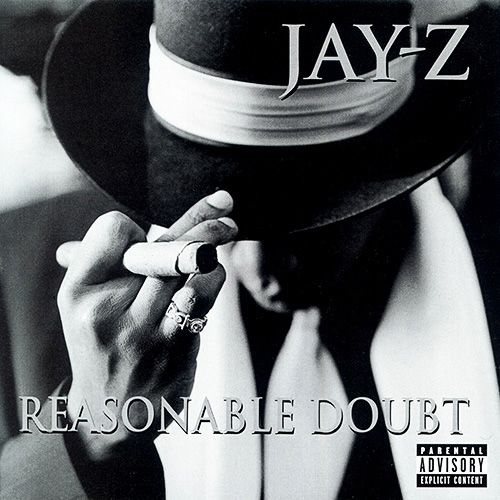 This weeks classic album review is on Jay-Z – "Reasonable Doubt" and was written by HipHopSite.Com's DJ Pizzo on December 17th, 2006. (Original Post)
Jay-Z – "Reasonable Doubt" – 5/5
"Maybe one day you'll be a star….." sings Mary J. Blige on "Can't Knock The Hustle", the somber introduction to Jay-Z's 1996 classic Reasonable Doubt. Of course the line was meant for those envious of his flossy lifestyle, not Jay himself. But that was the appeal of Jay-Z – even at the birth of his career, he projected success, as if he was already vacationing in Paris and dating Beyonce. The irony was a true change in lifestyle wouldn't happen until at least five years later, and at this point Roc-A-Fella was just a imprint distributed by Priority Records, while he and Dame slummed it in the Marcy Housing Projects.
Reasonable Doubt finds Jay as not quite the able lyricist he would one day become, but signs of it were still evident. On "22 Twos", he kicks "that Tribe Called Quest shit" on the hook, following with a verse that literally incorporates twenty-two uses of the word "two/to/too". In moments of fewer technicalities, the full brilliance of his conversational "Friend Or Foe" narrative wouldn't be realized until two years later, when he and Premier crafted the sequel ("Friend Or Foe '98″), both of which came to life in the film Streets is Watching. Premier checks in again on the incredible "D'Evils", which finds Jay confessing his sins over Preem's melancholy pianos.
The overall moody feeling found in the production didn't stop at "D'Evils", as much of the album carried this sound. Ironically, here was up-and-coming superstar rhyming about "the good life" on songs like "Politics As Usual", "Dead Presidents II", and the aforementioned "Can't Knock The Hustle", but each of the beats came with a certain sadness that suggested shit really wasn't all good. And it wasn't, as Jay suggests at the beginning of "Can I Live": "we hustle out of a sense of hopelessness, sort of a desperation…."
Besides the career of Jay-Z, Reasonable Doubt gave birth to several partnerships, each of which would ultimately fade to black, the first being that of "Brooklyn's Finest", between Jay and Biggie. Arguably the album's most energetic track, the Clark Kent produced song featured the best-friends going line-for-line in a tag team style, complete with 2Pac potshots. Plans to eventually form "The Commission", along with Charli Baltimore, were obviously thwarted, due to B.I.G.'s unfortunate death, and of course the, um, fallout, with Lance "Un" Rivera. Instead, the song that saw greater success was Jay's teaming with Foxy Brown on "Ain't No Nigga", the shameless EPMD jacking that arguably put Jay-Z on the map. Here again, Foxy was always fashioned to be Jay-Z's female counterpart (the Lil' Kim to his Biggie), but she instead chose association with The Firm, eventually leading to the high-profile beef with Nas. Even some ten years later, Jay would still be found trying to refashion Foxy as Def Jam's lead female emcee, but the dream was never realized due to an apparent "deafness" and rumors of her unpredictable behavior. Even Irv Gotti (here known as DJ Irv) collaborates here, producing "Can I Live", with looming plans to team-up Jay-Z, Ja Rule, and DMX as a group called "Murder Inc" – which even spawned a Def Jam white label double 12inch, but nothing more.
Internally, the foundation for the Roc-A-Fella Dynasty was also laid on Reasonable Doubt, but many of these partnerships would end in failure as well. Of course Dame Dash was quick to get his Suge Knight on, appearing on skits and in videos, but this behavior ("too much Sam Rothstein") would inevitably lead to the death of the dynasty. Able lyricists Big Jaz and Sauce Money – arguably two of the finest emcees to rhyme next to Jay – shared the spotlight on the DJ Premier produced "Bring It On", but a lack of marketability for the two eventually pushed them out of the Roc-A-Fella club, despite their obvious talent. Instead, the torch was passed to Memphis Bleek – the only one who remained cool with Jay throughout the course of his career – who is introduced on "Coming of Age", where we witness the moment that Jay takes him under his wing. And who can forget Pain-In-Da-Ass, the lovable Puerto Rican whose sole talent was impersonating Al Pacino movie characters, delivering some of the most memorable hip-hop skits ever, on both Reasonable Doubt and consecutive Jay-Z releases?
Looking back at this album, it's amazing how many careers and record labels more or less started out right here, besides Jay-Z's. The outcome might have been totally different had Biggie lived – dare we say – the two could have eventually had a falling out themselves, or Jay may have never had the chance to take the crown as king of New York. But in an incestuous industry that encourages artists to siphon talent off of their producers and guests, with years of consistency behind him, Jay has proven that ultimately he is the reason we buy his records, not anyone else.
An album drenched in irony, another instance was that when this album came out, it was hated on by many hip-hop fans for being too "commercial", when by today's standards, Reasonable Doubt is more raw than anything currently on the market. It is the opposite of Illmatic, the antithesis of The Chronic, but still fits in between those two as an undeniably classic record of the era. Roc-A-Fella, ya'll. – DJ Pizzo
Originally published on HipHopSite.Com December 17th, 2006.
DOWNLOAD ON DMS