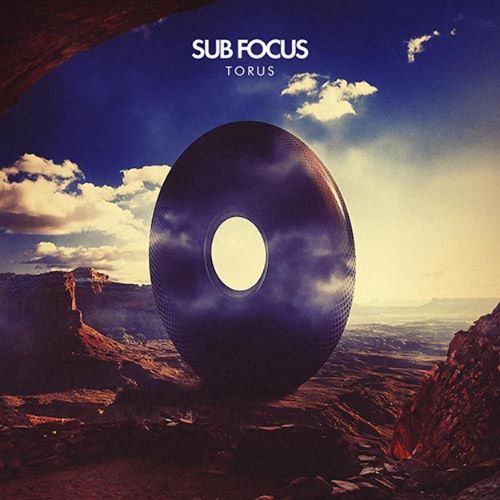 Every Tuesday we are highlighting brand new albums that you should check out. This weeks review is on Sub Focus – "Torus".
Written by: DJ Pizzo via We All Hit Play
While the Swedes have mastered the big room sound, and the Dutch the art of the dirty drop, the United Kingdom has produced some of the most soulful, integral house music over the last year. Artists like Disclosure and Rudimental have looked beyond the aggressive festival sound, pouring more into the bodies of work that are their albums, rather than looking to score a spot on the Beatport top ten (although sometimes that happens too). Sub Focus returns with his second album, Torus, and while he is their senior, the album closes out an unofficial trilogy of these three loosely-linked Brit-House LP's.
If we are going to draw comparisons, Torus is mostly a spiritual successor to Rudimental's Home, as it features many of the same faces, yet has it's own sound entirely. Alex Clare shows up for the album's strongest single, "Endorphins", as a fitting, unofficial sequel to "Not Giving In", with vocals that ooze soul and prove he was born to sing over electronic beats. Vocalist MNEK also stands out on the 808-driven "Close", almost picking up where "Baby" left off. And go-to-girl, Foxes, closes the album out with the Drive-inspired, 80′s throwback ballad "Until The End", although a far cry from Rudimental's "Right Here".
Despite their like-mindedness, Sub Focus has crafted a distinctively different LP than Home, one that plays as a cohesive body of work, drawing from many different styles of electronic music. The track order is very clearly calculated, as songs jump from genre-to-genre, but sound seamless as they play consecutively in key. For instance, Alice Gold's DnB driven "Out Of The Blue" leads into the subdued, atmospheric "Twilight", which leads into the aforementioned garage cut "Close" with MNEK, which goes back into drum and bass on the Kele driven "Turn It Around". All four tracks draw from the same key, giving the album a ridiculously seamless sound, despite the shifting of styles.
This will get you open, but your jaw will be on the floor when "Out of Reach" hits, which defies expectation completely, as Sub Focus switches things up completely with an almost 80′s New Wave / indie rock collaboration with Jayelldee. Followed by the dubstep Kenzie May collab "Falling Down", and a modernized version of 90′s vocal piano house on "Turn Back Time", Sub Focus constantly switches up genres, yet keeps a tight, unified LP together. This is testament to a keen, astute ear and is the mark of an incredible producer.
As the genres of electronic music continue to grow and evolve, trends will come, go, and be beaten to death. But what groups like Sub Focus, Rudimental, and Disclosure have done is brought back the integrity of house music. The sound coming out of UK right now presents some of the strongest, fully realized music of the entire electronic umbrella. As a frontrunner of that scene, Sub Focus delivers a key ingredient that many others lack: maturity. – DJ Pizzo
DOWNLOAD ON DMS