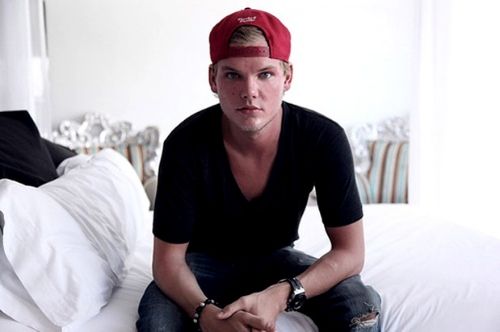 In a stellar year for hit singles, it's Swedish DJ and producer Avicii who currently sits alongside Daft Punk and Robin Thicke in the list of fastest-selling hits of 2013. Wake Me Up, a mixture of boshing dance beats and foot-stompin' country music – EDM-umford if you like – has sold 915,000 copies to date (according to Official Charts Company data) with 265,000 of those shifted in its first week alone. So why, then, is Tim Bergling – the 23-year-old millionaire behind the Avicii name – so downbeat about the scene that has helped put him in the record books?
"Dance music is like a virus, it has affected so many different genres," says Bergling when we meet in a London hotel room. It's the first of several comments that make Bergling sound less like a poster boy for his scene and more like the "real music" rock bores who deride him and his peers (Calvin Harris, David Guetta et al).
"Originality is definitely missing from EDM," he complains at one point. "There are people looking for it and exploring but I feel it's so big now it is just getting milked. House music is losing all its melody as it becomes more about how dirty the drop is and how energetic it is. It loses touch with what music really is. It's gotten to a point where everything sounds the same. There is no longevity in what's happening at the moment."
Bergling fears that big money is driving a lack of unique artistry in the genre, and you can certainly see his point, even if a lot of that cash is being made by Bergling himself. Forbes reports that the Swede made £12.5m between 2012 and 2013, yet this is still only enough to place him a mere sixth on the list of the world's highest-earning DJs. Bergling makes regular trips to play in Las Vegas, where celebrity fan Paris Hilton is often seen watching him perform. However, when asked what he makes of clubbing over there, Bergling is dismissive. "Americans call it their version of Ibiza but it's not," he scoffs. "People go for a week and then leave. It's a huge money-making machine. Everything is massive and expensive, there's just so much money there. You can really feel it. Ibiza is about passion for music, Vegas doesn't feel real. It's a product."
These comments were echoed in a recent interview with GQ in which Bergling said: "I love DJing, I do, I love everything that comes with it; it's fun and it's kind of glamorous. It's just like when it's right in the moment and you have that stupid bright light on you. It feels so awkward. I guess, deep inside, I know that it's a different kind of performing. You're not performing like a guitar player or a singer is performing. Technically it's not that hard." We've become accustomed to the plight of the emotionally vulnerable singer-songwriter, but Avicii's plight of the emo superstar DJ is uncharted territory.
The GQ interview was discredited by Avicii's camp, most notably the point where he was quoted as saying that the majority of his DJ sets primarily consist of "before work", a comment that caused a furore in the dance world. Perhaps being stung this way has led to extra caution in front of journalists: I am filmed while conducting this interview with no explanation as to why. Nevertheless, it doesn't stop Bergling opening up about the now infamous moment at this year's Ultra music festival in Miami where he dedicated a 15- minute segment of his set to his new Mumford-alike songs, bringing out a banjo player amid the lurid neon backdrop. Like a number of tracks on Avicii's latest album True, Wake Me Up is heavily influenced by bluegrass and sees Aloe Blacc delivering a rootsy vocal on top of an acoustic hoedown. Unsurprisingly, thousands of dilated pupils in front of the stage were nonplussed by an Aloe Blacc PA during what was supposed to be three straight days of hedonistic raving. Bergling, you sense, is still not over the negative reaction he got that night. "I knew it was going to be a shock. All they see is country and house music. They think, 'Country? That's old people.' I knew it was going to be like that. It freaked me out when I got a bad reaction to the song, though, I must admit."
Was it, I ask, not a pretty cynical move to shove two of the biggest genres of successful music in the past 12 months together, Human Centipede style? "If I wanted to make a quick buck there's far easier ways of doing it," Bergling tells me. "What I want is to provoke people. If you want a hit song, all you need to do is rewrite an old song. It might have been proven to work but you won't be remembered the same way."
This quest to provoke has led Bergling to work with artists including Nile Rodgers, Adam Lambert and Mike Einziger, guitarist from forgotten surf-metallers Incubus. It's a motley crew but one that Bergling is proud to be a part of. "I am so insecure," he says, "I always thought people would not be interested in working with me. Why would they want to?" For a multi-millionaire with one of the biggest-selling singles of the year, Bergling just does not seem to be enjoying himself very much.
Days after we talk, EDM's biggest star and critic performs live at the iTunes festival in London. When Wake Me Up begins it is the polar opposite to the reaction that greeted the song in Miami back in March. Girls sing every word at the top of their lungs, propped up on the shoulders of their boyfriends as confetti explodes across the room. You can't help but look at Bergling and think this was one risk that has well and truly paid off. Whether he can learn to accept the terms under which he has found his success, or even enjoy himself for five minutes, is another question altogether.
DOWNLOAD ON DMS