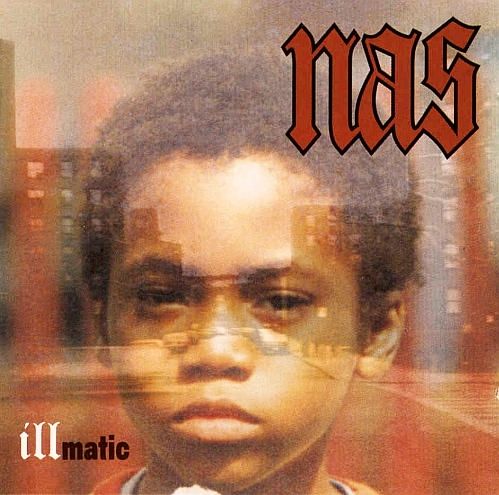 Every Thursdays we will be highlighting classic albums and posting reviews written from back in the day along with custom edits to go along with the best songs on the album. This weeks review is on Nas – "Illmatic" and was written by HipHopSite.Com's Marlon Regis back in 1997. (Original Post)
MARLON REGIS-
In 1994, just as in 1988 for hip hop, an incredible musical wave gave birth to some classic albums, trend-setting artists and dynamic songs that we've noticed throughout its history so far. Amongst this batch of history, the elite roster of artists who were born before, but didn't really show signs of teeth until 1994, were: Jeru The Damaja, Wu-Tang Clan , Common , Notorious B.I.G. , 2Pac , Black Moon , O.C. , The Roots , Gravediggaz, and of course, Nas. We no doubt as part of the hip- hop nation, will forever remember what burned the turntables around this time, and the memories of the music by Nas in the summer heat of 1994, showcased an excellence by the most natural lyricist of all time.
New York buzzed talk of this album's release as such the didactic recipe for what a hip-hop album was supposed to sound like, that there wasn't a head in all five boroughs without a copy or a bootleg after its "official" release. Even before the 1994 release, Nas' flames of greatness sparked our ears with "Halftime" off the Zebrahead movie soundtrack in 1991, or his prolific verse on Main Source's "Live at the Bar-B Q" off their album in the same year.
Back then, without the large volume of rappers and a freedom from today's hard-to-keep-up list of bombarding rap songs, the majority of yesterday's hip hop following took a closer look within Nas, the rapper. So did the music industry, and soon after rapper Nas was signed to Columbia Records. Unlike most rappers or rap groups, who even today are signed to a label attached to the parent distribution company, Nas was one of the few in the same contractual position as Barbara Streisand, Bruce Springstein, Mariah Carey and Miles Davis. In other words, whether it's his talent, the business deal or a buzz that fostered this, Nas was officially looked at as a long-term asset to Sony. He was a part of the "bigger picture". He was the heart and soul of hip hop, and one who many turned towards with the keenest ear. He was then and is now, Mr. Streetwise, an eloquent and verbally-in-touch youth with every inner-city, project building and crime-ridden urban blight of America.
From the initial sound of the subway train moving across its tracks on the "The Genesis," blended right into "New York State of Mind" produced by DJ Premier , the blood rushes to your head like when tipsy or high as Nas flows: "It drops deep as it does in my breath/I never sleep 'cause sleep is the cousin of death!" Then as the mellow baptism douses your cabbage, we were introduced to another promising emcee, AZ. Enter "Life's A Bitch", the song that gave AZ a start on his career just from one verse and a hook. But a verse it was, as this became the lighter to many sparking blunts. C'mon, rap along now: "We were beginners in the hood as 5 percenters but something must of got in us because all of us turn to sinners." When Nas approached the mic that night in the studio, those present couldn't be luckier. He paints an unheard melody, a rhythmic pattern, a resounding onslaught of words and everyone is always queued to recite parts of the verse without knowing just why: "when I was young at this, I used to do my thing hard/robbing foreigners, take they wallets, they jewels and rip their green cards" Back then, it was a challenge to concentrate on the classic productions of Pete Rock , Premier or Q-Tip and Large Professor, as the strain between your ability to marinate the lyrics on cuts like "The World Is Yours", "Memory Lane (Sittin' in da Park)", "One Love" or the album's first, "It Ain't Hard To Tell" battled for supremacy with the beats.
The ghetto is indeed a curse to the developing mind, a stable family and economic independence. But as always, there's a black child that rises above all odds and physically survives to tell it all. Nas is such a child, humble as you can feel his easiness, but complex as you listen to his observations twisted into rhymes. On Illmatic, as you stare at his baby picture amidst the ghostly concrete Queensbridge projects in the background, you can only shake your head in oar. Never has a rapper expressed thoughts, imagination and a street style so naturally, as on Illmatic. – Marlon Regis
Originally published on HipHopSite.Com November 1997.
DOWNLOAD ON DMS
Nas – Memory Lane (Sittin' In Da Park) (Dirty)
Nas – NY State Of Mind (Dirty)
Nas – Represent Represent (Dirty)