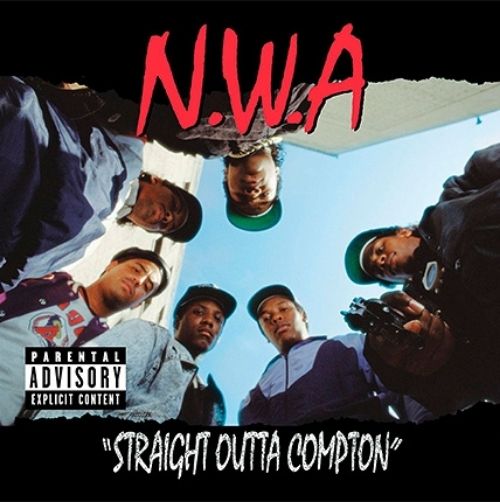 Every Thursdays we highlight a classic album with a review and custom edits. This weeks review is on N.W.A – "Straight Outta Compton" it was written by Billboard's Craig Jenkins for the 25th anniversary of the classic album. (Original Post)
N.W.A formed out of the ashes of the Los Angeles electro group World Class Wrecking Cru, which counted Dr. Dre and DJ Yella among its membership. In 1987, Dre found himself in jail pleading for help from group manager Alonzo Williams, who refused to bail him out because of an unpaid debt. Eazy-E, a teenage drug dealer looking to get into the music business, offered to post the money in return for a few production jobs, and the group was formed. The group's ranks ballooned to include core members Ice Cube and MC Ren as well a number of hangers on and affiliates memorialized in 1987's "N.W.A. and the Posse," which compiled the early N.W.A singles alongside tracks from their affiliates in Texas' Fila Fresh Crew. It wasn't until a year later that the group would really find itself.
N.W.A (Ni–az Wit Attitudes) spent the remainder of 1987 and parts of 1988 recording with just Eazy-E, Ice Cube, MC Ren, and Dr. Dre on vocals and Dre and DJ Yella on production, and the fruit of their efforts was 1989's "Straight Outta Compton." The album bore traces of the playful gallows humor of early incarnations of the group, but the new material vividly matched faces and sounds to the heretofore-untold struggles of inner city youth during the crack epidemic. The lyrical content was crass and uncompromising, but as the group would find itself constantly explaining in interviews, that's because the community that spawned the group wasn't doing so well. They were documentarians, shining much needed light on the plight of a class of increasingly disgruntled and disenfranchised Americans.
If "Straight Outta Compton's" stories were stark, the production provided listeners some solace. Dre and Yella coated these songs in a blanket of hooky sample loops lifted off the funk and soul music of their parents, but flayed and layered in a manner not unlike the dense sound collages of Public Enemy classics like "It Takes a Nation of Millions to Hold Us Back" and the Beastie Boys' and Dust Brothers' epic "Paul's Boutique." As Dre's ease with sampling increased, he began to move from abrasive hard funk and gritty boom bap into smoother territories. If you listen carefully you can hear the sedate, ornate funk sound of Dre's legendary early 90s run snapping into place on tracks like "I Ain't tha 1" and "Gangsta Gangsta."
"Straight Outta Compton" was certified platinum almost a year after its release — no small feat for a group possessed of such deliberately brutal iconography in an era when controversial hip-hop was met with corporeal political and community backlash. Its significance as West Coast hip-hop and gangsta rap's breakthrough album cannot be understated. There were many gangsta rap groups before N.W.A; Boogie Down Productions, Ice-T and Schoolly D were all early adopters, but they lacked a certain severity of image and the support of "Yo! MTV Raps" to broadcast it to the suburbs. There were many more afterward, but few rode the axis between the political and the profane, between senseless brutality and pointed outrage, between street grit and pop pleasantry, as well as N.W.A did with "Straight Outta Compton." And none of their successors would be here if Dre and company hadn't kicked the door down first.
On this 25th anniversary of "Straight Outta Compton" (August 8, 1988), we take a trip back through the volatile gangsta rap classic that launched the careers of Dr. Dre, Eazy-E, Ice Cube, the D.O.C. and more.
Opening title track was gangsta rap's shot heard round the world. Dre and Yella looped up an array of funk samples over the Winstons' legendary Amen break, coming away with a beat that's both hooky and uncompromisingly hard. It was the perfect backdrop for Ice Cube, Eazy-E and MC Ren's barrage of anti-police rhetoric, threats of gun violence and invective against scheming women. The wall-to-wall menace of "Straight Outta Compton" put West Coast hip-hop on the map, all the while illuminating the harsh realities of life on the streets of Los Angeles' inner city.
Equal parts righteous political ire and bratty youth revolt, "Fuck tha Police" lashed out at the rampant mistreatment black youth in the 80s endured at the hands of the Los Angeles Police Department. Ice Cube nails his mission statement at the top of his verse with the blunt force of the opening couplet: "Fuck the police, coming straight from the underground/ A young ni–a got it bad cause I'm brown." The growing racial tension between the LAPD and minorities "Fuck the Police" speaks to had been a blind spot in the news at the time, but things would come to a violent, bloody head a few years later during 1992's citywide L.A. riots.
"Gangsta Gangsta" follows up the CNN-of-the-hood exposition of "Straight Outta Compton" and "Fuck the Police" with a bit of brash hedonism. Ice Cube uses the first three verses to paint a picture of himself as a weed-smoking, forty ounce swilling badass without a care for what anyone thinks about him. ("You don't like how I'm livin' well fuck you!") Eazy waltzes in on verse four bragging about shooting adversaries and ducking the police, all of this over Dre and Yella's production, which pairs swinging drum programming and a clutch bass line lifted off Steve Arrington's "Weak at the Knees" until a series of left-field beat changes breaks things up at the four minute mark.
"If It Ain't Ruff"
The patchwork sample stitching of "Straight Outta Compton"'s first three tracks gets pared down for "If It Ain't Ruff," where a loop of the intro to Average White Band's "A Star in the Ghetto" and a few swatches of earlier N.W.A songs flank the first of a series of solo cuts from the group's four chief MCs. "If It Ain't Ruff" puts the spotlight on MC Ren, who showcases his spitfire flow and finesse with internal rhymes over three verses of cartoonish braggadocio that culminate in him advising his haters to just "play like an airplane and just jet."
"Parental Discretion Iz Advised"
Posse cut "Parental Discretion Iz Advised" opens with the album's only guest spot, a killer verse from the D.O.C., who'd previously appeared on four cuts on 1987's "N.W.A. and the Posse" compilation as Doc T of the FIla Fresh Crew. Dre, Eazy, Ice Cube & Ren lay into the smooth funk of the song's Isley Brothers flip with matching energy and charm. "Parental Discretion Iz Advised" is notable for being one of Ice Cube's last cuts as a member of N.W.A. He left in 1989 after appearing with the group on "The Grand Finale" off the D.O.C.'s solo album "No One Can Do It Better."
"8 Ball (Remix)"
"8 Ball" is a remix of the b-side of N.W.A's debut "Panic Zone" 12″ of the same name. The "Straight Outta Compton" version scours some of the grit off the original, scaling back the drum reverb and faint, ghostly backing vocals that made the first "8 Ball" so abrasive. The cleaned up recording puts a greater emphasis on Eazy-E's devil-may-care vocal performance, which finds him talking a load of trash before openly admitting that Ice Cube writes his rhymes.
"Something Like That"
Dr. Dre and MC Ren tag team a spacious loop of Fat Larry's Band's "Down on the Avenue" on "Something Like That." The duo switches back and forth between rapping in tandem and trading lines, flaunting their superiority as rappers and offering tips to new artists trying to get some shine: "It's not difficult, in fact it's kinda simple/ To create something funky that's original/ You need to talk about the place to be/ Who you got, what you are, about a sucka MC."
N.W.A could be crass when they wanted, but they got inspirational on "Straight Outta Compton's" third single "Express Yourself." "Express Yourself" is the Dre solo cut, wherein the Doctor details the importance of individuality and self-expression (because "it's crazy to see people be what society wants them to be") over a generous helping of the Charles Wright and the Watts 103rd Street Rhythm Band song of the same name. The positivity of the message and the relative lack of crass lyrics showed the public another side of Compton's gun-toting gangsters.
"Compton's N the House (Remix)"
"Compton's N the House" was originally a b-side on the cassette version of Eazy-E's "Eazy-Duz-It" single. This Dre and Ren tandem cut samples "Straight Outta Compton's" other Dre and Ren showcase "Something Like That" over minimal drum programming. Both MCs express immense neighborhood pride on the track, while calling out other rappers who rep Compton but never lived there. It's no accident that when Kendrick Lamar closed out his "good kid, m.A.A.d city" album with the majestic, chest-beating "Compton" last year, he called Dre in for the alley-oop.
Ice Cube gets his first (and last) solo N.W.A spotlight on the player's anthem "I Ain't tha 1." The song opens up with a girl asking Cube for money to get her hair done, a request he summarily refuses before launching into a lengthy tutorial about how to dodge gold diggers. Cube's agitated bars about how he spells "girl with a 'B'" are matched to production that loops up a chunk of Brooklyn funk band Brass Construction's "The Message." The warm, inviting beat runs in stark contrast to the calculated coldness of the lyrics.
"Dope Man" is another holdover from the "Panic Zone" single. As is the case with "8 Ball," the "Straight Outta Compton" version of this 1987 Eazy & Ice Cube cautionary tale about crack dealers and desperate addicts cleans up the sound and trims the running time of the original. The Moog synthesizer lifted off the Ohio Players' 1973 classic "Funky Worm" would factor heavily into the sonic architecture of the next decade of West Coast hip-hop.
"Quiet on tha Set"
MC Ren nets his second solo cut in "Quiet on tha Set." Ren's agile lyricism here matches the verbal dexterity of the gruff spitters gaining renown over on the East Coast at the time. The production cleverly fits a lick from Donald Byrd's "Rock Creek Park" over George McCrae's "I Get Lifted," the latter of which would crop up everywhere from Biggie's "Respect" to Snoop Dogg's "Gin and Juice" after being sampled here.
Album closer "Something 2 Dance 2" is a throwback to Dr. Dre and DJ Yella's tenure in the short-lived World Class Wrecking Cru. Early N.W.A recruit Arabian Prince, who left the group in 1988, takes the lead here over a bit of high-octane electro while Dre, Yella and Eazy carry on a goofy conversation about girls in the club needing something to dance to. It's an uncharacteristically light-hearted end to an album full of heavy ideas and music, but the group must've figured we'd want to relax after "Straight Outta Compton's" hour-long assault on eardrums and social mores.