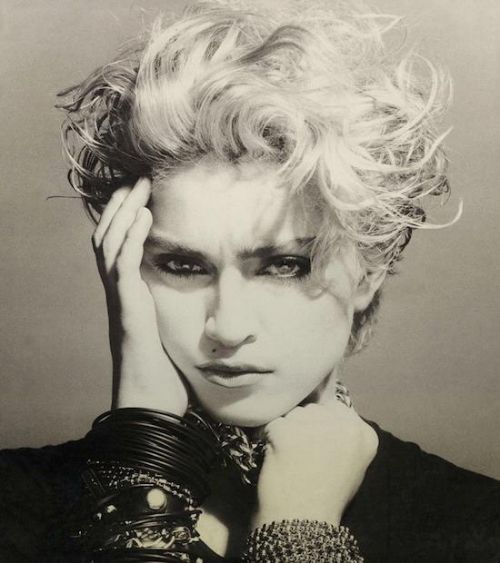 Madonna came to New York in the late 70s from Rochester, Michigan. Initially she was to be a dancer, studying under the tutelage of Pearl Lang, "New York's Martha Graham". Her new instructor had got Madonna a coat check job at The Russian Tea Rooms (across the pond, fellow 80s icon-to-be Boy George was doing the same at Blitz). Dance provided Madonna with a sense of discipline and expression, and back in Michigan, her original teacher/mentor Christopher Flynn had taken her to her first gay club. It showed her "another side of life", and both the gay subculture and club-life would prove vital to her later success. Read the rest after the jump.
Music soon replaced dance and she quit Lang's classes. She met two brothers, Dan and Ed Gilroy, and became the drummer in their band, the Ska/Two Tone-influenced, The Breakfast Club. She moved into a disused synagogue in Queens with then boyfriend Dan, who showed her the open E tuning on a guitar. She began song-writing and grew increasingly eager to move away from the drum kit to head centre stage. During the next couple of years, she underwent a fitful pre-fame apprenticeship, a little like Bowie's 60s in London – indeed, Ziggy Stardust had been a favourite of the teenage Madonna. Any avenue was explored in pursuit of the big time.
Ciccone went to Paris as a back-up dancer for Patrick Hernandez. There were movie roles, among them the pseudo-arthouse skin flick A Certain Sacrifice and Artificial Light. The latter saw her 'rapping' a la Blondie's 'Rapture'. The dialogue laid her world-view bare: "I'll do anything for money", an early glimpse of the future Material Girl devoid of all vestige of irony.
Soon, Madonna became a permanent fixture at the city's Midtown Music Building, fronting the band, Emmy (her nickname), penning Pretenders-style songs ('Laugh To Keep Myself From Crying') with former Michigan beau, Steve Bray. Before long she caught the attention of Camille Barbone, of Gotham Management, who swiftly sacked her band (Bray was retained) and began grooming her for pop stardom. The results were a mish-mash of then popular female singers.
Her look was a Pat Benatar/Olivia Newton John clone, while songs like 'I Want You' were catchy but unremarkable. What Madonna did learn from this period was how to hone a hook from a variety of styles, a versatility that would serve her well. The lyrics from one Barbone-era song, 'Get Up' evidenced a relentless tenacity and a desire to win at all costs. Not the most gifted singer or musician, she nevertheless possessed astounding drive.
More exciting things were happening away from Barbone's manufactured vision. At the time, New York's fertile club scene thrived on cross-cultural exchange. The worlds of art, fashion & music all collided at places like Danceteria, The Roxy and The Mudd Club. Everything was up for grabs, as disco, punk & hip-hop all merged. Graffiti, the new street pop art, embodied the spirit of the age: DIY, breaking down the barriers between high and low. The downtown elite fraternised with young artists from Harlem and The Bronx. The city's credo, for a time, was a Warhol/Sly Stone amalgam: "Everybody is a star."
"You could wake up one day and say you wanted to be an artist or musician and be one," claimed Fab Five Freddy, the hip-hop polymath immortalized in Blondie's 'Rapture'. While the rest of the States burned under Reagan, New York, forever that island unto itself, merrily fiddled. To quote Tom Tom Club, it was a time of "fun, natural fun".
Disco and punk had made significant advances for women culturally too. Disco may have still been dominated by male master-minds such as Moroder, Cerrone and Tom Moulton but Donna Summer's 'Love To Love You Baby' had aestheticised female desire with its multiple, orgasmic moans (former porn star Andrea True Connection would do likewise with 'More, More, More'). Punk went further, with its surfeit of female-fronted bands and strong female voices.
Madonna was at the epicentre of this new scene, frequenting the clubs (she claimed people threw drinks at her as she danced to the Human League's 'Don't You Want Me' at Danceteria). Yet the arbiters of cool in this demi-monde usually found her a little too pushy, too transparently keen to get ahead, to embrace her fully. She briefly dated artist Basquiat and befriended artist Keith Haring. Soon she realised that this was the pulse where her finger should be. Behind Barbone's back and with Bray in tow, she began recording an alternative four-track demo, full of the sounds she was hearing in the clubs.
Armed with a Dr. Boss drum machine and banks of synthesizers, she started writing new songs. Many of the tracks were solo compositions, and all of them were aggressive, exuberant dance-pop. It wasn't just a musical makeover. While at The Roxy, she met designer Maripol, who was scouting for girls for a Fab Five Freddy show. Maripol specialised in accessories and with her help, Madonna began cultivating her eventually notorious bracelet n' crucifix image.
Unbeknown to her then manager, who claims she was securing Madonna a deal with Columbia, the singer was touting a cassette of her songs to DJs all over the city. Eventually her tape fell into the lap of Danceteria's Mark Kamins, who played it to a receptive crowd. Kamins was also an Island A&R man but Chris Blackwell's label passed. Undeterred, he made contact at Sire, the boutique imprint of Warner Bros. Through remixing David Byrne, Kamins had encountered the label's A&R man, Michael Rosenblatt. Seymour Stein, Sire's president, was particularly smitten with two songs, 'Everybody' and 'Ain't No Big Deal' and approved a single (allegedly from his hospital bed).
Bray was temporarily sidelined and Kamins took the production reins at Bob Blank's Blank Tape Studios. There was a false start as Madonna clashed with original arranger Barry Eastmond over 'Everybody'. She felt that his ideas were too slick, lacked the edge of the club-land grooves she was hankering after. Arthur Baker, a helping hand to Kamins, brought in synth maestro Fred Zarr to enliven the sessions.
It was the shot in the arm the song needed. Zarr's rapid-fire electronics chafe at the shuffling beat, creating a pulsating, uptight friction. Most spectacular of all is the song's breakdown, where a funky, Bernard Edwards-style bass comes to the fore as Zarr's synthesisers whir around it. The synth's descending 'bell' preset is a dead ringer for a sound on Freeez's 83 classic, 'IOU', an Arthur Baker production that Zarr played on.
On top of the R&B groove is Madonna herself, full of verve, exhorting the listener to lose their inhibitions on the dance floor. Immediately Madonna was likened to a "Minnie Mouse on helium" for her shrill, limited vocals. But as a pop voice, hers was the perfect instrument; infectious, accessible and untutored. She also knew how to maximise its potential in a studio setting. Just before 'Everybody' hits the chorus, a deft dab of reverb on her vocal sucks the listener into the nursery rhyme-like ode to clubbing. With its breathy spoken word passages and invitation to dance, Madonna's debut single was a template that would be revisited throughout her career. Hers was not a light touch, but at its peak it was one that was hard to resist.
Released in the US in October 1982, the record came with a Lou Beach-designed sleeve depicting a hip hop–style NYC street scene. It was, in retrospect, an ironic way to launch the career of the face of the 80s. But for a moment, like Culture Club's Boy George with the lover's rock of 'Do You Really Want To Hurt Me?', Madonna was widely believed to be a black artist. Michael Jackson's Thriller was about to break down certain racial boundaries, absorbing rock influences and crossing over into the previously white-only MTV with landmark videos – Prince was doing the same. Speaking in 1984, Madonna observed how white artists were breaking down divides too. Even Queen were going disco, releasing Hot Space in May 1982. It wasn't just racial lines that were being eroded either.
Madonna sounded like an R&B singer but her clothing was punk-inspired. It was all part of the new decade's pick and mix approach. It was so far from the purist dogmas of '76 that eventually a recurrent phrase of the era was that it was all "like punk never happened". In Dave Rimmer's book of that name, Culture Club's Mikey Craig observed that when he looked out at the band's early audiences he saw a motley bunch of looks. A few years previously such a diverse crowd would never have existed.
'Ain't No Big Deal', the other song mooted for the single, was shelved in favour of an extended dub version of the main event. A bright Michael Jackson/Donna Summer confection, the rejected song perhaps deserved a place on Madonna's first album.
Madonna heavily promoted the track, performing at Howie Montaug's No Entiendes with back-up dancers. A video of a modest budget ($1,500) was shot by Ed Steinberg at Larry Levan's Paradise Garage. Its pared down simplicity was no indicator of how she would subsequently grasp the medium (she later said that she and MTV "grew up together"). Image-wise, however, it placed her at the heart of club-land.
Danceteria acted effectively as a gateway to the US for many British bands, and this became her route to the UK. The Smiths played early American gigs there (supported by Madonna, according to Marr). New Order finally exorcised Curtis' ghost at the club, discovering Ecstasy, dance music and teaming up with Arthur Baker. Yet the relationship went two ways across the Atlantic – the Hacienda was an attempt to provide Manchester with a similar venue, and many acts from the US (ESG, for example) were brought over to Britain.
Madonna embarked on a disastrous UK mini tour, playing venues like London's Heaven and Camden Palace. Blitz Kid Rusty Egan remixed 'Everybody'. Unimpressed with his delay-heavy take on the song, she also informed a crowd of his deficiency as a DJ. Madonna's ability to be charming and charmless in equal measure would make her a polarising figure, personally and artistically. Kris Needs found her "gorgeously perky" while Peter Hook, recalling her brisk "fuck off" to Rob Gretton at The Hacienda in 1984, dubbed her "a black widow spider sucking the life out of everything".
For her debut album (original title: Lucky Star), Madonna enlisted Warners in-house producer Reggie Lucas. Lucas had been part of Miles Davis' 70s ensemble and in 1980, co-wrote the Grammy award winner, Stephanie Mills' devotional disco classic, 'I Never Knew Love Like This Before'. Again Madonna clashed with him, finding him unresponsive to her ideas and too "busy" with the arrangements. What he did provide Madonna's music with, however, was swing…
Lucas also came up with one of her most enduring songs, 'Borderline', which would go on to be her first US top ten hit. Very much a street smart, star-crossed update of the Mills smash, right down to its sad-sweet Fender Rhodes intro, 'Borderline' was genuinely soulful. And more nuanced than her other tracks (note the dual bass parts by Anthony Jackson/Dean Gant, one a synth, the other real). Throughout Madonna's career, a rogue sensuality/vulnerability would flicker intermittently, punctuating much of her best work but rarely sticking around for too long.
Madonna's first album was augmented by backing vocalists such as Chic chanteuse Norma Jean Wright and R&B soul diva Gwen Guthrie (of future 'Ain't Nothing Going On But The Rent'/'Padlock' fame). It sits happily alongside the post disco crème de la crème: the same year's Evelyn 'Champagne' King album Get Loose , Nona Hendryx' 'B-Boys' and Cheryl Lynn's 'Got To Be Real'. There's even an occasional tenor sax break (courtesy of Bobby Malach), that 80s trademark, recently revived by Lady Gaga/Katy Perry. Here and elsewhere, Zarr's electro-shock synths, full of zest and sparkle, a day-glo approximation of Soft Cell, fuse with these rootsy motifs to create sensuous nu-disco. It's at one with Shannon's 'Let The Music Play' and predicts of Nu Shooz's 1985 masterpiece, 'I Can't Wait'.
But Madonna was dissatisfied. Lucas, again, lacked the edge she was after. The tame proto Debbie Gibson of 'I Know It', the album's only real dud, partly justifies her misgivings. Ever the 'heat-seeking missile' she was looking elsewhere for more street-level collaborators. Funhouse DJ John 'Jellybean' Benitez would be her saving grace, producing and discovering Curtis Hudson/Lisa Steven's song 'Holiday'. He also remixed Lucas' productions, adding a febrile punch to her second single, 'Burning Up'. Another brazen manifesto, 'Burning Up' conflates sex with ambition. Fame is an elusive man to be seduced and conquered at all costs.
Like its flipside, 'Physical Attraction', it throws off the shackles of Catholic guilt: "I'm not the same, I have no shame." Where 'Burning Up' borders on feral, sharpening its claws with new wave guitar, 'Physical Attraction' was a soft-focus slow dance, quoting Olivia Newton John's 'Physical' and the sultry UK soul of Imagination's 'Body Talk' and 'Just An Illusion'). American critic Robert Christgau called the pair of them "electroporn", while 'Burning Up"s predatory prowl would briefly see her being compared to Grace Jones.
'Physical Attraction' was sufficiently fully formed to make it onto 1987's remix album You Can Dance without any tweaking. 'Burning Up', on the other hand, fared better in its 12″ remix form, which turned the guitars down and the electro up. The two came housed in a sleeve by friend/de facto manager Martin Burgoyne, an 80s twist on Warhol/Liechtenstein cartoon pop art. Madonna's face was now being fully worked, repeated, like the Warhol silver screens of Marilyn Monroe, the star she would soon start to resemble. 'Burning Up' also featured a video that heralded the arrival of Madonna's brand of sexual table-turning. She writhes around in the middle of the street submissively, road-kill waiting to happen before a yuppie in a convertible runs her over. By the video's final twist, she is in the driving seat, in control. The erotic assertiveness, inextricably linking sex with power, was the epitome of 80s post-feminism (see also Janet Jackson's 'Control'). Like most things Madonna did, it split the jury.
At this point both her singles had scored high in the Billboard Dance charts. But it was third single 'Holiday' that was her crossover in to the mainstream charts. It got her on Dick Clark's American Bandstand for an epochal performance wherein she stated that she intended to "rule the world". 'Holiday' was an irresistible confection, bubbling with joie de vie, emphasised by its cascading synth strings, meaty Moog bass and Nile Rogers-style chicken scratch guitar, and a lyric that neatly paired it with Kool & the Gang's 'Celebration'. In the vocal department, limitation becomes virtue as Madonna imbues the song with nifty touches such as the snatch of ethereal cooing that blows through the song's second refrain.
Similarly her dancing seemed lunging and graceless compared to the eye-popping feats of Jackson (surprisingly so for such a gifted student). But like her music, it quickly proved magnetic, life-affirming. Each raised knee to the thwack of Holiday's snare, indicative of a mover as disciplined as a featherweight prize-fighter, utterly at one with their body. Like all the songs on her debut, 'Holiday' is best heard in the original album version rather than the Immaculate Collection edit. The later version omits the climactic release the song has been building towards, Zarr's elated piano break, a last minute addition at Sigma Sound, Manhattan. These originals are 'deep' cuts, full of breaks and space.
'Holiday' put her in the Billboard top twenty. 'Borderline' (No ten) and 'Lucky Star' (No four) would nudge her closer to mega-stardom, the latter beginning a record-breaking sequence of Top five American hits. Crucially, these two songs saw her mastering video. Mary Lambert's mini-movie for 'Borderline' squeezed Diana Ross's 'Mahogany' and John Hughes into a pop video, adding then taboo-busting interracial romance. She even dabbles in a bit of graffiti, a nod to the world she hailed from.
The 'Lucky Star' promo, featuring just two back-up dancers and a blank set, was a showcase for Madonna as auto-erotic magnet. It is full of belly button close-ups and narcissistic strutting, accentuated by the punchy editing. At one point, she appears to be cradled by the pure white backdrop, like Keith Haring's Radiant Baby, both wide-eyed innocent and shrewdly knowing. In the video's opening shot, she lowers her shades, coolly staring back at the viewer, alluring yet impassive. Even feminist film scholar Laura Mulvey would have to concede that the gaze of popular culture, was by now, no longer purely the province of the male spectator.
The album sold steadily, gathering momentum with each successive single and delaying the follow-up, Like A Virgin. The second album would team her with Nile Rogers, a man who had so inspired the grooves of her debut. Not only was she enamoured with his Chic/Sister Sledge work but also more recent pop-oriented triumphs such as Bowie's Lets Dance. Already eager to transcend dance music, she dismissed her first album's "lack of variety", deriding it as "music to do calisthenics to". Funnily enough an elderly Calisthenics class was exactly where original manager Camille Barbone first heard Madonna's new material. By now, Madonna had sought out a new manager, Freddy DeMann, who played her the as yet unreleased promo for 'Beat It' by his current charge, Michael Jackson. Mutually impressed (DeMann saw her perform at a Studio 54 show for Fiorucci), they began working together.
Her first album was both cutting edge and quaint by the time of its release, informed by NYC's club underground but also using technology already employed by MOR artists. Phil Collins was using similar instrumentation as was Stevie Nicks on the exquisite Prince-assisted, 'Little Red Corvette'-influenced 'Stand Back'. Madonna would continue to break ground in the mainstream just as she would always remain slightly one step behind the avant-garde, ever reliant on it for inspiration to take to the masses. Nevertheless, her first album remains one of her best works, the supposed 'lack of variety' actually giving it a consistency and focus that often eludes her later music. Madonna now possesses the crazy will of a late period Bette Davis or a Joan Crawford, all exertion bereft of inspiration. But like those two icons, her best work often transcends the cloying cage of camp. That first album, with its elastic grooves, its joyous calls to "dance and sing" remains free of such excesses. It is that great pop record: a simple soundtrack to complicated times. Hot-housed in a pre-Giulani/Carrie Bradshaw New York City, it is the last gasp of a night-life without AIDS where everyone is a star in the discotheque. Where going out itself was a work of art. Now, as much as back then, Madonna urges you to do just one thing: "Feel the beat and step inside…"
DOWNLOAD ON DMS